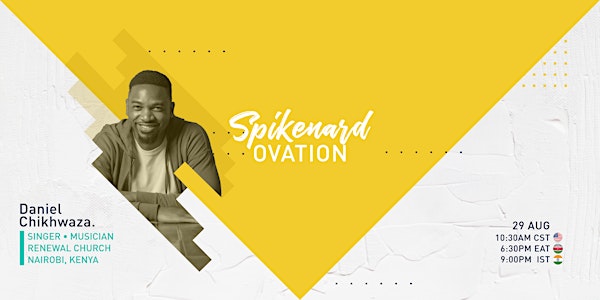 SPIKENARD OVATION | Featuring:Daniel Chikhwaza
With a core value of CELEBRATION over comparison, we invite Daniel Chikhwaza to the virtual stage. Join us for this standing ovation!
About this event
SPIKENARD OVATION 🥳
Featuring: Daniel Chikhwaza
Bringing in the finale of our August Ovation series is a talented singer and songwriter. Based out of Nairobi, Kenya, Daniel Chikhwaza is most known for his worship leadership at Renewal Church in Nairobi, Kenya.
Daniel grew up within a musical family in Malawi where he learnt to sing and play instruments alongside his siblings from a young age. He did his University in Kenya and emerged the Winner of the Samsung Ziki Star; a National competition which involved participants from several Universities.
He has collaborated with re-known artists like Elani and curtain-raised for Award winning American Gospel artist Travis Greene.
More from our Guest:
Come join us as we pray, prophecy, and provide for the creative thought leaders of our generation. We aim to strengthen their work, and even glean from their wisdom. Join in each Monday for an opportunity to celebrate!