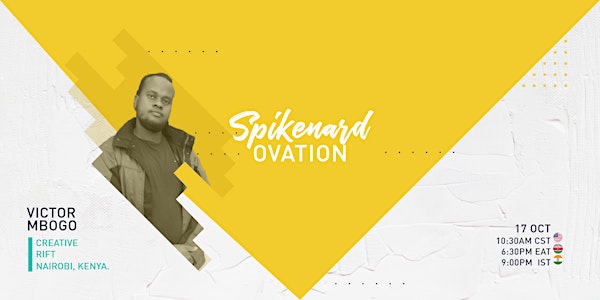 SPIKENARD OVATION | Featuring: Victor Mbogo
With a core value of CELEBRATION over comparison, we invite Victor Mbogo to the virtual stage. Join us for this standing ovation!
About this event
SPIKENARD OVATION 🥳
Featuring: Victor Mbogo
Our third guest in this month's Ovation line-up is a talented Creative. Based out of Nairobi, Kenya, Victor Mbogo is most known for his creativity with RIFT .
Victor Mbogo started as a saxophone player in Los Angeles, then through working at a sound rental and sales company, he was led to his passion in audio engineering. Victor dove into opportunities available to him such as doing live sound for festivals and events. He then relocated to Kenya where he immersed himself in the audio industry, and started his own sound rental company. Eager to improve his craft, he attended Berklee College of Music, where he was able to affirm his love for the art. Upon returning to Kenya, Victor has been involved as a professional in the industry by utilizing his skills to educate, work on records, and change the landscape of the African music industry. He currently resides in Nairobi, Kenya, as he works between East Africa, London, and Los Angeles. As a producer | mixer | engineer. Victor's workflow has enabled him to delivery versatility and creativity to every project he works on.
More from our Guest:
Come join us as we pray, prophecy, and provide for the creative thought leaders of our generation. We aim to strengthen their work, and even glean from their wisdom. Join in each Monday for an opportunity to celebrate!