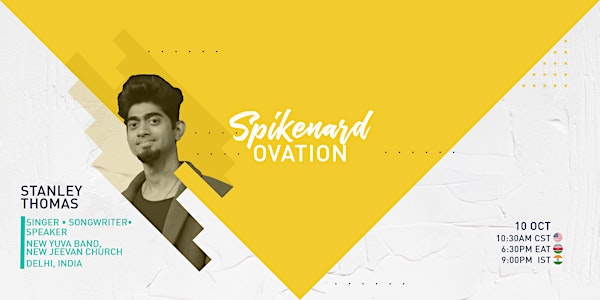 SPIKENARD OVATION | Featuring: Stanley Thomas
With a core value of CELEBRATION over comparison, we invite Stanley Thomas to the virtual stage. Join us for this standing ovation!
About this event
SPIKENARD OVATION 🥳
Featuring: Stanley Thomas
Next up to bat for our October Ovation series is a talented Artist, Songwriter & Speaker. Based out of Delhi, India, Stanley Thomas is most known for his heart of serving with NewJeevan Church, NewYuva Band & Life of Encounters.
Stanley Thomas is a singer and musician for NewYuva, a band with a vision of creating music that carries life and invokes a passion to worship God. He is the founder of Life of Encounters, where he intends to raise a prophetic community in India & is also the director at Shekinahouse Pvt. Ltd, a company that aims to empower ordinary people to become champions in what they're called to do. Stanley is the author of "The Sauce for Life", who loves biking and a bit of coffee.
More from our Guest:
Come join us as we pray, prophecy, and provide for the creative thought leaders of our generation. We aim to strengthen their work, and even glean from their wisdom. Join in each Monday for an opportunity to celebrate!