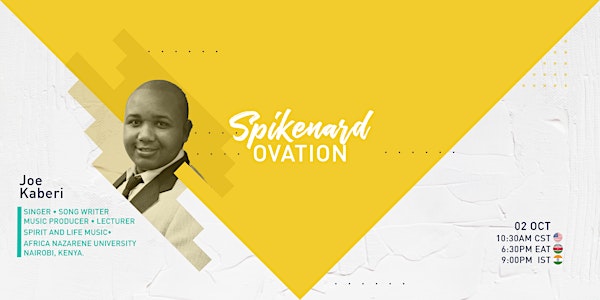 SPIKENARD OVATION | Featuring: Joe Kaberi
With a core value of CELEBRATION over comparison, we invite Joe Kaberi to the virtual stage. Join us for this standing ovation!
About this event
SPIKENARD OVATION 🥳
Featuring: Joe Kaberi
Our first guest in this month's Ovation line-up is a talented singer, songwriter, music producer, and creative arts director. Based out of Nairobi, Kenya, Joe Kaberi is most known for serving in Spirit and life Music, Africa Nazarene University and Parklands Baptist church.
Joe Kaberi understands the calling of his life mission as a midnight voice in preparation to the second coming of Christ. He is the founder and CEO of spirit and life creative ministry and production house. A mentorship program aimed art raising leaders in the performance of arts arena. He also serves as an adjunct lecturer in Africa Nazarene University and is the creative arts ministry director at Parklands Baptist Church. He holds a degree in business information technology and postgraduate honors in mass communication and is currently a coorporate in development communication from Daystar university. He is married to Paula Joseph and together they have been blessed with three Children Zani, Yahsha and Sheemar. Among many works he has released two Albums. "Beauty for Ashes" 2010, "Zaidi ya Maneno" 2018 and is currently working on his third album (dubbed) "Sound of Victory" in collab with the Spirit and life class of 2021.
More from our Guest:
Come join us as we pray, prophecy, and provide for the creative thought leaders of our generation. We aim to strengthen their work, and even glean from their wisdom. Join in each Monday for an opportunity to celebrate!