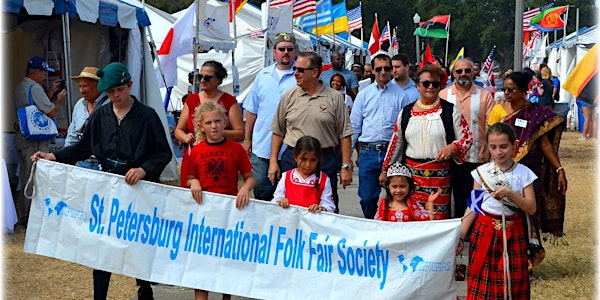 SPIFFS 45th Annual International Folk Fair
Location
Vinoy Park
701 Bayshore Drive Northeast
St. Petersburg, FL 33701
Description
A 45-year tradition has been revitalized. In an immigrant nation facing an identity crisis, we have a new purpose. This year, the St. Petersburg International Folk Fair Society (SPIFFS) Annual Folk Fair reminds us who we are: a fabric of cultures woven into a United States.
SPIFFS 45th Annual International Folk Fair will be held from October 25 - 27, 2019 at Vinoy Park in downtown St. Petersburg, FL. The festival showcases food and culture from 36+ ethnic organizations, each representing immigrants from nations across the globe. The groups will unite in a Grand Parade of Nations, culminating in a swearing-in ceremony of new American citizens.
NEW THIS YEAR: A Friday evening concert with popular local Betty Fox Band. Gates open at 6 pm; concert starts at 7 pm.
SPIFFS International Folk Fair transforms St. Petersburg's waterfront into a microcosm of the world, with a multitude of ethnic crafts, arts, food, cooking demonstrations and special entertainment. Some highlights include Giving Tree Music drum circles; student performances on the main stage; Polynesian dancers; and music featuring the Mongolian "Horse Head Violin" (Morin Khuur).
Additional entertainment in the Main Stage / Beer Garden area includes performances by Urban Gypsies, Brazilian Samba by O Som Do Jazz, New Horizon Band of Gulfport, and Conundrum Celtic Band. Folk dancing and music will be performed throughout the festival on two stages.