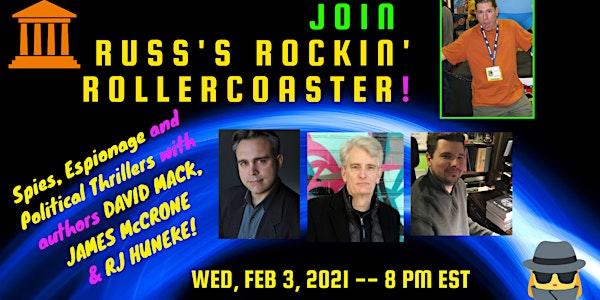 SPIES, ESPIONAGE + POLITICAL THRILLERS w DAVID MACK, JM McCRONE, RJ HUNEKE!
Host Russ Colchamiro leads a panel with David Mack, James McCrone and RJ Huneke about spies, espionage and political thrillers across genres
About this event
DAVID MACK is the award-winning and New York Times bestselling author of thirty-six novels of science fiction, fantasy, and adventure, including the Star Trek Destiny and Cold Equations trilogies. His writing credits span several media, including television (for episodes of Star Trek: Deep Space Nine), short fiction, and comic books. Mack presently works as a consultant on two animated Star Trek television series—Lower Decks, produced by Mike McMahan, and an as-yet-untitled series being produced for Nickelodeon by Dan and Kevin Hageman. Mack resides in New York City.
JAMES MCCRONE is the author of the Imogen Trager novels—Faithless Elector, Dark Network, and the new Emergency Powers—"taut" and "gripping" political thrillers about a stolen presidency. McCrone's dynamic mix of political intrigue, ripped-from-the-headlines urgency and high-stakes personal drama offers a finely honed portrait of a nation on edge. His work also recently appeared in the 2020 short-story anthology Low Down Dirty Vote, vol. 2.
He's a member of Mystery Writers of America, Int'l Assoc. of Crime Writers, Int'l Thriller Writers, Philadelphia Dramatists Center and the Sisters in Crime network. James has an MFA from the University of Washington. A Pacific Northwest native, he lives in South Philadelphia with his wife and three children.
You can learn more at http://jamesmccrone.com/
R.J. HUNEKE is a former columnist for Newsday and The Examiner, and his first novel Cyberwar was published in 2015. He currently writes regular columns about technology, robotics, books, comics and popular culture for Gadizmo, POWkabam, and as the editor-in-chief and founder of www.TheForgottenFiction.com – a book review magazine.
His upcoming projects involve graphic novels, children's books, poetry, the next science fiction spy thriller in the Cyberwar Series, and another soon-to-be-announced novel.
RUSS COLCHAMIRO is the author of the rollicking time travel/space adventure, Crossline, the SF/F backpacking comedy series Finders Keepers: The Definitive Edition, Genius de Milo, and Astropalooza, editor of the SF mystery anthology Love, Murder & Mayhem, and co-author of the noir anthology Murder in Montague Falls, all with Crazy 8 Press. Russ has also contributed to more than a dozen other anthologies.
His latest novel, Crackle and Fire, the first in a new scifi mystery series featuring his intergalactic private eye, Angela Hardwicke. He is currently writing the second book in the series. Russ is also a member of the Mystery Writers of America.
Russ lives in New Jersey with his wife, and two ninjas.
For more on and Russ's books, you can visit www.russcolchamiro.com, follow him on Facebook, and on Twitter and Instagram @AuthorDudeRuss.