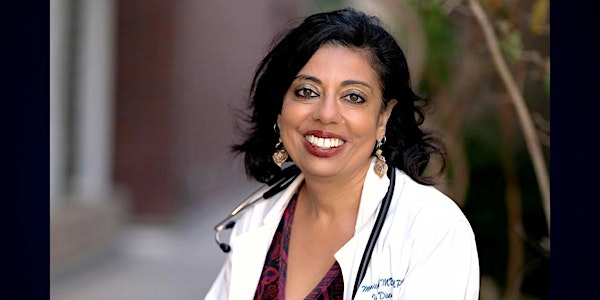 SPG Vaccine Equity Series Part 3: Monica Gandhi, MD, MPH
Covid vaccine equity worldwide: Analogies to the HIV pandemic
When and where
Location
Nursing Building N-217 (School of Nursing, UCSF Parnassus); Livestream available upon registration 2 Koret Way San Francisco, CA 94143
About this event
Join us on Wednesday October 5 @ 5pm for the third and final installment of the Vaccine Equity Series, hosted by the Science Policy Group at UCSF! Dr. Monica Gandhi will explore how global disparities we witnessed in the access to HIV prophylactics and therapeutics should inform our approach to vaccine distribution in the era of Covid-19 and MPX.
-------------------------
"Could you patent the sun?" is a three-part speaker series that will consider the global rollout of mRNA vaccines during the Covid-19 pandemic and the gross disparities in access to vaccine technology and other therapeutics that resulted between Global North and South. These cross-disciplinary conversations will explore the logistics of vaccine research, production, and distribution with attention to how legacies of global imperialism and intellectual property law have shaped who ultimately has access to lifesaving technologies.
When Jonas Salk developed one of the first polio vaccines, he affirmed it as public domain. When asked who owned the patent to the vaccine, he replied "Well the people I would say. There is no patent. Could you patent the sun?". We invoke Salk's rhetorical question to create an opening to reconsider our current trajectory. What are next steps forward and what could a more internationalist and collaborative practice of science look like?
-------------------------
Monica Gandhi, MD, MPH, is an Infectious Diseases doctor, Professor of Medicine, and Associate Chief in the Division of HIV, Infectious Diseases, and Global Medicine at the University of California, San Francisco (UCSF). She is also the Director of the UCSF Center for AIDS Research (CFAR) and the Medical Director of the HIV ("Ward 86") at San Francisco General Hospital. Her research focuses on HIV and women and adherence measurement in HIV treatment and prevention and most recently, on how to mitigate the COVID-19 pandemic.
SPG at UCSF is comprised of a group of passionate individuals who want to make a difference in the world, whether by communicating science to inform policy, influencing policy to enable science, or initiating advocacy within and beyond UCSF. Some topics we care about include gender equity, criminal legal system policy, vaccine equity, science education, and drug policy.