2021 Annual SPEO Opportunities Forum (Virtual)
About this Event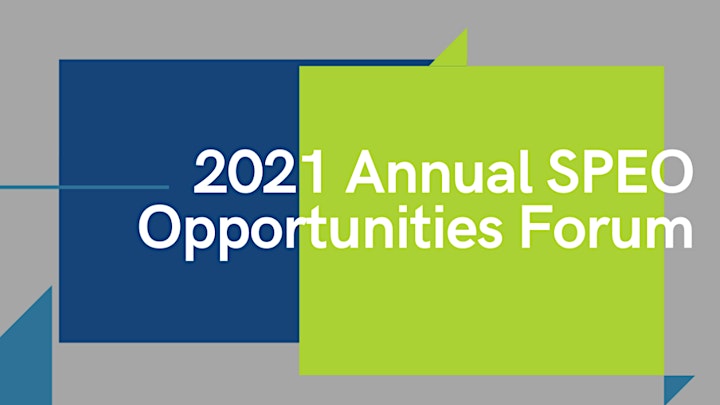 The Virtual SPEO Opportunities Forum will be held on Tuesday, February 2nd at 8 a.m. Representatives from local and state agencies will discuss scheduled projects and forecasted procurements with SPEO members.
Agencies invited to present include:
Allegheny County Airport Authority
Allegheny County Sanitary Authority (ALCOSAN)
Allegheny County Department of Economic Development
Allegheny County Department of Public Works
Army Corps of Engineering
Pennsylvania American Water (PAWC)
Pennsylvania Department of Transportation (PennDOT) Dist. 11-0
Pittsburgh Water and Sewer Authority (PWSA)
Port Authority of Allegheny County
Urban Redevelopment Authority
Cost: Free for SPEO Members
**This is a SPEO Members Only Event** (Please confirm that your company is a current SPEO member prior to registering: http://www.speo-pa.org/index.php/membership/).
After registering, you'll receive information with a link to access the WebEx event prior to the webinar. We encourage participants to follow the link and test your system prior to the morning of Feb. 2nd.
NOTE: THERE IS LIMITED CAPACITY FOR THIS VIRTUAL EVENT:
Please register early! Due to online attendance capacity limits, online attendance is limited to the first 100 participants. We're also asking for no more than a maximum of 2 attendees per member firm so we can ensure that each of our member firms has an opportunity to attend if they'd like to. (If any additional tickets remain prior to the event, we will open those up to additional attendees a few days prior to Feb. 2nd).
INTERESTED IN SPONSORING?
Sponsorship Levels are being offered at reduced rates for 2021! These opportunities offer exposure for your firm, but keeps in mind marketing costs of our members may be somewhat limited during this time.
Gold - $250
Single firm slide on display presentation during event (firm name/logo & 1-2 project photos on 1 slide)
Logo included on website/promotion on LinkedIn
Silver - $125
Firm name and logo display on individual presentation slide
Logo included on website/promotion on LinkedIn
Bronze - $75
Group Bronze Logos display on one presentation slide
Logo included on website/promotion on LinkedIn
For more information or to reserve a sponsorship, please contact Meghann Bornak at meghann.bornak@wsp.com.
Download the Event Flyer here: http://www.speo-pa.org/wp-content/uploads/2021/01/SPEO-Flyer.pdf
Photography Disclaimer: Photos are frequently taken at our events. SPEO has the right to use photos taken at our events for the purpose of, but not limited to the following: social media, website, and promotional materials/media.