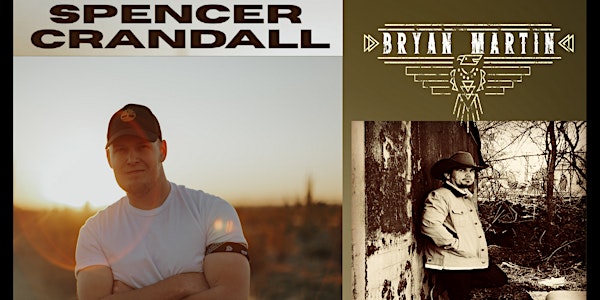 Spencer Crandall w/ Bryan Martin, EllieMae, & Heath Clark
This will be an amazing country music experience here in Southern Idaho!
Date and time
Starts on Saturday, July 15 · 5pm MDT
Location
Twin Falls County Fairgrounds 215 Fair Avenue Filer, ID 83328
Refund Policy
Contact the organizer to request a refund.
Eventbrite's fee is nonrefundable.
About this event
Tickets go on-sale on Wednesday, 03/15/23 at 10am.
Tickets are $30, and may be bought from srb2023countryshow.eventbrite.com or from any SRB member.
This is an all-ages, family-friendly, outdoor event. Alcohol will be available for sale for those 21 and up with valid identification, and food is also available.
Gates are at 5:00pm, show starts at 6:30pm. Please note that tickets are non-refundable unless the show is cancelled.
This concert is happening during the annual Snake River Bros Rally in the Valley, proceeds from which benefit local children's causes. Snake River Bros are a non-profit 501 (c) 3 motorcycle organization.
In addition to the $30 concert ticket, which allows you to spend the entire day at the event, we also have a full weekend pass for $50, a full weekend pass with a tent spot for $65, and a full weekend pass with an RV spot for $90. The RV spots have power and water*.
All of the full weekend passes also include both concert nights (see srb2023rockshow.eventbrite.com for details on the other concert).
*If purchasing an RV spot, please call Cherie @ 208-989-6231 to confirm spot.
--- Spencer Crandall ---
Unfiltered. Unconventional. And above all, unapologetic. Those are the defining traits of a whole new generation of Country star – and Spencer Crandall is one of them. As one of Country's most progressive new talents, self-made and as dynamic as they come, Crandall has no time to say "sorry" for his raw, soul-baring stories. Driven toward greatness, he's got no remorse for his big dreams, and pulls no punches with his ever-evolving sound. The Nashville based artist has spent years combining pop's untamed energy with the confessional lyricism of Country, opening up territory no one before him even knew existed – and with his ambitious new 20-track album, Western, the frontier expands again.
Growing up in Denver with a tight knit family, the creative powerhouse was taught hard work and dedication, and learned his lessons well – even playing football in college. But when injuries ended his career, the standout athlete was officially out of his comfort zone. Fully embracing his natural, genre-defying instincts, with ultra-smooth vocals, deeply-personal themes and hot-blooded performances, Crandall now counts 1.2M monthly Spotify listeners, 250M total career streams, more than 2.6M followers on TikTok, and fan engagement so off the charts it drives sold-out shows around the nation. He released three albums before Western, made his Grand Ole Opry debut in 2022, and continues pushing toward the ultimate goal of a sold-out stadium performance – Western is just the next step.
Videos:
https://www.youtube.com/watch?v=nR-6wqkjrvs
https://www.youtube.com/watch?v=Z-TWzQKhfmA
https://www.youtube.com/watch?v=JgaoG_el-_w
More Info:
https://www.facebook.com/spencercrandallmusic
http://spencercrandallmusic.com/
--- Bryan Martin ---
With a blue-collar, everyday working-class background, Bryan Martin lives the stories he writes. Those real-life emotions and experiences expressed in song resonate with audiences because the two are one and the same.
From the oil fields in Louisiana where he was a "roughneck" on the rigs, to pursuing his hobby of writing songs and learning to play guitar, this self-taught musician/songwriter is quickly becoming recognized as one of country music's emerging new talents.
Music was part of Bryan's upbringing from an early age. His mother, who sang with such traditional country artists as Faron Young, Allison Krauss, and David Houston, recognized his talent at age six. By the time he was eight, Bryan started singing at local festivals and fairs. As a teenager in high school, he stepped away from music to focus on working after school and summer jobs. He'd write songs on the side "for fun."
"Songwriting has always just been a hobby - a passion," said Bryan who is celebrating the success of one of his songs, "Beauty In The Struggle," which went viral on TikTok and hit the radar of music industry executives. "I started this for fun, but now I'm doing what I love for a living," Bryan remarked.
Influenced by those traditional country music artists that he grew up listening to, Martin honed his songwriting and performance skills through the years. As a songwriter, his diverse catalog of songs numbers over 3,000 ranging from traditional country and southern rock to outlaw country and country gospel.
Bryan's upcoming album, Poets & Old Souls, promises to be a collection of deeply personal and introspective songs that showcase his growth and evolution. Known for his raw and emotional storytelling, Martin has always been open about his struggles with addiction, loss, and mental health. With its mix of haunting melodies, poetic lyrics, and heartfelt vocals, Poets & Old Souls is sure to be a powerful and moving testament to the enduring human spirit. The project is set to be released on March 31st via Average Joes Entertainment.
Martin hopes to be the greatest that he can be with the talent that he's been given and strives to work harder than the next guy. He lives by the best advice he ever received – "Don't let your head outrun your feet… follow your heart and stay true to your roots."
Videos:
https://www.youtube.com/watch?v=HTv2SzvZ0ys
https://www.youtube.com/watch?v=5U0qhg1YtoQ
https://www.youtube.com/watch?v=djFhFfirtpQ
More Info:
https://www.facebook.com/BryanMartinMusic
https://solo.to/bryanmartin
--- EllieMae ---
The heart and the heritage of country music and farming are intertwined in EllieMae. Born and raised in Southern Idaho, EllieMae is familiar with the dirt roads that led to both harvest and song lyrics. As a songwriter, EllieMae writes what she knows: country life, family, love and loss, and Coors Light. She's the best parts of country – good music and incredible storytelling.
EllieMae's gumption is evident from the first note she sings. Listeners know she is exactly what she sings: hard working, kind, persistent and won't take beef from anyone. Her lyrics are thoughtful, and relatable with a touch of sass. Her stage presence is like watching a friend play you a song and then realizing that friend is on the cusp of country music greatness.
She was a member of Team Blake on NBC's the Voice, and she's recorded with Grammy winning engineer, Eric Delegard. EllieMae has opened for John Micheal Montgomery, Scotty McCreery, Ian Munsick, Sam Riggs, Lainey Wilson, Morgan Wade, Koe Wetzel, Read Southhall Band, Confederate Railroad, Clare Dunn, Chayce Beckham, Chris Janson, Sundance Head, Jessie G and many more incredible artists. From county fairs to the Idaho Inauguration Ball, HWY 30 Music Fest to Iowa State University Homecoming, EllieMae has a sound that's raw and real. She's been compared to Kasey Musgraves and Miranda Lambert and yet, she holds her own on every stage she sets foot on.
You can find her on Spotify, Apple Music, iTunes, YouTube and Amazon Music.
Videos:
https://www.youtube.com/watch?v=gyVuvw5m9-A
https://www.youtube.com/watch?v=WU2L275VO2Y
https://www.youtube.com/watch?v=2S4FrXOoW_M
More Info:
https://www.facebook.com/elliemaemillenkamp/
--- Heath Clark ---
Heath has been entertaining for many years, as well as being a gifted Song writer. He has been singing his heartfelt songs to audiences large and small with his Cool Cowboy swagger and fun personality since he was very young.
With a history of 130 years of music history in his family, it is no wonder he has followed his heart and followed the footsteps of many past family members. His father and uncles have played with many notable entertainers. His grandfather had a radio show and television appearances in the 50's and 60's in a Southern Gospel Quartet. Many other family members still reside in Nashville, such as Gene Dunlap, who has been Loretta Lynn's piano player and band leader for many years. Also, Steve Conn, one of Nashville's top studio musicians and award winning Singer and Songwriter, having recorded and performed with the music industries elites. Heath shares his music from his heart, and it shows in his performance. You can always expect a fun and entertaining time.
Being a true Cowboy at heart, Heath worked on a ranch as a young man and continues to spend as much time as possible chasing the rodeos as a team roper. He also enjoys Leather work and Carpentry. Heath has a unique perspective when he writes and sings his music. He is a down to earth man with a true desire to reach you with his songs.
An Arizona native, Heath married his Love, Cortney and has two beautiful daughters, Addisyn and Aspyn, all of whom truly support Heath in his music and rodeo endeavors. The more you get to know Heath and his music you will find the true heart of Country music. His music roots run deep and his love for entertaining even deeper.
More Info:
http://www.heathclarkband.com
-------------------------------------------
Ticket Terms & Conditions: This is a revocable license to the bearer only and may be revoked at any time for any reason. The holder of any SRB ticket voluntarily assumes all risks and danger incidental to the event for which the ticket is issued. Whether occurring prior to, during, or after the event. Holder voluntarily agrees that the management, facility, participants, artists and all of their respective agents, officers, directors, owners, and employees are expressly released by holder from any claims incidental to the event or purpose for which the ticket is issued. No re-admissions. No cameras or recording devices are permitted without prior permission. All tickets are purchased at risk of inclement weather. Management is not responsible for lost articles, misplaced or stolen at the event for which ticket grants admission. Time, date, and location of event are subject to change. Tickets will not be replaced, refunded or exchanged for any reason. Shipping, handling and service charges are non-refundable, even if the event is cancelled. No food or beverages may be brought into the event. No pop-up tents or umbrellas. You must be 21 or older to consume alcohol. No contraband or illegal substances. No dogs, cats, or pets/animals of any kind. Non-SRB event posting, ticket &/or merchandise sales are not allowed. No laser pointers, skateboards, or items that are known to be used as a weapon.
About the organizer
Snake River Bros is a non-profit 501(C) 3 motorcycle organization that raises money to help children in need. Since our inception in 2001, we have donated over $500,000. Funds are raised through: membership dues, organized motorcycle rides, rallies, newsletter advertising, raffles and auctions from the donations from the hearts of people who want to help the children in the Southern Idaho and Northern Nevada area with debilitating injuries or diseases, and bona-fide organizations that help these area children.