Spem in Alium Workshop, Performance, and Reception

Saturday, February 22, 2014 from 12:00 PM to 7:00 PM (EST)
Event Details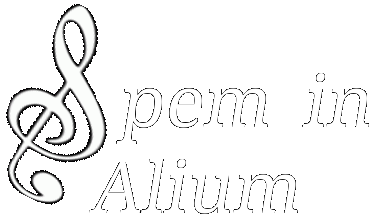 I have never put my hope in any other but in you, God of Israel,
who will be angry and yet become again gracious,
and who forgive all the sins of man in suffering.
Lord God, creator of heaven and earth,
look upon our lowliness.
Nearly 100 sacred musicians of the Washington DC metro area with be gathering for a collegial workshop to rehearse and sing Thomas Tallis' masterful 40-part Renaissance motet for 8 choirs, the magnificent Spem in Alium.  Join us to hear a live performance of this Renaissance gem.  
12:00-3:20p                Workshop rehearsal for choristers*
3:30p                                               Free performance
                                                 (Doors will open at 3p)
4:30-6:30p                        Reception at The Ugly Mug**
                                  Light hors d'ouvres and Open Bar
Ensemble Director
David Lang
Artistic Director of the Reston Chorale and
Music Director of St. John the Beloved Catholic Church 
Choir Directors 
David Taylor of Chantry 
Rev. James Bradley of the Personal Ordinariate of Our Lady of Walsingham 
Jeffrey Alban of the Blue Ridge Singers and St. John the Baptist
Richard Rice of St. John the Beloved
Kurt Poterack of Christendom College
Dawn Frederick of the Arlington Community Chorus
Michael Donaldson
 Sponsors
We are still seeking major sponsors of the event.
Workshop/Performance Venue donated by: Msgr Charles Pope & Holy Comforter / St. Cyprian 
Reception venue donated and special food/beverage prices by: The Ugly Mug
*Chorister registration and application was required by January 29.  Registration is now closed.
**$10+ ticket or donation required.  See options at the top of the page.  Please consider a $20+ donation to help make future events like this possible. 
(Chorister) FAQs
Is there a dresscode? 

Yes--business casual.  This is a social event more than a concert, and not a formal event.  We will be in a holy place, however, so clean, respectful attire is in order. 
What are my transport/parking options getting to the event? 
There is street parking available on Saturdays in the neighborhood of the Church. Both the Stadium Armory and Potomac Avenue metro stations (served by the blue and orange lines) are 10-15 minutes away, on foot. From the Potomac Avenue the Church is directly north up 14th Street. There is also a bus stop directly across the intersection of East Capitol St NE and 14th St NE from the church.
Do I have to bring my printed ticket to the event?
Choristers do not.  When you arrive, we will ask everyone to check in with us at a registration table.
Is my registration/ticket transferrable? 
No. The refund policy is listed below.
What is the refund policy? 
If you need to cancel your reservation, the amount of the refund depends on how quickly you notify us:  before January 29,  you will receive a full refund; January 29 - February 15, you will receive a 66% refund ($10); after February 15, no refunds will be issued, to ensure we stay on budget.
If we were somehow forced to cancel the event at any time, you would, of course, receive a full refund.
If you register as a chorister and are not placed in a choir, your workshop registration fee is fully refundable with no deadline.  We do not anticipate this happening to many registrants, but if it does, we hope you would still choose to come for the final "performance" of the workshop and join the conversation at the cocktail hour. If so, your ticket will convert to the "music lover" option, and we would refund $5 of your ticket.  Again, if you choose not to attend the cocktail hour, we would be happy to refund your ticket in full.
I just found out about this event but it's too late to register?  Can I still attend?
The performance at 3:30 is free and open to the public.  If you enjoy the performance and would like to attend the reception and mingle with the nearly one hundred musicians, you can give a $10+ donation at the door. 
For any further questions:
Please don't hesitate to contact us for any reason. We can be reached at chorus.s.n@gmail.com,  540-466-4463, or through the Eventbrite message links. 
Tell me more about Spem In Alium.
Text from ChoralWiki:
Spem in alium nunquam habui præter in te, Deus Israel:
qui irasceris et propitius eris,
et omnia peccata hominum in tribulatione dimittis.
Domine Deus, Creator cæli et terræ,
respice humilitatem nostram.
I have never put my hope in any other but in you, God of Israel,
who will be angry and yet become again gracious,
and who forgives all the sins of man in suffering.
Lord God, creator of heaven and earth,
look upon our lowliness.
Notes by by Steve C Smith and Peter Phillips, for a recording by the Tallis Scholars: 
Spem in alium, a 40-voice motet for eight five-part choirs, is certainly the most fluent of all the multi-choral works of the Renaissance and Baroque periods. Comparison could be made with Striggio's 40-part Ecce beatam lucem; Josquin's 24-part Qui habitat in adiutorio; the 36-part Deo gratias believed to be by Ockeghem; Giovanni Gabrieli's relatively modest 19-part Buccinate in neomenia and Robert Carver's 19-part O bone Iesu; or the 54-part Missa Salisburgensis thought to be by Biber. Some of these are largely chordal (Striggio, Gabrieli, Biber); the rest heavily polyphonic (Josquin, Ockeghem, Carver). Tallis carefully and expertly blended the two possibilities, beginning with polyphony, using homophony for the important words 'Domine Deus, creator caeli et terrae', and finishing again with 40-part counterpoint. There is no sense that this is some kind of academic exercise, and little feeling that the number of voice-parts is excessive to what Tallis was trying to express. If, in trying to avoid consecutive octaves, some of the voices in the forty-part sections seem to be hopping aimlessly about an arpeggio, they are still contributing to the sheer weight of sound, which has an eloquence of its own. The other advantage of having so many choirs is that of polychoral or stereophonic effects between them.
No-one is certain what prompted Tallis to write this piece or why he chose 40 voice parts. The simplest explanation is that he was taking the number 40, often presented in the Bible as having a mystical significance. It has been suggested that Spem in alium was designed to celebrate the 40th birthday of a reigning monarch (either Mary's in 1556 or Elizabeth I's in 1573) (1). A firmer hypothesis (2) attributes the idea of a 40-voice motet to Alessandro Striggio, who was in London in 1567, and probably had with him the score of Ecce beatam lucem - his own 40-part piece. Perhaps Tallis was impressed and challenged by this. Denis Stevens (3) goes further with the suggestion, and believes that Spem was first performed in the Long Gallery of Arundel House in London in 1570 or 1571, commissioned by the Duke of Norfolk. The performers were a choir of men and probably boys directed by the composer, with the vocal lines reinforced by instruments at will. It was a secular occasion, but Tallis had himself chosen a respond text, referring to the meaning of hope and the absolution of sins, to make a point to Queen Elizabeth, who was then involved with the suppression of the Catholic church, of which Tallis was still a member.
(1) Paul Doe, Tallis (OUP), p.41
(2) Iain Fenlon and Hugh Keyte, Early Music, July 1980, pp.329ff
(3) Early Music, April 1982, pp.171ff
Smith, Steven, and Peter Phillips, Thomas Tallis - Spem in Alium, http://www.gimell.com/recording-Thomas-Tallis---Spem-in-alium.aspx
From YouTube, some recommended recordings:
The Tallis Scholars
Another recording, probably too slow, but with excellent voicing detail:
Though they cheat and might have some other flaws, 
the purest blend is the dubbed version by the King's SIngers:
 Disclaimer: Videos are not owned by Chorus Sine Nomine.
When & Where

Holy Comforter / Saint Cyprian Roman Catholic Church
1357 East Capitol Street Southeast
Washington, DC 20003


Saturday, February 22, 2014 from 12:00 PM to 7:00 PM (EST)
Add to my calendar
Organizer
A group of friends who have been singing Renaissance polyphony together for some years. We have begun to call ourselves Chorus Sine Nomine.