Indy CD & Vinyl & Big Lug Brewing Co Present SPELLBOUND Darkwave DJ Dance Night - February Edition
About this event
Indy CD & Vinyl & Big Lug Brewing Co Present
SPELLBOUND Darkwave DJ Dance Night - February 2022 Edition
Hosted by Annie & Andy of A-Squared Industries and DJ Evil Twin
Saturday February 26, 2022 9p-3a
21+ / $10 cover
spellboundindy.com
facebook.com/spellboundindy
instagram.com/spellboundindy
Let's get together, safely:
SPELLBOUND Darkwave DJ Dance Night at White Rabbit Cabaret has partnered with the Indiana Independent Venue Alliance (IIVA) and the Arts Council of Indianapolis to join with the app Bindle, a software platform built to help communities safely reopen, to support entertainment entities through the ongoing pandemic.
Venues across America, Broadway shows, major international promoters and well-known touring artists have already begun to implement new safety measures and requirements for their events including proof of vaccination and/or proof of negative test within a timeframe close to the show date in order to be admitted.
"This is a proactive move to ensure our independent venues can continue producing shows. We've been through this before, and we're building on what we've learned. This time, the responsibility lies on venues and promoters to set the standard of producing COVID-era events. Due to the sensitivity around this type of program, it's been a challenge to ensure we're considering multiple perspectives and have all of our bases covered," said IIVA Executive Director Josh Baker.
Since Spellbound as an individual event, as well as all the other individual venues and organizations in the music scene, are responsible for implementing their own safety requirements for their staff, artists, and audiences, this was the most logical step in ensuring Spellbound even happens in 2021.
Please be sure to understand, Spellbound is not forcing anyone to get the vaccine and become inoculated against this virulent and highly contagious disease, we are simply asking you to prove you don't have Covid-19 when you choose to come out and dance with us.
Bindle Is Easy, Safe, and Secure. Bindle is a software platform that is purpose-built to help communities safely, fairly and fully reopen. The platform allows you to securely store your COVID-19 test and vaccine records and easily prove your health status when entering a shared space.
The Bindle platform is live and available to Indianapolis and residents statewide, free of charge.
Learn more about how Bindle works visit https://joinbindle.com/learnmore
It is VERY easy... simply download the app, register, and then take a photo of your ID or Driver's License, and then a photo of your proof of vaccination. If you don't have one or have chosen to forego inoculation, the app connects to CVS, Walgreens, and other approved testing centers to verify negative test within a near time frame. Then you will choose the venue for which you want your pass (in this case, White Rabbit Cabaret) and that is it!
When you arrive at the venue, simply open the app, select the WRC pass, and all the venue will see is your photo and a big green check mark - no one will get your personal or medical data.
We hope you're able to join us safely using this easy and free app! If you choose to not attend due to these new safety protocols, simply find the email with proof of purchase, and follow the prompts to request a refund. Your refund will be granted quickly and those tickets will simply be released for re-sale.
Thanks for keeping everyone's health as our priority while we party! #spellboundindy #theysleepwelive
***
ALL GUESTS ACKNOWLEDGE AND AGREE TO THE FOLLOWING WAIVER OF LIABILITY. This ticket is a revocable license and may be taken up and admission refused upon refunding the purchase price appearing hereon and is grounds for seizure and cancellation without compensation. Holder of this ticket ("Holder") voluntarily assumes all risks and danger incidental to the game or event for which this ticket is issued whether occurring prior to, during, or after same, including, but not limited to, contracting, and/or spreading the COVID-19 virus, and agrees that the organization, venue, presenter, agents, participants, or players are not responsible or liable for any injuries, sickness, or death resulting from such causes. Holder acknowledges that the COVID-19 pandemic remains a threat to individual and public health, COVID-19 is a highly contagious disease transmitted through human contact and respiratory droplets (including through the air and via common surfaces) and it is possible that Holder may contract COVID-19 while at the game or event for which this ticket is issued. Holder agrees by use of this ticket not to transmit or aid in transmitting any description, account, picture, or reproduction of the game or event to which this ticket is issued. Breach of the foregoing will automatically terminate this license. Holder agrees that the license comprised by this ticket may be removed and Holder may be ejected from the game or event for which this ticket is issued in the event that Holder violates any law, ordinance, or venue regulation. Holder grants permission to the organization sponsoring the game or event for which this ticket is issued to utilize Holder's image or likeness in connection with any video or other transmission or reproduction of the event to which this ticket relates.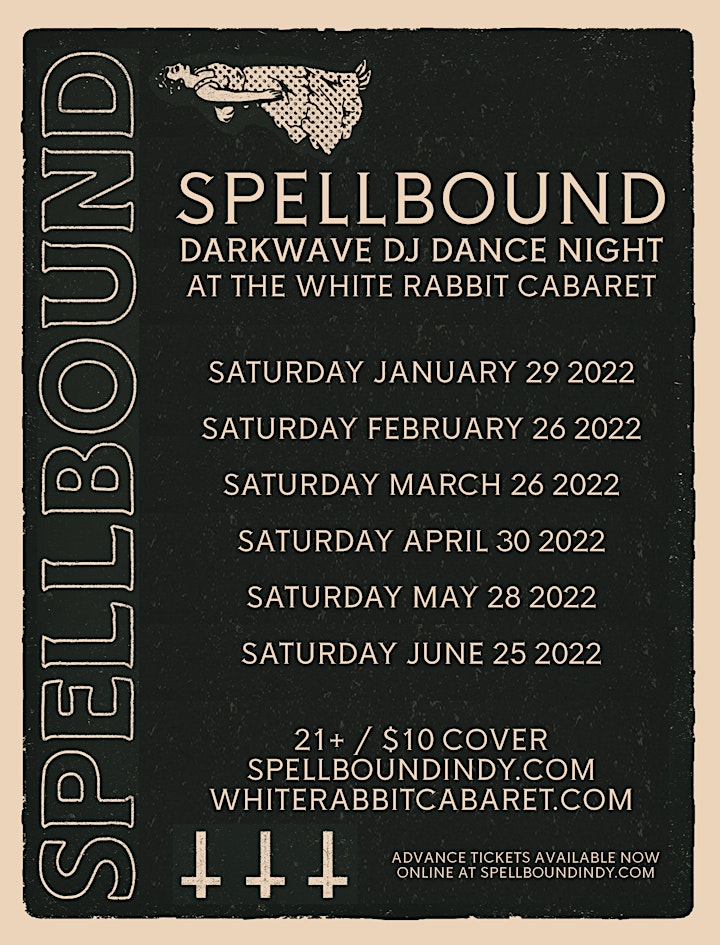 Organizer of Spellbound Darkwave DJ Dance Night - February 2022 Edition