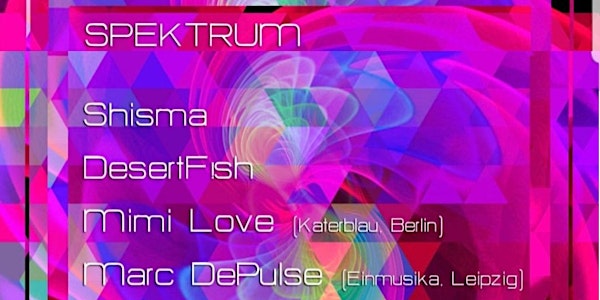 SPEKTRUM | Electronic Music from Germany and KSA
When and where
Location
Stratosphere [pin displayed in ticket] Saxonian Switzerland Germany
Description
All Spectral Colors: SPEKTRUM
Gleam KSA, Shisma, and the Consulate General of Germany are collaborating for this electronic music evening in Jeddah featuring two special guests from Germany.
Mimi Love started in Berlin's iconic Bar25 and took off into outer-space. Today she journeys Europe, America, The Pacific, and now for the first time Arabia in addition to her feet being solidly planted in the ripe Berlin soil. From her residency at Katerblau, her deep association with the Bachstelzen Collective and her tear-inducing sets at the utopic Garbicz and Fusion Festivals among others, Mimi Love is never far away from playing her special kind of Love Sound to the cutest people around.
"I simply produce and play what I love." That is what Leipzig/Germany-based Marc DePulse wants to tell us with his releases and podcasts: There is no box into which you must fit, because you are free in your mind to do whatever you love. Being real, being authentic, being a full time music lover. Wake up with music in your head.
Marc dePulse also plays on 13/12 at The DeepEnd II.
Celebrate the German-Saudi spirit of cultural exchange by joining us for the lineup of our guests with local heroes. The Golden Ratio will add to SPEKTRUM by creating another epic stage design of light.
Lineup:
Shisma
DesertF!sh
Mimi Love (KaterBlau, Berlin)
Marc DePulse (Einmusika, Leipzig)
---
Message from the Consul General of Germany:
I love to promote cultural exchange between Saudi Arabia and Germany. We organize varied activities to contribute to this goal, and this time - in the tradition of the TRIPLE VOLTAGE, QUANTUM LEAP, & THE DEEPEND series - our friends Gleam KSA, Shisma, and The Golden Ratio prepare another electrifying experience.
---
Registration of each attendee is required - one ticket admits 1 person (+0, i.e. no guests) - Limited availability -
- No access without registration and ID - No access after 10 p.m.
- Observe local laws & regulations - No photos or social media posts.