Multiple Dates
Speed Reading for Foreigners - FREE - Live Online Class (30 min) Lisbon
Sales Have Ended
Registrations are closed
Sold out! New courses to be opened soon.
Sales Have Ended
Registrations are closed
Sold out! New courses to be opened soon.
Description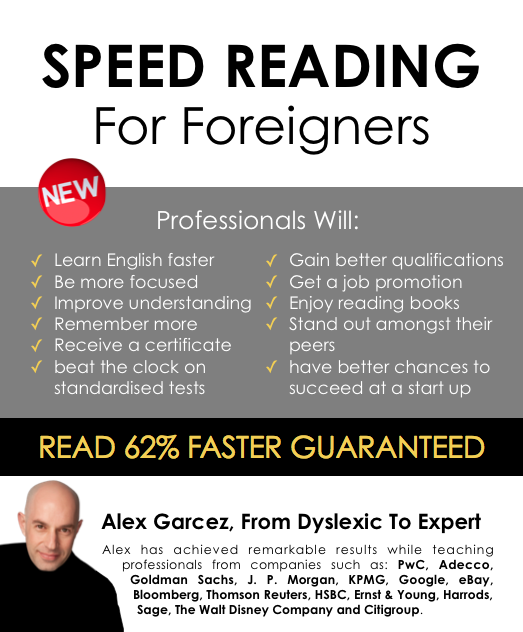 SPEED READING FREE CLASS
Improve your reading skills in a smooth and simple way. You will understand what speed reading is about and you will be invited to join the Masterclass which will enable you to read faster with better focus and understanding.
You will find the details of the Masterclass below.
TWO x 2-HOUR MASTERCLASS
You will learn how to read 62% faster if you have learnt English as a foreign language (50% faster for native English speakers) during the 4-hour session or your money back.
You are also invited to ask questions during the workshop and also via email after the session.
SPECIAL PRICE - Limited time offer
£75 (Normally £170)
Minimum age is 9 years of age and we recommend that children are accompanied by an adult.
If you prefer to take the session at a suitable date and location for you, please get in touch.
Please have three non-fiction books for the practice during the session. Choose books that you want to read with continuous text and 10 words per line on average (9 or 11 words per line are good too).
READ THE REVIEWS FROM OUR CLIENTS:
www.TheSpeedReadingCoach.com/reviews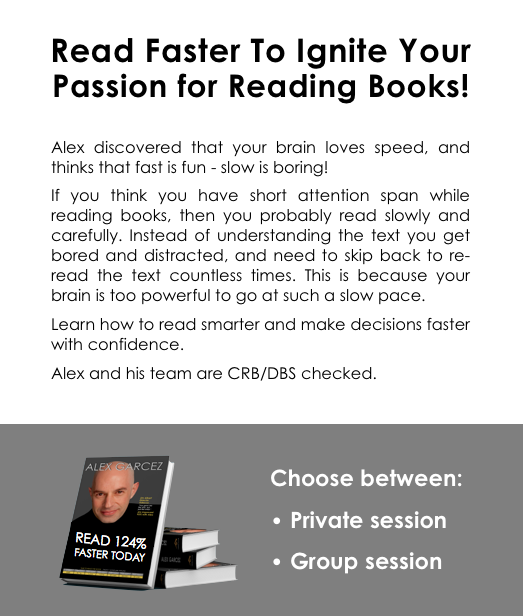 Contact Alex directly for further information:
Mobile phone United Kinddom: +44 (0) 7727 608 544
Email: Alex@TheSpeedReadingCoach.com
Website: www.TheSpeedReadingCoach.com