| | |
| --- | --- |
| Speed Reading for Foreigners - 2 x Two-Hour Masterclass - LIVE ONLINE | |
Event Details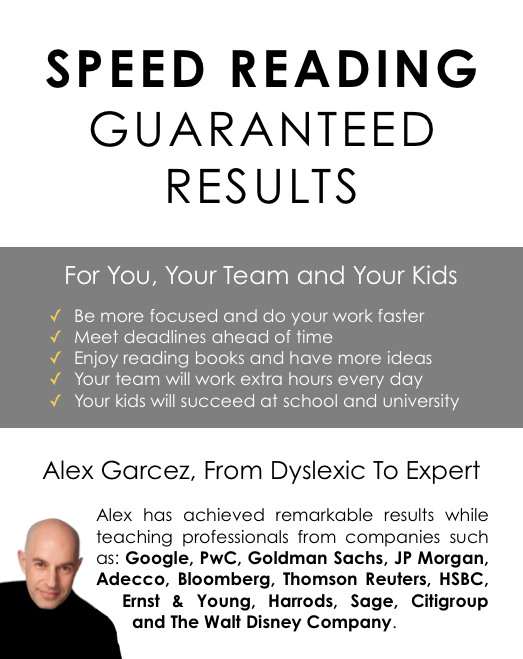 Two x 2-HOUR LIVE MASTERCLASS 
Improve your reading skills in a smooth and simple way. This is a science-based method with practical application that will make you see results during the session.
Most people will read 112% faster with better focus and comprehension after tow masterclasses.
USE FLOW STATE AND BRAIN HACKS 
Take advantage of new discoveries that will enable you to perform better while reading, studying, thinking and creating.
At our Masterclasses you will learn:
– How to change brain wave
 frequencies to perform better at intellectual work
– How Eye Tracking technology is changing the way we see the world and you will learn how to develop a new strategy to move your eyes to enhance your reading power and learn other activities faster
– How ergonomics can help you save energy that can be converted into extra brain power
– How to change your posture to become more confident and make decisions faster with confidence
– How to tap on the right side of the brain to start drawing well
– How to use software that will instantly make you read faster without effort
– How to write a book to position yourself as an expert in record time
– How to develop your focus for studying or working
– How to summarise any text faster than you can think
– How to expand your peripheral vision
– And much more…
THE GUARANTEE
You will learn how to read 62% faster if you have learnt English as a foreign language or 41%  if you are a native English speaker or Your Money Back. You must attend the two x 2-hour sessions.
You are also invited to ask questions during the workshop and also via email after the session. 
SPECIAL PRICE - Limited time offer
£137 (Normally £187)
Minimum age is 9 years of age and we recommend that children are supervised by an adult.
If you prefer to take the session at a suitable date and location for you, please get in touch.
DATE FOR 1st AND 2nd SESSION
Your second session will always be at the same time and the same day of the week, on the following week. For example, if you are taking your first session on a Wednesday 7pm to 9pm your second session will be on the following Wednesday from 7pm to 9pm.
If you miss the second session you can rebook once at no extra cost. Please get in touch. 
MATERIAL FOR THE PRACTICE
Please have three non-fiction books for the practice during the session. Choose books that you want to read with continuous text and 10 words per line on average (9 or 11 words per line are good too). 
READ THE REVIEWS FROM OUR CLIENTS:
www.TheSpeedReadingCoach.com/reviews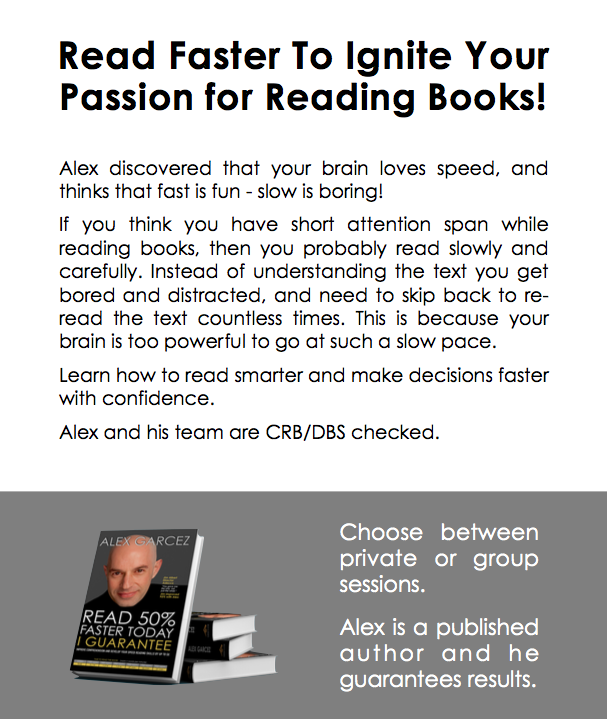 Contact Alex directly for further information:
Mobile phone United Kinddom: +44 (0) 7727 608 544
Email: Alex@TheSpeedReadingCoach.com
Website: www.TheSpeedReadingCoach.com
When & Where

London
United Kingdom


Organiser
A dyslexic Brazilian will show you how to blast through your books, documents and social media.
Foreigners will read English at least 62% faster, with better focus and understanding. Alex guarantees your success or Your Money Back!
Alex Garcez gave up his Engineering degree because he was dyslexic and a very slow reader, however, his weakness became his strength when he decided to master his reading skills. He then took a Business Degree and developed a method to teach people how to read faster over 13 years. He has personally coached thousands and he has achieved remarkable results while coaching professionals from companies such as: KPMG, PwC, Goldman Sachs, J.P. Morgan, Google, eBay, Adecco, GE, Bloomberg, Thomson Reuters, Ernst & Young, HSBC and Citigroup.
Alex discovered that your brain loves speed, and thinks that fast is fun - slow is boring! If you think you have short attention span while reading books, then you probably read slowly and carefully. Instead of understanding the text you get bored and distracted, and need to skip back to re-read the text countless times. This is because your brain is too powerful to go at such a slow pace. Read smarter and make decisions faster with confidence.
Alex leaves people feeling powerful to progress in their careers and also inspired to read more books.
More information about the organiser at the website below:
http://www.thespeedreadingcoach.com