Speed Reading for Adults: Double or Better Your Reading Speed. Guaranteed.
Description
DOUBLE OR BETTER YOUR READING SPEED IN JUST 1 DAY - GUARANTEED*
WATCH OUR VIDEO
WHEN ASKED WHAT SUPERPOWER THEY'D LIKE TO HAVE:
"BEING ABLE TO READ SUPER FAST"
Bill Gates, Philanthropist & Co-Founder of Microsoft
"YEAH I AGREE. I PROBABLY WASTED 10 YEARS SLOWLY"
Warren Buffet, Legendary Investor
Executives and other adults face a perpetual dilemma. Every day, the amount of content you need to read just keeps piling up. Competition for work positions is fierce, and online content doubles every 18 months. More than ever, executives must be able to read, comprehend and recall information much faster to stay on top of their game. Simply reading at usual speeds don't help.
But what if you could cut the time you spend reading by half or more? Imagine the extra time you will "create." Now imagine how you'd use that time.


A ONE DAY WORKSHOP, A LIFETIME OF BENEFITS.
The Soundway Efficient Speed Reading program promises executives and other adults a unique and rewarding experience. Our core workshops integrate fun, engaging videos, games and exercises in a relaxing yet stimulating environment. We teach participants how to erase poor reading habits permanently, while significantly increasing their reading speed to perform better in the classroom, at work and beyond. And we do it in just 1 day!
SOUNDWAY'S METHODS & TECHNIQUES
Our team has decades of experience designing best selling workshops, learning tools and systems for all levels of learners. We build and deliver learning events that are fun, engaging and immediately effective. From custom designed videos & games, to a variety of easy-to-use software, we make it our goal to ensure the learning is easy for anyone from 4 years old to 100 years old. Our expert facilitators are carefully selected and extensively trained in Soundway's methods and systems. In fact our facilitators rate 'Excellent' almost 100% of the time. We have the toughest trainer selection process in the business. Soundway is committed to scientifically sound, brain friendly learning - always. More than 20 000 participants have gained from various versions of this workshop. You will too. We guarantee it.


A RESEARCH-BASED, MARKET-TESTED PROGRAM WITH A MONEY-BACK GUARANTEE.
Our programs are based on pioneering research on the psychology and physiology of reading, how the brain "comprehends" and the science behind memory retention. That's why our programs work. And why we confidently offer you a money-back guarantee*.
A ONE DAY PROGRAM, A LIFETIME OF BENEFITS.
Create More Quality Time For Yourself

By reading faster and working smarter you'll free-up loads of time for family, friends and yourself. Enjoy more free time...and actually have a social life!


Improve Your Overall Performance

You'll enjoy better focus at work. Absorb information faster. Develop the ability to skim, scan and preview what you read to get to the key points fast. Comprehend and recall what you read more effectively. And dramatically expand your vocabulary.

Become a Well-Read, More Knowledgeable Person

The faster you read, the more you can read and comprehend. And we're not just talking about not work related material. By spending less time reading strictly work related content, you'll be able to finally breeze through all those great books you've always wanted to, but never had the time.

Position Yourself For A Life At The Top
Henry S Truman once said "Not all readers are leaders. But all leaders are readers". To succeed in any chosen field, you must keep up-to-date with the latest developements. In the digital information age, this could take forever ..... unless you're a Soundway Speed Reader.
ARE YOU SLOW OR SPEEDY
?
Ask yourself these questions:
• Do you tend to read one word at a time?
• Do you have to re-read words?
• Do you vocalize when you read, either subliminally or silently lipping or mouthing words?
• Do you find it difficult to derive the meaning of new words from its context in a sentence?
• Do you have a hard time recalling what you've read?


If you answered "YES"

to any of the above:
You're not reading at your fastest. Attend the 1-day
Soundway Efficient Speed Reading
Program to double or more your reading speed.
If you answered "NO" to ALL of the above:
Congratulations! You're reading faster than the average person.

Now how would you like to read even faster?




HERE'S SOME OF WHAT IS COVERED AT THE SPEED READING WORKSHOP
• The 5 common reading misconceptions
• Efficient Reading vs. Speed Reading
• Characteristics of Efficient Reading
• Reading and the brain
• Speed and comprehension tests
• Unlearning slow reading habits
• Effective memorization techniques
• Putting an end to "one-word-at-a-time" reading, subliminal and lip vocalizing
• Prime word characteristics
• Expanding your vocabulary
• Speed and comprehension tests
• Effective Memorization Techniques


MORE WAYS YOU'LL GAIN BY ATTENDING OF SOUNDWAY SPEED READING
Double or better your reading speed...guaranteed!*

Learn faster, more efficient reading habits

Erase poor reading habits permanently

Skim, scan and preview to get key ideas

Focus better at work and continuing education programs


Enhance comprehension, memory and recall

Develop efficient note-taking and summarizing skills

Expand your vocabulary and grammar

Boost your self-esteem and confidence

Enrich your recall and learning skills

Research and prepare for presentations, project work and work assignments more quickly

Gain a major competitive edge at work

Make more time for family & social activities

Widen reading interests to become a well-read person

Create better opportunities for yourself with improved reading skills


WHAT CLIENTS SAY ABOUT SOUNDWAY'S PROGRAMS
The faster you read the more you learn! - Ahmad Nasri Yusof

Most enjoyable program - Dr. Bala

Opened up new possibilities I never knew - Raja Sharifah Maznunah

Wonderful! - Tze Hui

Mental exercises that facilitate alertness! -Dr. Nora'i Said

Awesome and worth every penny and time - Fatin Nabila Sharyzat Bte Abu Bakar

Excellent program. Learned the skills of learning and memory techniques - Rathidevi Ramasamy

Awesome program! Love how I can improve my memory & how it guided me on how to improve my reading skills - Nur Zuraida

Super fun, very beneficial - Aysha

Learned something useful and helpful for memory & reading - Leong Pook Wei

Energizing, challenging, competitive yet enjoyable. All 4 goals set on the first day were achieved! Brilliant & outstanding! - Dr. Mohd Anis Haron

Click on the Brochure Cover to Download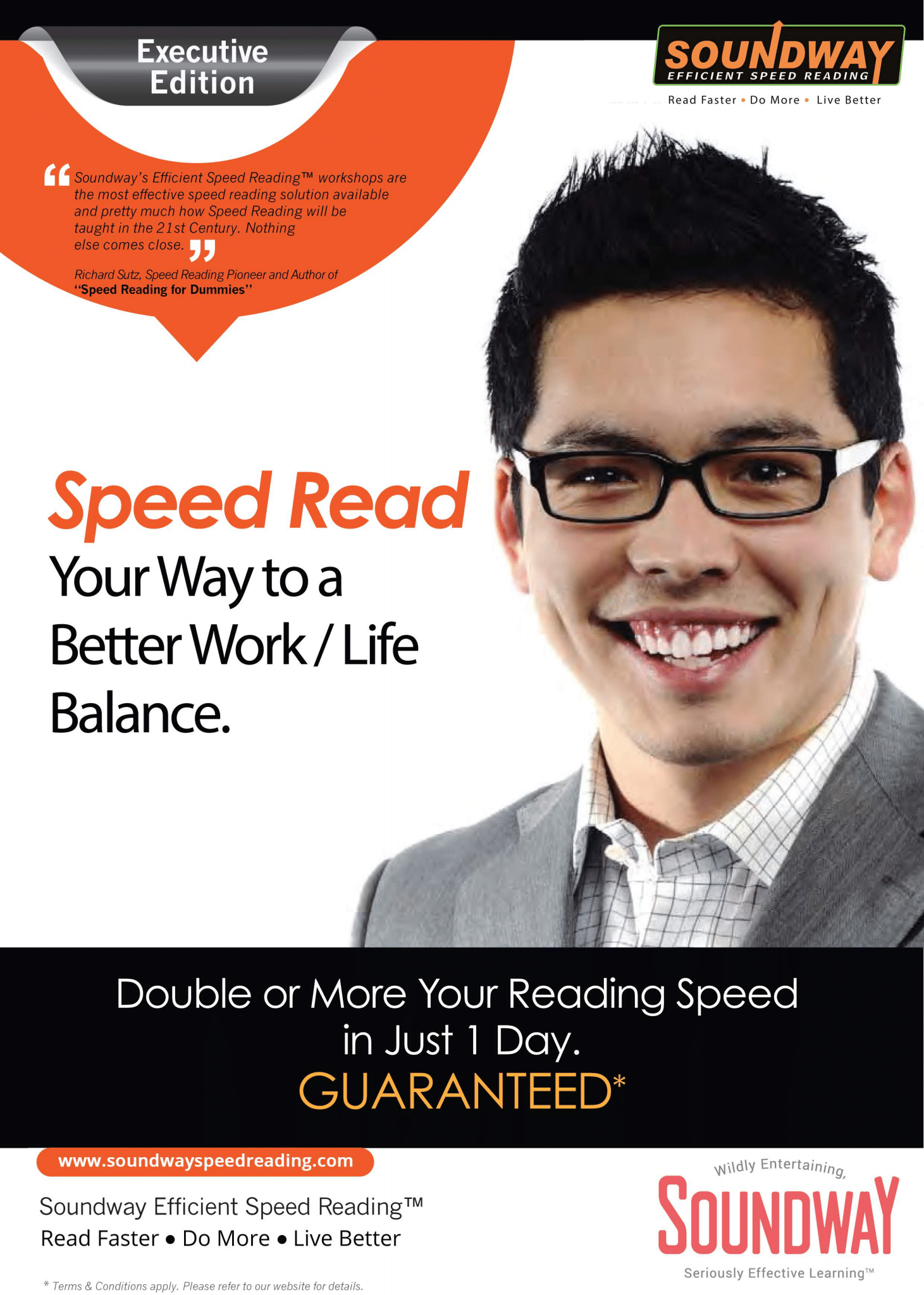 FAQs
Is there a minimum age requirement to attend this event?
This workshop is designed for adults, 18 years and over. We have other custom designed Soundway Speed Reading, Study Skills and MemoryAdvantage workshops specifically designed for primary, secondary and tertiary students. Please contact us at service@soundwaylearning.com for information on our other workshops. The organizer reserves the right to request ID confirmation.
What are my transportation/parking options for getting to and from the event?
- MRT: Tai Seng (5 minute walk to venue)
- Parking: There is up to 12 parking spots at the venue on weekends. Alternatively there is parking space available at the buildng opposite the venue.
Do you provide lunch and refreshments?
Yes lunch and refreshments are included in your registration fee. All food is halal.
What should I bring into the event?
- A jacket, sweater or shawl, just in case you're cold.
- A mobile phone or tablet with wifi or 4G capability. This is so you may access our custom designed, easy to use software. NOTE: No technical skills or download is required to use the software.
We provide everything else.
*Our Money Back Guarantee
For our Soundway MemoryAdvantage workshop we guarantee you will significantly improve (up to 1000% improvement) your memory within the 1-day workshop if your current memory abilities are gauged to be average or below.
For our Soundway Speed Reading workshops, we guarantee you will at least double your reading speed, provided your current reading speed is determined to be average or below.
How can I contact Soundway with any questions?
Please email us at service@soundwaylearning.com and one of our Custom Satisfaction Consultants will call you back within 24 hours. Please include the following information:
Your name
Your handphone number
Your question
What's the refund policy?
We do not offer a refund policy, however you may postpone your attendance to a future workshop date (within 6 months of your original workshop date) or nominate someone else to attend the workshop in your place.
Do I have to bring my printed ticket to the event?
A printed ticket is only required is you are unable to show us your digital ticket or QR code (available in the Eventbrite registration confirmation email sent to you and your Eventbrite account).
Can I update my registration information?
Yes, registration information may be updated. Please email us at service@soundwaylearning.com if we may be of any assistance.
Is my registration fee or ticket transferrable?
Yes, you may postpone your attendance to a future workshop date (within 6 months of the original date) or nominate someone else to attend the workshop in your place.
Organizer's Note:

The organizer reserves the right to accept or deny entry/registrations and/or the continued presence of any participant at the session, based solely on their own judgement.
The organizer reserves the right to postpone the session. In the unlikely event this happens, the organizer will either issue full refunds and/or provide alternative dates for a replacement session as determined by the organizer.