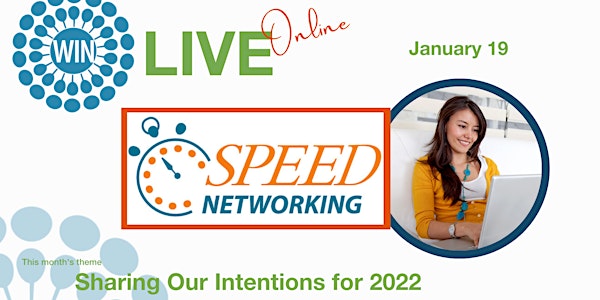 Speed Networking for Women: Come share an intention you have for 2022!
Come to this fun and energizing online event to efficiently grow your networking skills and circle of mutually beneficial connections!
About this event
For January, our conversation starter is to share our intentions for 2022. Research shows there is power in voicing our goals with our connections; come and share yours!
This has been a popular and uplifting tradition each January in WIN for each of us to share a goal we have for the New Year. We'll share goals we have during and between rounds of Speed Networking.
It is always a motivating way to begin the year in a celebratory way as we get to know each other.
Leave feeling energized and supported by your connections for a strong start in 2022.
~ ~ ~
Welcome to WIN's Monthly Networking online series where you'll gain and practice new networking skills and insights while you grow your connections with other uplifting women in business. Don't miss out! Mark your calendar for the third Wednesday of each month from 1-2:30pm CT.
Each month, receive different networking conversation starters and tips.
WIN online events are 90 minutes to allow plenty of time for meeting each other with the popular Win/Win Speed Networking format.
WIN fosters networking experiences where you have a chance to:
1. Participate and learn through facilitated networking activities.
2. Build and deepen your network with meaningful connections.
3. Leave feeling energized and supported!
WIN will be celebrating its 20th year in January!
To celebrate, we are offering a fun and free daily challenge, 20 Ways in 20 Days to Uplevel Your Networking in 2022. We'll invite all of you to participate. If you aren't already in the LinkedIn group, please click here to join us there!
Looking ahead to WIN's Conversation Starters for Speed Networking:
January 19: Share a goal or intention you have for 2022
February 16: What do you love? (e.g. about your career, business, clients, field...)
March 16: What is your superpower? (e.g. what do your clients, coworkers or colleagues say is one of your strengths?)
April 20: What types of connections are ideal for you?
May 18: What is something you are looking forward to in your business or career?
June 15: How do your ideal clients describe you?
July 20: What are you proud of in your work?
August 17: What type of networking works best for You?
September 21: What drew you to participate today?
October 19: What is something you would like to achieve by the end of the year?
November 16: What are you grateful for in your profession?
December 21: Share a success from this year
Meet Our Facilitator
Teresa Thomas is a networking expert and author of Win/Win Networking: Your Guidebook for Confident and Effective Connections and 50 Fun Things: Enjoy the Small Things. As the founder of Win/Win Connects, she catalyzes meaningful connections for people, possibilities and purpose. With over 25 years experience as a Connector, Teresa has facilitated hundreds of networking events, presented for countless groups, and helped thousands to connect and grow. Teresa has led WIN (Women in Networking) since 2007.
Event production by:
Way Beyond Ordinary helping business leaders, educators and entrepreneurs design and deliver high value live virtual events.
Cancellation Policy:  Win/Win Connects events count on advance registration therefore refunds are not routinely available. Please be sure that you are able to attend when you register. If you register and find you cannot attend, you may send a substitute in your place. We reserve the right to change this policy.