SPECTRUM WEEKLY QUEER SUNDAY MATINEE - MARCH 2013 OFFERINGS
When and where
Location
The New Parkway Theater 474 24th St Oakland, CA 94612
Refund Policy
Contact the organizer to request a refund.
Description
SPECTRUM Weekly Queer Sunday Matinee presents
MARCH 2013
Sunday, March 3rd @ 3PM - "PAGEANT" (Directors: Ron Davis, Stewart Halpern)
RSVP: https://www.facebook.com/events/450961081644240/
This multi-award winning film presents a behind-the-scenes look at the 34th Miss Gay America contest where fifty-two ordinary gentlemen go to extraordinary lengths to be crowned as winner. PAGEANT follows five of the most talented and beautiful female impersonators as they prepare to dominate in this underground competition.
Featuring stunning musical numbers, this movie dives into the heart and soul of this make-believe world: the men behind the make up. Hear from the contestants themselves and those who accompany them on this quest: husbands, mothers, sons, and little brothers.
_______________________________________________________________________________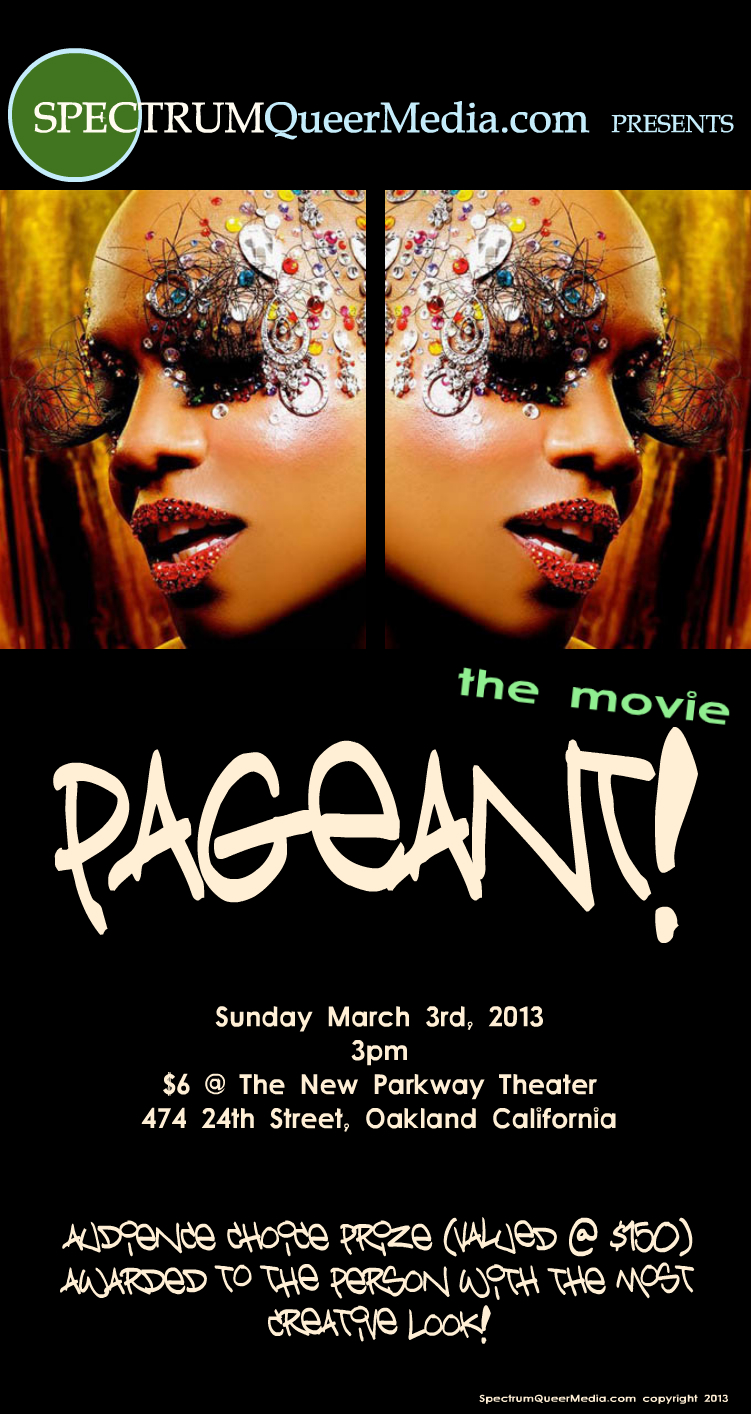 Lets celebrate our inner ROYALTY this Sunday!

3pm SPECTRUM Weekly Queer Sunday Matinee presents PAGEANT: The Movie!

We are awarding a dvd copy of "Pageant" and a trophy to the person who wears the most creative and fun getup! Miz Helen, Sehline ChicoSuave Ivanhoe and a mystery judge will be looking for imagination, originality and personality. Everything goes!

This is not the evening wear category - so relax - have fun - even be outlandish, if you desire. Or, as Miz Helen says: "Bring out your inner self - who you are - who you want to be - who you will be!" And, bring someone with you! There will be an audience choice award (a house call make up session from Bobbi Brown resident make up artist Treina Alexander - valued at $150).
_______________________________________________________________________________
This screening is PRESENTED BY
SPECTRUMQueerMedia.com in solidarity with SankofaEvents.com, Nursha Project,

(WUN) Magazine,

Sista2Sista, The Mayors Office of the City of Oakland and Queer Art Impact.
TO BECOME A SPONSOR contact us at: info@SpectrumQueerMedia.com
SPACE IS AT A PREMIUM: We highly suggest Online Tickets ($6 + eventbrite fee)
DIRECTORS, MOVIE BUFFS, FILM LOVERS EVERYWHERE:
To submit your favorite film titles JOIN: SPECTRUM LGBTQ FILM CLUB
Or visit us at www.SpectrumQueerMedia.com
SPECTRUMQueerMedia.com SCREENINGS _______________________________________________________________________________
February 2013 Screenings:
"Superbowl Sunday Queer Shorts" 2/3/13
"Two Spirits" 2/10/13
"America's Most UNWanted" and sQm: film SHORTS! A quarterly LGBTQ Short Film Festival! 2/17/13
sQm: film SHORTS! Inaugural film shorts and filmmakers:
• America's Most Unwanted (Dir: Shani Heckman)
• In Poch@hood (Dir: Lina Blanco-Ogden)
• Femme Gang (Dirs: Parke Ballantine and Lina Blanco-Ogden)
• Snow White Red Sky (Dir: Be Steadwell)
• Slow (Dir: Darius Clark Monroe)
• Craigslist Chronicles (Dir: Nia King)
• Love Ability (Dir: Alisha Byrd)
• The Young Prime Minister (Dir: Bill Taylor)
• In the Light (Dir: Glen Wood)
• Recipe For Love (Dir: Chauncey Wales)
SPECTRUMQueerMedia 2 Month Anniversary! Free Community Appreciation Encore Screening of "America's Most UnWanted" 2/24/13
January 2013 Screenings:
"It Gets Messy In Here" and "U People" 1/6/2013
"Still Black" 1/13/2013
"Mosquita y Mari" 1/20/2013
"The Endgame: AIDS in Black America" 1/27/2013
December 2012 Screenings:
"Bully" 12/16/2012
"In The Family" 12/23/2012
"Fabulous" 12/30/2012