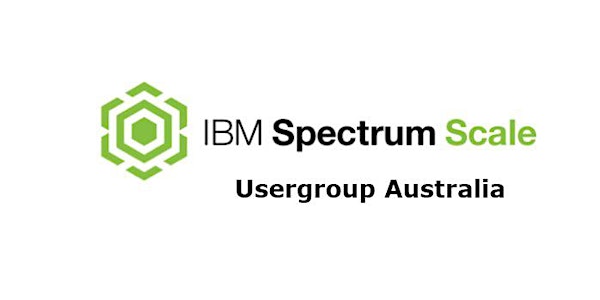 Spectrum Scale User Group Australia (GPFSUGAUS) April 2017
When and where
Location
Level 13, IBM Centre 601 Pacific Hwy St Leonards Sydney, NSW 2065 Australia
Description
General Information
The second Spectrum Scale user group Australia will feature a number of Spectrum Scale experts presenting on a wide variety of topics on Spectrum Scale.
The Developer team from IBM India will be participating and presenting and will be available to discuss all aspects of GPFS. If you have questions you can email the organiser or prepare them for the day and the open session in the morning.
Tickets are now available.
This event hopes to provide you with the opportunity to hear the latest Spectrum Scale updates from the filesystem and networking experts as well as hear from other users and technical experts on their experiences and uses of Spectrum Scale.
Supported by kind sponsorship, we hope to hold dinner and drinks on Wednesday night to enable you to network with other Spectrum Scale users and sponsors. The event will be at:
GPO Cheese & Wine Room - Lower Ground Floor, Westin Hotel, 1 Martin Place, Sydney NSW 2000 Wednesday, 26 April, 6-10pm
but please be assured it will be enjoyable, as a good venue for socialising with your peers, please login and reserve a drinks/dinner ticket via "Register".
IBM and Mellanox will be providing speakers from across the globe. IBM are kindly supporting the group with meeting space and refreshments on the day.
This event is a http://spectrumscale.org/ event in Australia.
Whilst the user group is open to all Spectrum Scale users, please note that the user group is a forum for technical discussion and is not a sales opportunity.
Primary Sponsor
Sponsors

Mellanox


Location:
IBM Centre, St Leonards (North Sydney).
Agenda:
Wednesday 26th April 2017
6pm Drinks and dinner is at GPO Cheese & Wine Room - Lower Ground Floor, Westin Hotel, 1 Martin Place, Sydney NSW 2000 Wednesday, 26 April, 6-10pm - please grab your tickets to help us work out total numbers.
----
The draft agenda for Thursday currently looks like this (it is subject to change and reordering of timings depending on availability of speakers etc):
Thursday 27th April 2017
8:00am Sign-in and coffee.
8:25am Introduction and meeting kick off (by Chris Schlipalius, The Pawsey Supercomputing Centre, Perth)
8:30am Mellanox Presentation - RDMA and beyond, Faster Interconnect for Spectrum Scale - Avi Telyas - Director, System Engineering, APAC
10:00am Morning Tea
10:30am Meet the IBM GPFS Developers - presentations and open discussion on GPFS - questions and answers
12:00pm-1:00pm Lunch
1:00pm MeDiCI: UQ's Metropolitan Data Caching Infrastructure - David Abramson, Director of Research Computing, University of Queensland
1:45pm TSM/Spectrum Protect Advanced settings for GPFS backups - by Jeff Jiang, The Pawsey Supercomputing Centre
2:15pm Meet the IBM GPFS Developers - presentations and open discussion on GPFS - continued
3:30pm Afternoon tea and then session feedback (we can push this back to 4pm if the attendees wish the Devs session to continue)
4:00 pm Wrap-up and discussion of the proposed 3rd User Group (proposed date 1st August 2017@The Pawsey Supercomputing Centre, Perth, Australia)
4:30pm Close
The full program of technical speakers and subjects will be finalised soon.
Please add your requested topics to be covered in the channel https://ibmau-spectrumscale.slack.com/messages/general/details/
Or, email the organiser with questions to ask the Developer team from IBM, or Mellanox.
Other FAQs
Who's running the event?
Chris Schlipalius at The Pawsey Supercomputing Centre, and Greg Lehmann from Scientific Computing Platforms, IM&T, CSIRO are the primary contacts.
You can also email: gpfsugaus@gmail.com
Is this an IBM-run event?
No. The Spectrum Scale user group is not part of IBM, we are a community of users, ISVs, VARs and have a number of IBM staff as members of the group. To enable us to bring developers from IBM to speak, we work closely with IBM to run user group events.
What's the focus of the event?
It's to continue the techncial briefings of the usergroup (UG) in Australia, and to provide a techncial forum of discussion for those working with Spectrum Scale(GPFS) and storage in Australia.
I have an idea for a talk, how can I get a slot?
Contact Chris Schlipalius gpfsugaus@gmail.com or at my Pawsey email address (please Google the Pawsey staff contacts list).
How do I join the group?
The group is free to join, please visit www.spectrumscale.org/join for details of the group and how to join the mailing list.
There is also an AARNet slack discussion channel for Australian GPFS Operators you can join, email us your details to be invited on to receive more upto date details on speakers or if you are already an AARNet Slack user, let us know your handle.
There are no tickets left, can I still attend?
We are limited by the space available to us at the meeting room.
We will be running a wait-list, however if you do not have a ticket by event day, we are unlikely to be able to accommodate you.
Preference for seating places is given to end-users of Spectrum Scale.
Will there be lunch and morning and afternoon tea/coffee on the 27th?
TBA.
Coffee on arrival is TBA
Will this be held at the Sydney offices of IBM?
Yes.
Is my registration/ticket transferrable?
Yes, let us know who will be attending instead of you, via email to gpfsugaus@gmail.com .
Can I update my registration information?
Yes, please email the organiser gpfsugaus@gmail.com
Do I have to bring my printed ticket to the event?
Yes please.
Please add your organisational email not your personal/private email address as this event is for professionals working in the storage area or with GPFS/Spectrum Scale.
If you can, bring your own name badge with you to help save on printing.
The name on the registration/ticket doesn't match the attendee. Is that okay?
No.
I can no longer attend, what should I do?
Please email gpfsugaus@gmail.com
Will I need to have an upto-date IBM NDA signed?
Possibly, IBM are hoping to have NDA forms on hand to be provided by an IBM representative if necissary.
Will there be opportunities to network and to participate in Q and A sessions?
Yes. Hopefully courtesy of funding, we hope to have drinks and dinner planned for the Wednesday evening on the 26th Aprii. Please reserve your ticket now as places are limited - you can do this by logging in again and choosing an addition ticket via "Register".
You must have another ticket for Thursday tech sessions in order to be eligibile for the Wed night dinner/drinks. If you don't have a Thursday event ticket, unfortunately we will need to cancel your dinner ticket and place it back in the pool for event attendees.
Finally....
Please email the organisers if you wish to have an agenda item added, or if you wish to present or you would like a specific topic covered by a presenter or for the Q&A session in the afternoon.
If you are wishing to present also, we will welcome you warmly! Speaking slots are available, just register a ticket and email the organisers to confirm your topic and reserved time.