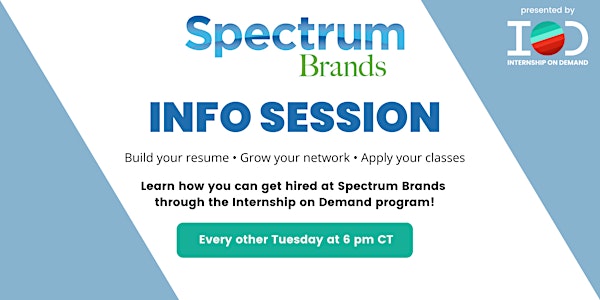 Spectrum Brands Info Session
Learn more about the Spectrum Brands Product Development Pre-Internship brought to you by Internship on Demand!
About this event
Internship on Demand is offering a pre-internship program that will help you get real professional experience and a foot in the door at Spectrum Brands. Attend our information session to learn more about how you can benefit from the program.
Apply for the program here: https://www.internshipondemand.com/spectrumbrands
About the pre-internship
This is a 7 week, virtual pre-internship meant to give students the necessary skills for success at Spectrum Brands. This program will represent the product development process undertaken at Spectrum Brands and give students the opportunity to make real progress on a new-to-market product.
100% virtual work with flexible hours to meet your schedule. Must be able to attend 3-4 hours of scheduled virtual meetings. Video content and readings are accessible at any time.
Work 10-15 hours a week at $15 per hour
1-2 hours of scheduled virtual facetime each week with Spectrum Brands engineers, recruiters, and leadership
Who should apply?
While all may apply and receive consideration, college students in engineering (mechanical, electrical, software, industrial, etc.) would benefit most directly. All grade levels are encouraged to apply!
Anyone seeking a flexible employment option to gain professional experience while taking summer classes, while working another job, or without having another internship
No regional limitations - if you are an international student, please indicate so in your application
We especially encourage those who lack prior professional experience, but can show aptitude and drive.
About Internship On Demand
Internship On Demand improves career outcomes for students and companies by bridging the gap between college and career.
Its web platform hosts virtual training experiences, termed pre-internships, that give students increased access to a company to improve their chances of landing a full-time internship. The Internship On Demand platform delivers the best hire to companies based on culture fit and real work examples so companies can hire directly from the platform. Incoming talent arrives fully trained, with a strong network, and knowing the company culture is right for them.
For more information about Internship On Demand, please visit www.internshipondemand.com.
Disclaimer: Internship on Demand does not represent the views or opinions of Spectrum Brands. Participation in any Internship on Demand program does not imply or equate to an internship program with Spectrum Brands.