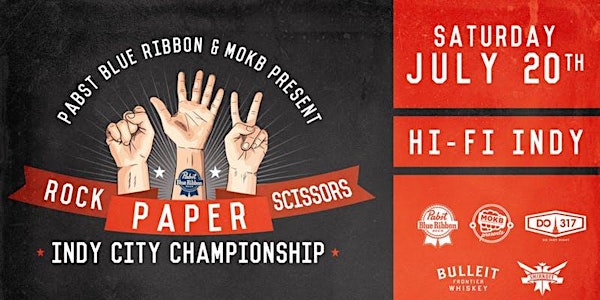 Spectator: 2019 PBR Rock Paper Scissors Indy Championship at HI-FI
Ages 21+
Pabst Blue Ribbon & MOKB Presents
2019 PBR Rock Paper Scissors Indy Championship at HI-FI
When and where
Location
HI-FI 1043 Virginia Ave Suite 217 Suite 4 Indianapolis, IN 46203
About this event
THIS PAGE IS FOR SPECTATORS ONLY. IF YOU ARE LOOKING TO REGISTER A TEAM, GO TO THIS PAGE.
DOORS: 6:00 PM, START: 7:00 PM
AGE RESTRICTIONS: 21+
GENERAL ADMISSION, LIMITED SEATING
Important Notice: All tickets are nonrefundable and nontransferable with the exception of event cancellation.
Brought to you by: Pabst Blue Ribbon, Bulleit Bourbon, Smirnoff Vodka, Do317.com and MOKB Presents.
----------------------------
About The Rock Paper Scissors Indy Championship
Are you ready to be a legend? To be a champion? Or just dress as your best Guy Fieri and get boozy? Get your shooting hand ready, because the Indy City Rock-Paper-Scissors Championship has never been more real.
This Single Elimination Tournament is ready to bare its teeth as 32 highly elite teams face-off in the longest standing hand-dueling sport in America. These teams will be on stage for all to see, throwing rock, paper, or scissors at each other in hopes of attaining city-wide fame and glory (throw on shoot though; we're not heathens).