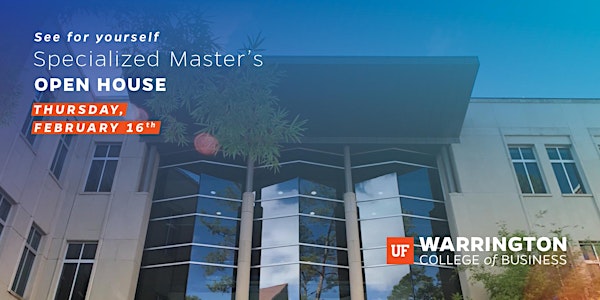 Specialized Master's Open House
Register now for our Specialized Master's Open House
About this event
Become an expert in the field you're most passionate about through a Warrington specialized master's program. Learn about each of our program options and have a chance to hear from the admissions, career services and financial aid teams.
Thursday, February 16th
10:00am - 12:00pm
* Zoom link will be sent following your registration.
Whether you want a career in management or advertising, criminology or healthcare, you have something to gain from business education, the Hough Graduate School of Business at the Warrington College of Business offers a variety of master's programs both online and on-campus that will meet your needs and help you reach your career goals.
Below is the schedule of events:
10:00am - 10:15am: Welcome and message from Andy Lord
10:15am - 10:45am: Business Career Services
10:45am - 11:00am: Financial Aid
11:00am - 12:00pm : Breakout Rooms
Traditional and Online program discussion
Combined degree programs (for current UF Students)
We also recognize that the support of friends and family members is key to a student's success in our programs, so we welcome and encourage them to join you for this event. Just reflect their participation in the number of spots you reserve for the event.