The 32nd Annual Conference will be held at the new W Hotel in Nashville, Tennessee. Monroe Carell Jr Children's Hospital at Vanderbilt
About this event
Contact: SEECMO2022@vumc.org
Friday May 20, 2022
12:00-12:30 pm Registration and Sign in
12:30-12:45 pm Welcome and Conference Goals
12:45 -1:30 pm Keynote: ECMO in a Changing Landscape
Dr. Matthew Paden-President ELSO
1:30-2:00 pm Where We Have Been
Dr. John Pietsch
2:00-2:30 pm Break, Exhibitors, Posters
2:30-4:30 pm Creating an ECMO Specialist and Provider Team
1:1 Model; 2:1 Model; Combined; Provider; Perfusion Base
Panel Discussion 4:10-4:30 pm
4:30-5:30 pm Putting Together a Transport Team
Collaboration (Lifeflight, Peds/Neo Transport, ECMO, Taxi)
Adjourn Enjoy the Nashville Nightlife
Saturday May 21, 2022
7:00am-8:00 am Breakfast—Meeting Rooms Brainstorming Events
8:00am-9:00 am Managing ECMO Patients
Anticoagulation, VV and VA, Hybrid Models
Pitfalls, Troubleshooting
9:00-10:00 am Let's Get Moving—Mobility on ECMO Engaging your Teams
OT, PT, Speech, Oh My!
10:00am-10:30am Break, Posters and Exhibitors
10:30am-11:30 pm Organ Support Modalities—What We have Learned
CRRT with ECMO—Nephrology and Intensivist Perspective
Incorporating VAD's maintaining safety features
How To: ECMO Specialist and Dialysis Nurse Collaboration
Panel Discussion
11:30-12:15 pm New Modalities for Organ Support
12:15-1:15 pm Lunch
1:15-2:30 pm Ethics of ECMO—How To Support Your Program
Panel Discussion
2:30-3:00 pm Break, Exhibitors, and Posters
3:00-4:30 pm Managing Special Patient Populations
Breakout A 3:00-3:30 pm How to improve CDH Management
3:30-4:00 pm Blood Products in the ECMO Population
4:00-4:30 pm Cannula Workshop
Breakout B 3:00-3:45 pm Setting up High Fidelity Simulations
3:45-4:30 pm Team Circuit Changes—Changing Culture
4:30-5:30 pm Invited Poster Presentations
6:30-21:30 EVENT: Moonshine Tasting - A Tennessee Tradition
Extra Tickets Available as an Add On
Sunday May 22, 2022
7:00-8:00 am Breakfast
8:00-9:00 am Stress Management—Taking Care of Your Team
9:00-10:00 am Case Scenarios— How do you handle that?
Panel
10:00-10:30 am Break, Exhibitors
10:30-11:30 am Patient Experience—Presented by our Teams
Family Perspective, Bedside Nurse, Bedside Specialist
11:30-12:00 pm Adjourn
(Day 1 -4.5 hours , Day 2 -7.5 hours, Day 3 –3 .5 hours)
(Total Conference 15.5 hours Session Time)
Call for Abstracts: submit to SEECMO2022@vumc.org
Deadline: March 15, 2022
Acceptance: March 30, 2022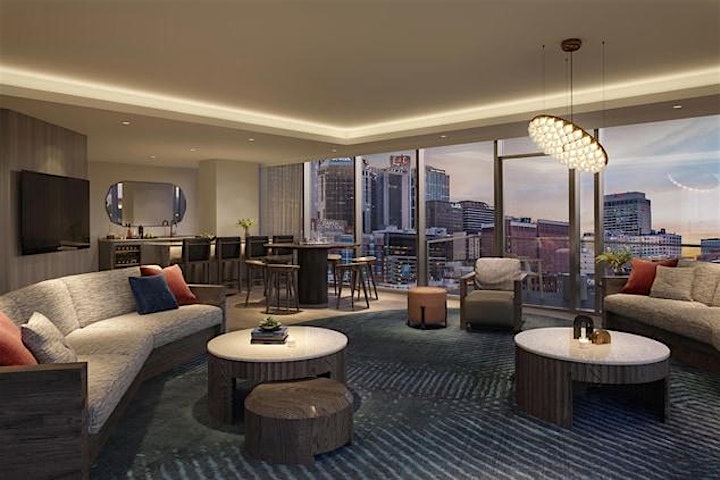 The W Hotel is providing a group room rate of $249 per night.
Organizer of Specialist Education in Extracorporeal Membrane Oxygenation (SEECMO)