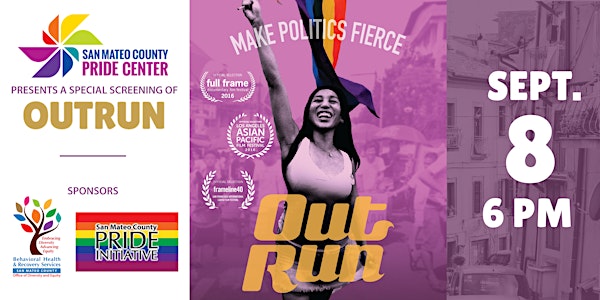 Special Screening: Out Run, a documentary film by S. Leo Chiang and Johnny...
Location
The San Mateo County Pride Center
1021 S. El Camino Real
San Mateo, San Mateo 94402
United States
Description
The San Mateo County Pride Center in partnership with the San Mateo County Behavioral Health & Recovery Services Office of Diversity and Equity and the San Mateo County Pride Initiative presents a special screening of Out Run, a documentary film by S. Leo Chiang and Johnny Symons. Suggested donation $10; no one turned away for lack of funds. Come meet the directors who will host a Q & A discussion session after the screening. Refreshments will be provided.
About the film:
As leader of the world's only LGBT political party, Bemz Benedito dreams of being the first transgender woman in the Philippine Congress. But in a predominantly Catholic nation, rallying for LGBT representation in the halls of Congress is not an easy feat. Bemz and her eclectic team of queer political warriors must rethink traditional campaign strategies to amass support from unlikely places. Taking their equality campaign to small-town hair salons and regional beauty pageants, the activists mobilize working-class trans hairdressers and beauty queens to join the fight against their main political opponent, a homophobic evangelical preacher, and prove to the Filipino electorate that it's time to take the rights of LGBT people seriously. But as outsiders trying to get inside the system, will they have to compromise their political ideals in order to win? Culminating on election day, OUT RUN provides a unique look into the challenges LGBT people face as they transition into the mainstream and fight for dignity, legitimacy, and acceptance across the globe.