Special Screening "Of Civil Wrongs & Rights" & Panel Discussion
Description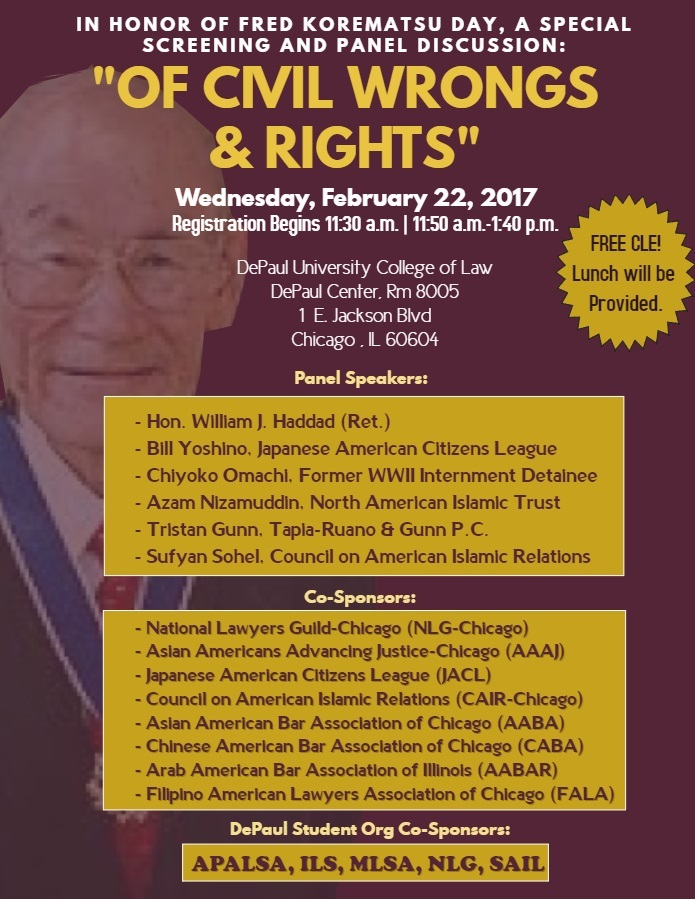 Fred Korematsu is an American Civil Rights Activist and the man behind the renowned constitutional law case Korematsu v. United States. In 1942, Korematsu was arrested for violating Executive Order 9066 when he refused to go to the Government's internment camps for Japanese Americans. He appealed his conviction to the U.S. Supreme Court, which upheld his conviction on the grounds of military necessity.
Join us on Wednesday, February 22, 2017 for a Special Screening "Of Civil Wrongs & Rights," followed by a Panel Discussion in honor of Fred Korematsu. Panelists will discuss the historical background of the Japanese American internment camps and how that experience relates to current civil rights issues faced by the nation today.

When: Wednesday, February 22, 2017
Where: DePaul University College of Law (1 E. Jackson Blvd. Chicago, IL 60604 -- DePaul Center, Room 8005)
Time: 11:30 a.m. (Attorney Registration) | 11:50-1:40 p.m. (Event Time- students who have class will be allowed to leave the event at 12:50 p.m.)
*Free CLE Credit (1.5 credits); P2P Credit for 1Ls; Lunch will be provided!
Co-Sponsors: National Lawyers Guild-Chicago (NLG-Chicago), Asian Americans Advancing Justice-Chicago (AAAJ), Japanese American Citizens League (JACL), Council on American Islamic Relations (CAIR-Chicago), Asian American Bar Association of Chicago (AABA), Chinese American Bar Association of Chicago (CABA), Arab American Bar Association of Illinois (AABAR), Filipino American Lawyers Association of Chicago (FALA).

DePaul Student Org Co-Sponsors: APALSA, ILS, MLSA, NLG, SAIL
Event Contact: Deba Alam, debaalam@gmail.com