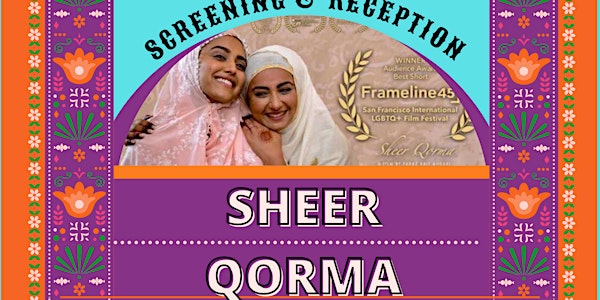 Special Screening and Reception- SHEER QORMA
Special Reception and Screening of Sheer Qorma with Faraz Arif Ansari in Person
When and where
Location
Ninth Street IFC 145 9th Street San Francisco, CA 94103
Refund Policy
Contact the organizer to request a refund.
Eventbrite's fee is nonrefundable.
About this event
We invite you to join us as we hold a special screening "Sheer Qorma" and reception with Faraz Arif Ansari(they/them) who is the director of this groundbreaking short and will be present in person. They are flying in from Mumbai, India. Q&A session to follow.
Sheer Qorma Trailer: https://youtu.be/2yA8NXwL7Ac
Sheer Qorma, a short film that stands to represent the LGBTQA+ community with a heart-warming story starring Shabana Azmi, Divya Dutta and Swara Bhasker. It is produced by Marijke de SouzaThe film has already won the Best Short Film Audience Award at the Frameline Film Festival and qualifies for the BAFTA 2021.
Speaking of the inspiration for the film, Ansari said, "There were two very important reasons — one being under-representation and the other being misrepresentation. Being a queer person growing up in India in the 1990s, I often saw myself not being represented [on screen], and whenever there was some sort of a queer representation, it was misrepresented, and this bothered me.
We are grateful to Association of India Development(AID) for co-presenting this screening and hosting Faraz along with great support from our community partners NQAPIA, APIENC, GAPA , The LGBT Asylum Project & Office of Transgender Intiatives. Very grateful to Frameline for screening opportunity.
https://www.filmfare.com/news/bollywood/exclusive-divya-dutta-and-faraz-ali-ansari-to-represent-sheer-qorma-at-dfwsaff-51122-1.html
Read more from Faraz:
My name is Faraz Arif Ansari. I am a queer, Muslim, non-binary independent filmmaker from Mumbai, India.
My first film, Sisak --- India's First Silent LGBTQ Love Story has become the first ever Indian film to have won 60 International Awards --- A milestone for Indian Cinema set by a silent, queer film.
Sisak Trailer: https://youtu.be/KTtgOaIWC4Q In my journey to mainstream queer cinema, I have made my next film, titled Sheer Qorma --- A tale of love and acceptance on queer, Muslim women and non-binary folx of colour. The film stars some of the biggest names from the Indian film industry --- Shabana Azmi (Multiple National Award Winning Actor), Divya Dutta (National Award Winner) & Swara Bhasker and is produced by Marijke de Souza.
With Sheer Qorma, the plan is to celebrate and put the limelight on the most ignored and underrepresented community through world cinema --- queer, Muslim women and non-binary folx of colour. The film raises multiple narrative threads of sexual and gender identity, the relationship of a mother and child, how multi-dimensional acceptance is, celebrates Urdu --- a dying language in India, the importance of women protagonists in mainstream cinema and many other things. Sheer Qorma has become the first ever Indian film to win Best Short Film at FRAMELINE: The Biggest Queer Film Festival in the World in the festival's 45 years of running, qualifying for BAFTA. Also won the following awards since our world premiere at Frameline in June 2021:
Best Short Film, FRAMELINE (BAFTA Qualifying)
Grand Jury Award, Gasparilla International Film Festival, Florida
Best Short Film, Connecticut LGBT Film Festival
Grand Jury Award, OUTSOUTH Queer Film Festival, North Carolina
Grand Jury Award, Over-the-Rhine International Film Festival, Ohio
Best Narrative Short: Cinematography, West Sound Film Festival, Washington
Sheer Qorma is the first ever Indian film to have a non-binary protagonist and to have been written and directed by a queer, non-binary filmmaker. 95% of the cast & crew of Sheer Qorma is women of colour and most of them identify on the queer spectrum.