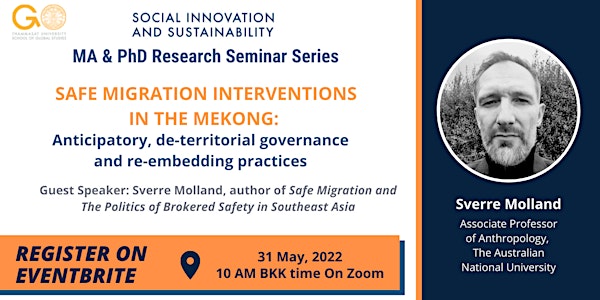 Special Research Seminar Series:Safe migration interventions in the Mekong
MA and PhD Research Seminar Series: Safe migration interventions in the Mekong by Sverre Molland, Australian National University.
About this event
Please join us on Zoom at 10 am on May 31 for a special research seminar by anthropologist Sverre Molland from the Australian National University.
Safe migration interventions in the Mekong: anticipatory, de-territorial governance and re-embedding.
Safe migration is an emergent aid modality amongst United Nations' agencies, non-governmental organisations and governments that attempt to regulate and assist labour migrants. In contrast to a narrow focus on border control, law enforcement and individual victim support (evident in anti-trafficking campaigns) safe migration interventions attempt to manufacture safety through labour migrants' migration cycle. In this talk, I show how such programmes encompass important spatial (i.e. de-territorial) and temporal attributes where programmes intervene ahead of exploitative labour migration manifesting itself. Based on ethnographic research in the Mekong region, I further demonstrate how these spatio-temporal characteristics depend on migrant communities themselves through various re-embedding practices (brokering, patron-client relations, and digital technologies). As such, safe migration policy presents an important case study for how migrants and informal practices become instrumentalised through policy interventions.
Speaker Bio
Associate Professor Sverre Molland is an anthropologist for the Australian National University. He has published widely on human trafficking and migration governance in the Mekong region. He is the author of Safe Migration and the Politics of Brokered Safety in Southeast Asia and The Perfect Business? Anti-Trafficking and the Sex Trade along the Mekong (University of Hawaii Press).