Special Preview: Virtual Standards of Quality Certification Training
REGISTRATION ENDS 2/23 at 8pmET
About this Event
How can we work with families most effectively?
What does it mean to be a quality Family Strengthening and Support program?
How can managers, direct service staff, and families work together to develop and sustain quality programs?
The newly-revised nationally-adopted Standards of Quality for Family Strengthening & Support are used across the country by public departments, foundations, networks, community-based organizations, and families as a tool for planning, providing, and assessing quality practice.
Based on the Principles of Family Support Practice and the Strengthening Families Framework and its research-based evidence-informed 5 Protective Factors, the Standards have created a common language across different kinds of Family Strengthening and Family Support programs such as Family Resource Centers, home visiting programs, and child development programs.
The Certification Training details how the Standards can enhance work with families. Whether you are program staff setting up a new program or strengthening an existing one, or a funder developing or monitoring programs, the Standards provide a blueprint for implementing best practice. In follow up surveys at 3 months and 9 months after the Certification Training, more than 91% of respondents indicated that the Standards enhanced their Program's work with families.
Participants who successfully complete the training will receive a certificate from the National Family Support Network, valid for two years. More than 9,200 people have successfully completed the Certification Training to date in 25 states and the District of Columbia.
Topics Covered:
History of the Family Support Field
Principles of Family Support Practice
Strengthening Families Approach and its 5 Protective Factors
Family Centeredness - How can we develop and implement a program that is centered on the needs of families?
Family Strengthening - How can we help families to build upon their strengths for achieving success?
Diversity, Equity, and Inclusion - How can staff and families value, respect, and embrace families' diversity, and advance equity and inclusion?
Community Strengthening - How can programs and families build strong communities?
Evaluation - How do we know how well our programs are serving families?
Recommended Participants:
Management and direct service staff in the Family Support and Strengthening field. Teams of Executive Directors, Managers, Coordinators, and Direct Service staff are highly encouraged to participate together, because each has a key role to play in implementing the Standards effectively.
Funders, program officers, and contract managers in the Family Support and Strengthening field.
Please note:
1.) The training will take place at 11:15am-5:00pm ET each day, including breaks. The training will begin promptly at 11:15am. Please plan accordingly, as latecomers and those who do not participate in the full training each day will not receive certificates.
2.) When completing the registration, please specify the physical shipping address to which your training manual should be mailed in advance of the training. Without a hard copy of the training manual, you will not be able to participate.
3.) National Family Support Network (NFSN) Member Networks can also participate in a Training of Trainers Institute to develop their capacity to offer this one-day Standards Certification Training in their states.
Training Payment Methods:
Credit Card: Through Eventbrite
Check: If you would like to pay by check, please contact Michael at michael@nationalfamilysupportnetwork.org. He can also provide an invoice, if needed. Registration is not confirmed until payment is received.
If you need the W9 of the NFSN's fiscal sponsor, Washington Regional Association of Grantmakers, please download it here.
Questions:
Contact Laura at laura@nationalfamilysupportnetwork.org or (607) 207-6375.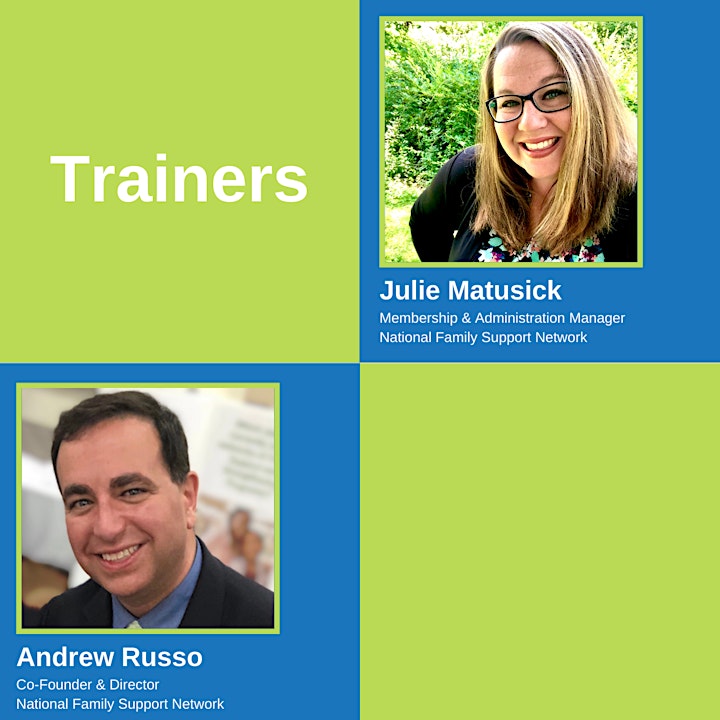 Date and Time
Location
Refund Policy