SPECIAL ONE NIGHT ONLY -- July 20th Grilled Cheese & Beer Night for Sinners!

Thursday, July 20, 2017 from 7:30 PM to 10:30 PM (PDT)
Event Details
This is a special one-night-only event!  
Amager (Denmark)  has put together a series of seven killer beers -- one for each of the deadly sins. 
• Envy - IPA
• Gluttony - Double IPA
• Greed - German-style pilsner
• Lust - Belgian strong dark ale
• Pride - Imperial stout
• Wrath - Saison
• Sloth - Pale Ale
This beer series is extremely rare to find in the United States. On normal Grilled Cheese & Beer nights, we ease you into the tastings/pairings by whetting your appetite with our tangy starter salad sans beer. But because we've got seven sinful beers to sample, we're going to start you off right away with a beer to accompany your salad! As if that's not enough, we're also adding a small extra course to complement the seventh sin, er, beer!
This is a unique take on our wildly popular family-style event that has been our most popular. Join us now and see what the excitement has been all about! The cost is $70 (plus tax) per person. The event will sell out quickly, so check our calendar for upcoming dates, or email us to get on the list for the next event.
*NOTE: Please let us know if anybody in your party has any dietary restrictions.
**Due to the incessant flakiness of a small percentage of Los Angelenos, ALL SALES ARE FINAL. 
Organizer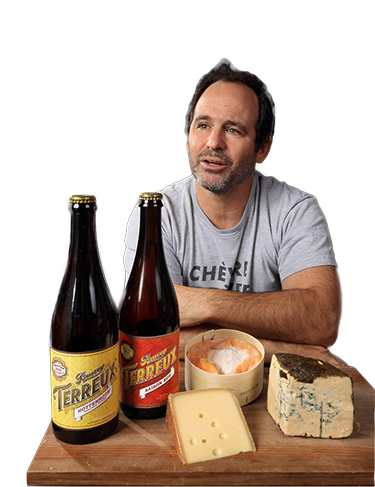 Andrew Steiner first fell madly and passionately in love with cheese while working as a waiter at Joachim Splichal's legendary restaurant Patina.  An enthusiastic, quick-learning cheese lover, Steiner was soon promoted to the full-time position of Maitre d'Fromage, instituting the beloved cheese menu and cheese cart for which the restaurant became famous.  After 24 years working in restaurants, the veteran cheese expert left the industry to start Andrew's Cheese Shop, which opened August 2008 in Santa Monica, CA.
     "Working in restaurants was a whole lesson in hospitality," Steiner says.  "I love talking to people and getting to know them.  With my own business, I have an opportunity to do the same—and blab on about cheese at the same time. This shop is a dream come true for me."
    Steiner has an affinity for creating relationships with customers, and he wants to be able to share his profound knowledge with people who love cheese and—perhaps more importantly—those who know nothing about it.  Winning cheese converts one by one is what sets Steiner apart from the rest.
     One of the city's most notable and personable cheese authorities, Steiner was a featured speaker at this year's Los Angeles Magazine "The Food Event," and has shared his expertise on KCRW's "Good Food" with Evan Kleiman and 97.1 FM's "Food and Wine with Chef Jamie Gwen."  He has also appeared in such publications as the Los Angeles Times, Angeleno and Food & Wine.