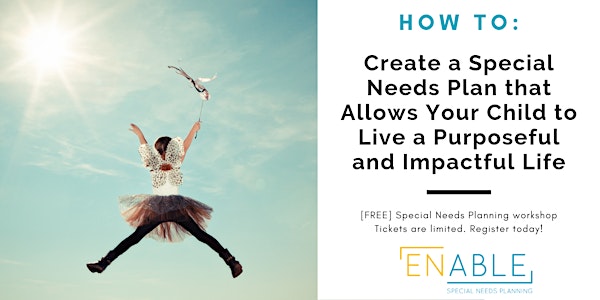 Special Needs Planning workshop - August 2019
When and where
Location
ENABLE Special Needs Planning (JarredBunch office training room) 3625 East 96th Street Indianapolis, IN 46240
Description
At ENABLE, we believe that your child was made on purpose — and for a purpose. We also believe that your child has the ability to live an impactful life that makes a positive difference. Special Needs Planning should enable you to confidently answer the following questions: "What does a purposeful and impactful life look like for my child today–and every day in the future?" and "How do I make sure my child is able to live this GREAT life?"
In this interactive workshop, we will share with you three changes to Special Needs Planning that you need to know about, educate you on the five essential areas of Special Needs Planning (Vision, Life, Resource, Financial, Legal), and show you how you can create a Special Needs Plan that enables your son or daughter to live a purposeful life.
The true benefit of planning is the peace of mind you'll gain from knowing that your family is well prepared for today – and the future!
Light refreshments will be served.