Description
CBMC, ministry to the marketplace, invites YOU to a Special Luncheon with History Channel's ALONE 'Survivor' Dave McIntyre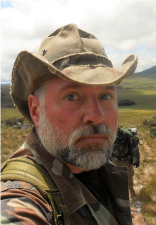 Tickets are $35 before Sept.29, 2017 - $45 after Sept.29, 2017
All payments are to be mailed to: CBMC 6011 W. St. Joseph Hwy, Suite 401, Lansing, MI 48917 Sorry, no online payments accepted.
Please click TODAY to register and reserve your seat!
About the Speaker:
In 2015 Dave participated as one of ten contestants on season two of the History channel's hit wilderness survival reality program ALONE, shot on the coast of northern Vancouver Island British Columbia. The show is self-documented with no camera crew, no contact with the outside world, or help of any kind. Contestants can leave the competition at any time. After sixty-six days of solo survival, living off the land, Dave was the last man standing, win-ning the half-million-dollar grand prize.
Dave McIntyre grew up in eastern Pennsylvania hunting, fishing, and trapping. His love of the wilderness grew in the fallow fields and dense forests near home and progressed to exploring the Appalachian Mountains. It was there he developed a fascination with wilderness survival and bushcraft.
In 1999, as a newly arrived missionary in Central Brazil, he found-ed the Per Ardua Wilderness ministry, using jungle survival training as a springboard for spiritual growth and church leadership develop-ment. David used the experience gained in this non-profit ministry to co-found the Bushmaster Wilderness Survival school which offered basic, intermediate, and advanced survival training to paying clients, civilian, military, and police.

Dave currently resides in Kentwood Michigan where he is a public speaker, writer, widerness survival instructor and most importantly, a father!