Special, Live Sabbath Service

Saturday, December 24, 2016 from 2:00 PM to 4:00 PM (EST)
Event Details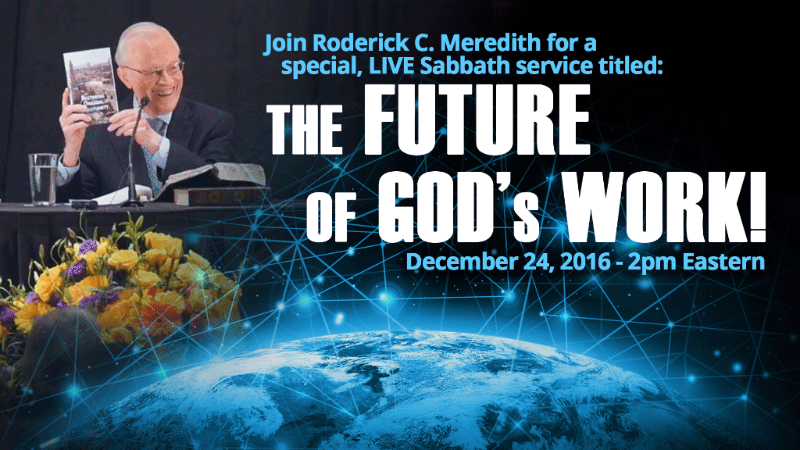 We invite you to join us online on Saturday, December 24th, at 2pm Eastern to hear a powerful, live message from Evangelist, Roderick C. Meredith about "The Future of God's Work". We plan to stream this special Sabbath service from Charlotte, North Carolina to thousands around the world.

The Living Church of God serves more than 300 congregations all around the world; proclaims to the world through television, the Internet, print media, and personal presentations the good news of Jesus Christ's coming Kingdom (Matthew 24:14; Mark 16:15); and blows a bold "warning trumpet" of God's impending judgment, calling for repentance and spiritual change (Matthew 24:21; Isaiah 58:1; Ezekiel 33). We strive to practice original Christianity as taught and practiced by Jesus Christ and the original Apostles, including observance of the seventh-day Sabbath and annual Holy Days....

Dr. Meredith is the Presiding Evangelist of the Living Church of God, and has for more than sixty years powerfully proclaimed the truth of God to millions of people all around the world through his hundreds of articles, booklets and television programs. He has also conducted personal evangelistic campaigns throughout the United States, Canada, the British Isles and elsewhere. He and the other evangelists and ministers of the Living Church of God broadcast the Good News of Christ's return and the coming Kingdom of God over radio, television and the Internet to the entire world in English, French, Spanish and many other languages...
The Future of God's Work
Saturday, December 24th at 2:00PM EST
(Find the time in your time zone.)
Click the link below to watch the special, live Sabbath service
http://www.tomorrowsworld.org/the-future-of-gods-work
Tomorrow's World
P.O. Box 3810 | Charlotte, NC 28227-8010 | USA
Phone: 1-704-844-1970, Fax: 1-704-841-2244, Email: info@tomorrowsworld.org
www.TomorrowsWorld.org
Organizer
Tomorrow's World Magazine and Television Program
The Tomorrow's World magazine is a FREE, full color, bi-monthly magazine full of timely articles and unique insights on issues affecting your life.  This magazine keeps you up-to-date with current trends, Bible prophecy, and the exciting news of your future in Tomorrow's World.
Special, Live Sabbath Service