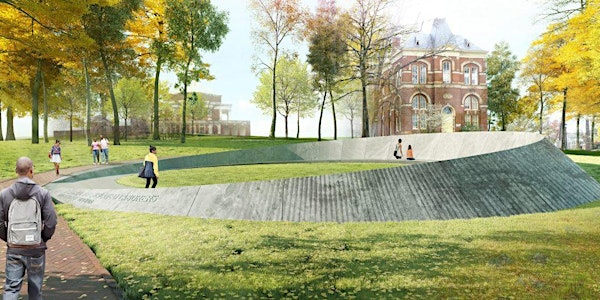 Special Invitation: UVA's Memorial to Enslaved Laborers
When and where
Location
UVA Darden Sands Family Grounds 1100 Wilson Blvd 30th Floor Arlington, VA 22209
Description
The UVA IDEA Fund and the Office of Engagement invite you to an evening of cocktails and conversation about the Memorial to Enslaved Laborers at UVA.
The design of a new Memorial to Enslaved Laborers on the Grounds of the University marks a critical moment to address the complex history of the University—and of the country.
Former UVA Board of Visitors member John Macfarlane will provide remarks about the historical significance of building the Memorial and share his own personal story of memorialization before introducing our guest speaker: UVA alumna and design team member Mabel Wilson. Mabel will describe the design process, including outreach into the community and specifically with descendants, as well as the extensive research that continues to inform the team about the names of the enslaved and their important roles in the University's early decades.
John G. Macfarlane III (DAR '79, PAR '07, '15), is the former chairman and director of the UVA Investment Management Co. and former chief operating officer of Tudor Investment Corporation in Greenwich, Connecticut.

Dr. Mabel O. Wilson (ARCH '85) is a historian and designer and a professor of Architecture at Columbia University. She recently published "Begin with the Past: Building the National African American Museum of History and Culture".
The UVA IDEA Fund, an alumni interest group of the University of Virginia, provides action-oriented leadership and support to University initiatives in order to ensure that the values of inclusion, diversity, equity, and access permeate the University community and culture.
The Office of Engagement, within University Advancement, fosters lifelong relationships with alumni, parents, students, and friends, strengthening their connections with the University by helping them stay informed, involved, and invested in their UVA passions.
We hope to see you there!
Parking directions: The UVA Darden Sands Family Grounds is located at 1100 Wilson Blvd, Arlington, VA 22209, on the 30th floor of the Monday Properties. (Please use elevators near the security desk in the building lobby to access). Parking is available in the garage located on Wilson Blvd; the garage entrance is to the left of the building entrance. The garage costs $8 per hour or $16 for the day. Once parked, take the elevators to the Main Floor and walk straight across to the elevators located next to the security desk. Take the elevator to the 30th floor.
Metro: Rosslyn Station (orange or blue line). Exit the east side on North Moore Street between 19th Street and Wilson Boulevard. Head south on North Moore St towards 19th Street North. Turn left onto Wilson Blvd. The main entrance will be on the right. Once in the building go up the escalators and find the elevators to your left to go up to the 30th floor. The elevators to the right of the escalators will lead to the lower level and garage.
This event is #open to all alumni, parents, and friends.