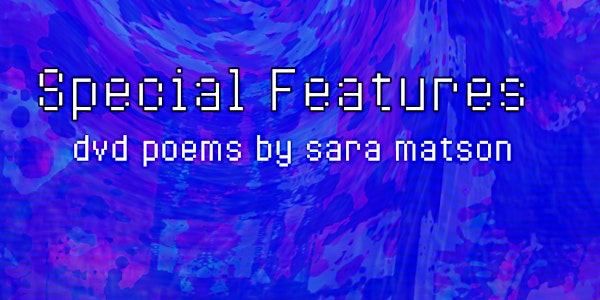 Special Features Book Release + Reading!
Special Features DVD Poems Book Launch + Reading!
About this event
I am so excited to share my weird, fun, pop-culture inspired book with you! To celebrate Special Features: DVD Poems, I am reading with some incredible writers on Tuesday, December 6th at 7:30 CST recording live on Zoom!
Featuring readings by Tiffany Belieu, Nikolai Garcia, Kristin Garth, Ingrid M. Calderon-Collins, Adrian Sobol, and Sara Matson!
Special Features DVD Poems is available from Alien Buddha Press and now available on Amazon at tinyurl.com/specialfeaturesdvd
About the amazing readers:
Tiffany Belieu just beginning her foray into fiction. Her poetry is published or forthcoming in Meow Meow Pow Pow, Collective Unrest, The Cabinet of Heed and Okay Donkey among others. She loves tea and cats and can be found @tiffobot on Twitter.
Nikolai Garcia's poems have been published in various literary journals and anthologies and his chapbook, Nuclear Shadows of Palm Trees, was released by DSTL Arts. He is currently co-host for Trenches Full of Poets, a reading series in Long Beach.
Kristin Garth is a Pushcart, Best of the Net & Rhysling nominated sonnet stalker. She is a 2020 Best of the Net Finalist. Her sonnets have stalked journals like Glass, Yes, Five:2:One, Luna Luna and more. She is also the dollhouse architect/editor in chief of Pink Plastic House a tiny journal. When she's not writing sonnets, she's photographing her socks for Instagram and her Barbies for the poets of the Pink Plastic House. You can see her sonnets, socks and Barbie photography on Twitter, @lolaandjolie and @pphatinyjournal; Instagram, @kristiningridgarth and @pinkplastichouse.
Ingrid M. Calderon-Collins is a poet and tarot reader. She is the author of twenty-one books. She lives in Los Angeles, CA with her husband, painter John Collins.
Adrian Sobol is an immigrant / musician / poet. He is the author of The Life of the Party is Harder to Find Until You're the Last One Around (Malarkey Books). He lives in Chicago.
Sara Matson (she/her) has poetry in Bone Bouquet, Impossible Task, Ghost City Press, and elsewhere. Sara's full-length book of poetry was published by swallow::tale press and her chapbook, electric grandma is available from Another New Calligraphy. Sara's pop culture chapbook of DVD poems, Special Features, is now available Alien Buddha Press. She lives in Chicago where she Tweets as @skeletorwrites. More of Sara's poetry can be found at neutralspaces.co/saramatson