Description
The Thrivent Member Network - Northwest Region presents
Love and Money
When a couple starts to understand their shared and unique attitudes and behaviors towards money, and begins to take action by practicing wise financial habits, in alignment with their values, they can live a more content, confident and generous life TOGETHER.
As a valued Thrivent Member, please join us for an invitation only event, Love and Money. This is a light-hearted, date night style evening to hear stories and learn tips, tools, and practical wisdom on how to move forward on your Wise With Money Journey together - and have a little fun too! Feel free to invite another couple (2 guests total) as your guests.
Event Details
Dinner Social with food stations, beer, wine, and desserts;
Love and Money Program interactive panel discussion featuring facilitator John Busacker, Founder and President of Life Worth, and Jason Drews, Financial Professional; and
MoPop Private Gallery Access to Marvel:

The largest exhibition ever staged at MoPOP;

Nirvana: Taking Punk to the Masses; Hendrix Abroad; and Sound Lab.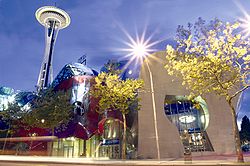 If you have any questions, please email the Thrivent Member Network - Northwest Region Team at tmn.northwest@thrivent.com.
No products will be sold.