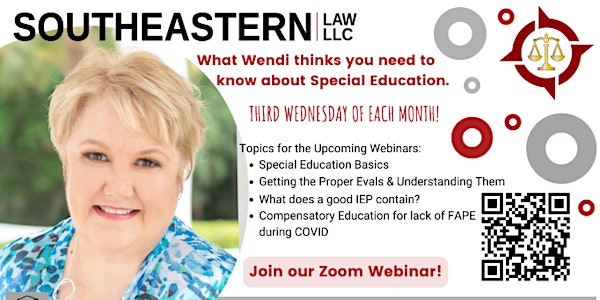 Special Education Law in South Carolina: Basics
What Wendi thinks you need to know about basics of Special Education Law in South Carolina
About this event
Do you have a special needs child in South Carolina who is receiving (or should be receiving) special education and services? Join us LIVE on the third Wednesday of each month at 12 PM for a FREE Lunch and Learn about Special Education Law via Zoom.
All the webinars are FREE, but registration is required to receive the specific Zoom Link.
Register for this webinar now!
Share this event on social media!
View our Eventbrite page for information on what Wendi thinks you need to know about other topics:
Real Estate Law (first Wednesday of each month)
Estate Planning & Probate (second Wednesday of each month)
Special Education (third Wednesday of each month)
Special Needs & Elder Law (fourth Wednesday of each month)