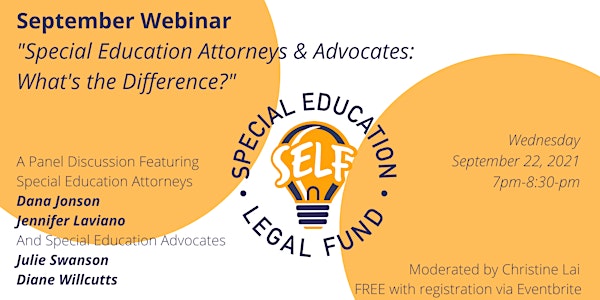 Special Education Attorneys & Advocates: What's the Difference?
Special Education Attorneys & Advocates: What's the Difference?
Refund Policy
Contact the organizer to request a refund.
Eventbrite's fee is nonrefundable.
About this event
Are you struggling in the special education process? Do you feel like you've hit a roadblock with your student's special education program? Do you think you might need an attorney or an advocate, but you're not sure which one you need? Are you looking for someone to fight for you, and be on your side?
Join our panel discussion with noted special education attorneys Dana Jonson (Dana Jonson Law) and Jennifer Laviano, as well as esteemed special education advocates Julie Swanson and Diane Willcutts to discuss the differences between special education attorneys and advocates. Moderated by Christine Lai, CoFounder and Executive Director of Special Education Legal Fund, our panel will discuss how parents decide what type of special education professional is right for them, in what circumstances you would need one versus another, and what special education attorneys and advocates accomplish for their clients.
Attorney Jennifer Laviano is in private practice in Connecticut. Ms. Laviano holds an undergraduate degree in English Literature from Skidmore College in Saratoga Springs, New York, and she earned her Juris Doctorate, cum laude, from Quinnipiac University School of Law in Hamden, Connecticut. Ms. Laviano has dedicated her law practice entirely to the representation of children and adolescents with disabilities whose families are in disagreement with their public school districts. Her representation of children with special needs encompasses the full spectrum of Civil Rights advocacy under the IDEA (Individuals with Disabilities Education Act), from attendance at IEP Team meetings and Mediation, to zealous and experienced litigation in Due Process Hearings and Federal Court. Ms. Laviano is a regular presenter, both locally and nationally, on the subject of the special legal rights of children with disabilities and their entitlement to receive a Free and Appropriate Public Education. Ms. Laviano is on the Board of Directors of COPAA, the Council of Parent Attorneys and Advocates, which is the leading national voice on special education rights and advocacy.
Attorney Dana Jonson is a Civil Rights attorney in private practice in Connecticut. Her firm, The Law Offices of Dana Jonson, exclusively represents the civil and legal rights of children with disabilities through the special education process. Dana represents families from early in the process at PPT meetings through Mediation, Due Process, and litigation in State or Federal Court if necessary. She also offers seminars and workshops locally and nationally to parents regarding their rights and navigating the complex special education process. In addition, she provides seminars and workshops to school district personnel and other service providers on how they can best meet their obligations. Prior to law school, Ms. Jonson was a special education teacher and administrator in Boston, MA. Dana is a graduate of Northeastern University School of Law, holds a M.S. in Education from Simmons College, and a B.A. in Psychology from Fairfield University. She is currently admitted to the Connecticut State and Federal bar.
For nearly 20 years, Diane Willcutts has provided skilled advocacy services on behalf of Connecticut children with disabilities, helping hundreds of families to obtain appropriate programming for their children. Diane has completed over 700 hours of professional development through Wrightslaw, the Council of Parent Attorneys and Advocates (COPAA), the Learning Disabilities Association, the Autism Spectrum Resource Center, the CT and MA State Bar Associations, and the Academy of Orton-Gillingham Practitioners and Educators. She has presented at local, national, and international conferences and has been an instructor for COPAA's renowned SEAT (Special Education Advocacy Training) program. Diane's previous professional experience included work in research and program development through the University of Connecticut Department of Psychology. Both there and at Rutgers University, she taught courses in statistics and research design, providing her with a practical foundation for understanding and interpreting education research that describes methods of assessment or instruction. Diane served as president of the Learning Disabilities Association of Connecticut and a director on COPAA's Board. She is currently an active member of numerous professional and parent organizations, focusing on training and legislative advocacy.
Julie Swanson is the parent of a young adult with an autism spectrum disorder, a disability specialist and special education advocate. Her career as a special education advocate grew out of her own advocacy efforts for her son. Julie has helped hundreds of families secure appropriate special education services for their children who have disabilities in Connecticut. She is also the co-founder of YourSpecialEducationRights.com, a video-based website that helps parents understand their rights under the Individuals with Disabilities Education Act, co-author of the book Your Special Education Rights: What Your School District Isn't Telling You and, most recently, the creator of the lifeskillslady.com, a website devoted to increasing life skill outcomes for students on the autism spectrum. She serves as a co-chair of the public relations committee for the Council of Parent Advocates and Attorneys (COPAA), a national organization that promotes special education advocacy. Additionally, she is the founding president of Special Education Equity for Kids of Connecticut (SEEKCT). Julie is also a founding board member of Connecticut Families for Effective Autism Treatment (CT-FEAT). She is currently a long-standing member of Connecticut's Transition Task Force and a member of the Connecticut IEP Document Revision group.