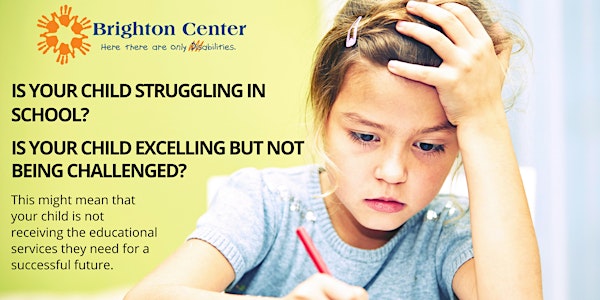 Special Education 101
This course will help parent understands the special education laws and processes.
About this event
Special Education 101
Is your child struggling in school? 
Is your child excelling but not being challenged? 
Are you trying to decide if school is the right choice now that your child has graduated from ECI?
Any of these scenarios might mean that your child is not receiving the educational services they need for a successful future.  Brighton Center's Special Education 101 course can help parents understand their child's rights to a free and appropriate education based on their individual needs, and how to ensure that these needs are met by the school system.  Parents are their child's first and best advocate and Brighton Center strives to empower parents to be the best advocate possible to set their child up for success, now and in the future.
This course instructs parents on a variety of topics, including:
Evaluation process & understanding evaluation reports
Setting appropriate IEP Goals
IEP Supplements
Available support services
Laws that protect your child in school
Terminology specific to the special education process