SPECIAL EDITION KPI Rendezvous - Unleashing the HUGE Power of Small to Build your Business: featuring Paul Dunn

Monday, May 9, 2016 from 5:30 PM to 7:30 PM (EDT)
Event Details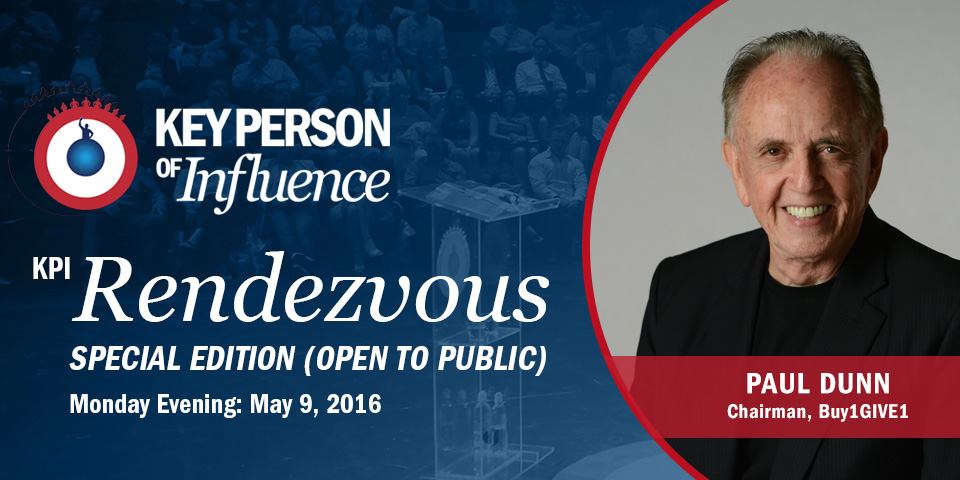 ---
SPECIAL EDITION:
Key Person of Influence Rendezvous 
Open to the Public

Unleashing the HUGE Power of Small to Build your Business
featuring Paul Dunn: Chairman of B1G1, and award-winning Global Entrepreneur & Philanthropist

FREE EVENT / Please register through Eventbrite to secure a seat
******************
Parking/Directions: Park in parking garage on north side of W. North A St.  Walk out of garage, across W. North A St. and enter door by Campus Safety. Go down hall, turn left, on immediate left is elevator. Take to 8th floor.

******************
THE EVENT
KPI-USA and University of Tampa's Entrepreneurship Center are honored to be able to bring this remarkable, serendipitous evening to you, featuring one of our Global KPI mentors, Paul Dunn.  Says our KPI Founder, Daniel Priestley:  "I can't think of anyone who has so profoundly impacted us. It's been (and continues to be) HUGE. And Paul does it unlike anyone else I know."

This is a fast-paced, full-on, high impact event about taking immediate action to significantly and dramatically build your business. And that's the real magic of the Power of Small — the ideas are all seemingly tiny, they cost nothing to implement (because they're so small) yet the impact they have is profound. And best of all, you can put them into action immediately.



WHAT YOU CAN EXPECT
Here is a brief appetizer of Paul's special keynote:

CONNECTION
The ideas work so well because they're directed at one central core of your business — connection. It's like a whole new world opening up as Paul takes you on a deep dive into what he calls 'Moments of CONNECTION', moments that radically REdefine how you do business.


THE INSIGHTS

You'll discover a host of ideas that build your business in unique ways. You'll learn:
    •    How to present your products and services in a totally new light – a light that builds trust and enhances connections
    •    Why the design of your smallest business processes are at the heart of designing your business for good


    •    How to get REAL clarity about your business and then use that clarity to build more confidence, more certainty and more connection 

    •    How building in 'good' actually makes you great
 
    •    How you build 'Moments of Connection' into every business process in the most surprising (and very small) ways

    •    How to make sure you CONNECT in an entirely different and deeper way with existing and potential customers

    •    How simple changes in articulation dramatically change connection leading to lifting your revenue and profits

    •    Why generosity makes so much difference and how to embed it right into the DNA of your business

    •    How to design a 'business for good' to give you a huge and powerful new sense of purpose in your business and the difference it makes

    •    How to leverage what you're doing to make an even more profound difference...just by doing what you normally do.


VELOCITY
"We are," said a senior Google executive recently, "in the age of the acceleration of everything".
And he's so right. And it's getting faster by the milli-second. Paul really helps you grab hold of the significance of that and put it into action in your business so that people 'get' what you're about so much quicker than now. And it makes a huge difference as you'll see.

BELIEF TO ACTION
'Start with Why' and 'Leaders Eat last' author Simon Sinek puts it this way: "The goal is not to do business with everyone who wants or needs what you have, it's to deal with people who believe what you believe."
He's right. So if you believe what we believe, come. If you've been inspired by what you've read so far, join us. If you believe in the possibilities created by the HUGE Power of Small and designing your business for good, come. Grab it all and celebrate the difference you'll be making.
ABOUT THE CONTRIBUTOR: 
Paul Dunn

Paul is at the very forefront of business leadership, globally. 


He started his career as one of the first 10 people in Hewlett Packard in Australia. Then came the founding of one of Australia's first Computer Companies followed by the Results Corporation — a marketing consultancy that grew from zero to 23,000 clients in just 8 years.

In 1992 Paul turned his entrepreneurial attention to Professional Service firms and created the breakthrough Accountants' Boot Camp process and founded Results Accountants' Systems and the Results Accountants Network.

Since 2005 he's focussed almost exclusively on emerging businesses worldwide.

He is a best-selling author and a mentor to great and growing businesses. He's helped create thousands of successful businesses around the world and his audio and video programs are now in use by over 200,000 businesses.

 One leading business magazine described him, recently, as 'a marketing guru turned philanthropist'

. He is passionate about making a difference in new, effortless and habitual ways. He serves as Chairman of the revolutionary Buy1GIVE1 (or B1G1 as it's now better known) — a company that has positively created over 47 Million giving impacts around the world. He gets up every morning to, as he puts it, 'give businesses the power to change our lives.'

In 2011 he was the recipient of a Global Lifetime Achievement Award for Service to the Accounting Profession — even though he's very definitely NOT an Accountant!

He's a Senior Fellow of one of the world's leading business think-tanks, and in 2012 he was honoured to be made a Fellow of Singapore's Social Innovation Forum — an honour he shares with film-star Jet Li and Walmart Chairman, Rob Walton.

Paul recently featured (with Sir Richard Branson) in two pieces on 'Disrupters in Business' in the global Forbes magazine.

Any time you invest with Paul is exciting, stimulating, fun and packed full of brilliant transforming insights.


When & Where

University of Tampa Entrepreneurship Center
820 West North A. Street
8th Floor
Tampa, FL 33606


Monday, May 9, 2016 from 5:30 PM to 7:30 PM (EDT)
Add to my calendar
Organizer
Welcome to the Key Person of Influence events page for Eventbrite. 

Our Profitable CEO Workshop Series is exclusively for owners and C-suite executives of successful, growing, professional service companies. Most of these workshops are ticketed events through Eventbrite.
These workshops aren't generic or boring presentations; they are highly-interactive conversations backed with implementable, proven strategies. You will be able to ask your specific questions to get the answers you need for your business to excel in this new collaboration economy.
Our KPI CEO Socials are are casual but highly-vetted, high-level gatherings for the sole purpose of connecting with area leaders, and connecting them to one another.  These socials are by invitation-only and are limited to 12 attendees. To be considered for an upcoming CEO Social, visit our landing page for list of qualifications and for more info:  CLICK HERE FOR INFO
To learn more about our Personal Brand Accelerator program, and for video testimonials from some of our clients, visit our website: KEYPERSONOFINFLUENCEUSA.COM

---