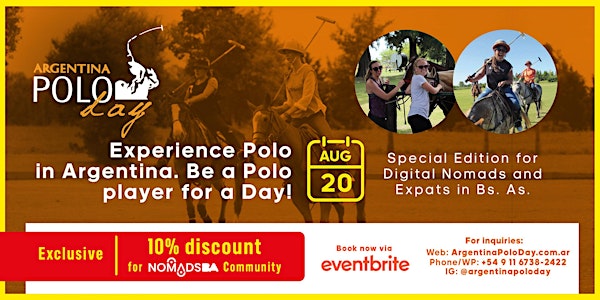 Special Edition for digital nomads and expats in Bs. As.!
Be a polo player for a day | Sé un jugador de polo por un día
When and where
Location
La Carona Polo Club Km 11.2 Ruta Provincial 39 Capilla del Señor, Provincia de Buenos Aires B2812 Argentina
About this event
You are in ARGENTINA… what would it feel like TO BE A POLO PLAYER FOR A DAY?
We will meet at a designated place at 10:00 a.m. Our polo estancia is located in Capilla del Señor, just 80km away from Buenos Aires City.
We will welcome you, while you enjoy fresh air and nature, with tasty regional empanadas and premium argentine wine.
You will watch a live polo match played by professionals, while we explain the rules of the game and the different shooting techniques.
In-between chukkers you will visit the pony line to observe the backstage of polo!
There, you will also learn about polo ponies, their training and caring.
After the game, you will have lunch and meet with the polo players at a typical argentine long table to have: an asado! which is considered one of the best in the country (vegetarian options available).
In the afternoon, you will put on the helmets and chaps and after a technical talk, you will hop on the horses to play polo!
It is not necessary to know how to ride a horse and we also have more than 100 for all levels!
With training and a lot of passion, you will finish the day playing a mini match.
You will certainly feel like a professional polo player!
To relax a bit after your match, you will enjoy the sunset with a horseback ride around the estancia
The Polo Shop will be open, if you want to take home a souvenir of this unforgettable experience!
You will be back in the city at 7:30 p.m. at the sale designated meeting point.
Are you IN? 😃
---
Attention Digital Nomads BA Community, you have 10% discount!
The Polo Day experience is NOT free. This form is FOR BOOKING ONLY.
* Payment will be in cash same day of the event upon arrival *
For any inquiries, please contact:
Celia Alfie
WP / Tel: (+549) 11-6738-2422
Email: celia@argentinapoloday.com.ar
—-
Estás en ARGENTINA... ¿qué tal SER JUGADOR DE POLO POR UN DÍA?
Nos encontraremos en un lugar a designar a las 10:00hs. Nuestra estancia de polo está localizada en Capilla del Señor, a solo 80km de la Ciudad de Buenos Aires.
Les daremos la bienvenida, mientras disfrutan del aire fresco y la naturaleza, con unas exquisitas empanadas regionales y un buen vino argentino.
Presenciarán un partido de polo en vivo jugado por profesionales, mientras les explicamos las reglas del juego, y las diferentes técnicas de taqueo. Entre chukkers visitarán los palenques para ver el backstage del polo!
Allí también aprenderán sobre los caballos de polo, su entrenamiento y cuidado.
Luego del partido, se encontrarán nuevamente con los polistas en una mesa larga típica argentina para almorzar todos juntos: un asado!
El cual es considerado como uno de los mejores del país (opciones vegetarianas disponibles).
Por la tarde, les daremos el casco y las polainas y luego de una charla técnica, se subirán a los caballos para aprender a jugar al polo!
No es necesario saber andar a caballo y tenemos también más de 100 para todos los niveles.
Con entrenamiento y mucha pasión, terminarán el día jugando un mini partido. Seguro que se sentirán un polista profesional!
Para relajarse un poco luego de su partido, disfrutarán el atardecer con una cabalgata alrededor de la estancia.
El Polo Shop estará abierto, por si desean llevarse algún recuerdo de esta experiencia inolvidable!
Estaremos de regreso a la ciudad a las 19:30hs. en el mismo lugar designado de encuentro.
Te sumas? 😃
—-
Atención Comunidad Digital Nomads BA , tienen un 10% de descuento!
El Polo Day NO es gratis.
Este formulario es SOLO PARA RESERVAR.
* El pago será en efectivo el mismo día del evento en persona*
Por consultas, por favor contactar a:
Celia Alfie
WP / Tel: (+549) 11-6738-2422
Email: celia@argentinapoloday.com.ar