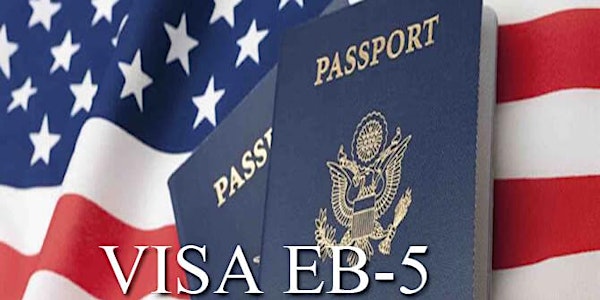 SPECIAL EB-5 Green Card OPPORTUNITIES - Invest In Your American Dream
SPECIAL EB-5 Green Card OPPORTUNITIES - Invest In Your American Dream
When and where
Location
Sheraton Los Angeles Hotel 6101 West Century Boulevard Los Angeles, CA 90045
Refund Policy
Contact the organizer to request a refund.
About this event
Distressed about the extreme EB-2 visa backlog? Looking for alternatives to get a green card sooner? Come learn about the EB-5 investor visa program.
Exclusive Seminar For Professionals from all Visas and Investment Backgrounds.
WHAT IS EB-5 Green Card
 The EB-5 immigrant investor visa allows you and your family to obtain a green card and live and work freely in the United States through a qualifying minimum investment of $900,000.
The EB-5 investor visa program enables foreigners who make an investment in a U.S. business that creates 10 jobs for U.S. workers to obtain lawful permanent resident status, and eventually U.S. citizenship, if desired. The investment can lead to a green card for the investor to permanently live and work anywhere in the United States with their spouse and unmarried children under the age of 21.
Through its conferences and seminars EB5GC.com shall bridge the gap and bring more transparency in the process and connect Investors with American companies that work on such projects which enable investment for return and permanent residency (Green Card).
Why Invest In EB-5
The EB-5 program has now become the ideal path for many nonimmigrant visa holders and people stuck in the EB-2 visa backlog who have the resources to invest and obtain green cards for themselves and their family members much faster than other immigration methods.
Who Should Attend
1)      Current Temporary Visa Holders – H, L, J, F, & B's.2)      Immigration focused attorneys3)      Real estate and project developers4)      Economic development professionals5)      Foreign migration agents6)      Anyone interested in learning about EB-5
What to Expect/Learn
1)      GC backlogged ridden professionals can learn about the EB5 program and explore options to fast track their path to US permanent residency.
2)      Meet an EB5 success story and learn from his experience. Ask questions and network
3)      Meet EB5 investment professionals and laweyrs. Learn about eb5 investment opportunities through them
4)      Meet EB5 immigration lawyers. Learn the legals pros and cons of the EB5 and if the program can benefit you.
5)      Opportunity to network with like-minded professionals and US immigration specialists.
Why should I care about the EB-5 visa if I'm already on a H1B/B1/L1/F1 or if my employer has sponsored me for the EB-2?
While those visa options can usually result in a faster entry to the United States, they are all nonimmigrant visas and require renewals every few years, which may require additional investment or documentation from the applicant. In comparison, the EB-5 visa is an immigrant visa which helps Indian investors get a conditional green card within 2-3 years after investing. EB-5 investors are eligible to get their permanent green cards and their  money back after completing the 2 years of conditional residency. The total process takes about 5 years.As most H-1B holders are well aware, the EB-2 preference category is severely backlogged for Indian applicants, as are many of the other employment-based categories. For many H-1B visa holders with EB-2 employer sponsorship, the EB-5 preference category may present a faster option as there is currently no backlog for Indian applicants.  However, due to the increasing popularity of the program, this category will likely become backlogged in the future.
OFFICIAL USCIS WEB-LINK FOR EB-5
www.uscis.gov/eb-5
PANELIST
EB5 Success Story - Ishaan Khanna
Heartbroken after getting rejected for his H-1B visa application and losing his Associate Product Manager position at a top tech company in Hollywood, Ishaan utilized the EB-5 visa program and apply for his Green Card. After nearly 18 months of waiting Ishaan was able to get his conditional green approved and he has since returned to the US and wants to share his EB-5 journey to help other investors make smart investment and immigration decisions. He always encourages investors to do the same kind of diligence he did when making his investment and by sharing his experiences with them he hopes to help them on their path toward permanent residency in the United States.
Joseph Barnett - Partner
Wolsdorf Rosenthall LLP
Joseph "Joey" Barnett is a partner at Wolfsdorf Rosenthal LLP and a member of the firm's EB-5 and business immigration practices. He is licensed as an attorney in Illinois and Wisconsin and practices exclusively in immigration and nationality law.
Mr. Barnett represents immigrant investors seeking permanent residency in the United States through USCIS-designated Regional Centers and investment in their own businesses. Mr. Barnett also assists developers with the establishment of complex corporate and financing structures for EB-5 capital. He works with economists, securities lawyers, business plan writers, and other professionals to prepare Regional Center applications, amendments, and project "exemplar" approvals.
As the lead member on the firm's Chinese EB-1 team, Mr. Barnett has successfully represented Chinese executives, researchers, professors, medical professionals, engineers, musicians and artists, media and public relations professionals, and others with extraordinary ability in the sciences, arts, education, business, or athletics seek permanent residency in the U.S. Mr. Barnett also assists executives and managers in multinational companies to obtain permanent residency in the U.S. Mr. Barnett is also responsible for a variety of other immigration matters, including temporary work visas, employment-based petitions, administrative appeals, and federal writ of mandamus lawsuits.
Brennan Sim
Senior Vice President - EB5 United
EB-5 United specializes in providing capital to real estate developments through the EB-5 Investor Program. Together with its partners, EB-5 United capitalizes projects that grow the U.S. economy and serve as engines for job growth, positively impacting the communities they serve. EB-5 United focuses on developing projects in Targeted Employment Areas, in collaboration with best-in-class developers, immigration attorneys, regional centers, branded operating companies and EB-5 networks.
Event Sponsors
EB5UNITED REGIONAL CENTERhttps://eb5united.com/
Wolsdorf Rosenthall LLPhttps://wolfsdorf.com/
Connecting Investors & Oppurtunities.www.eb5gc.com
DISCLAIMER : EB5 is authorized program managed by USCIS. The goal of the program is to attract investment in projects which enable job growth. THIS PROGRAM PROMOTES JOB GROWTH FOR US CITIZENS.
For more information, check - www.uscis.gov/eb-5
Highlights From The Previous Events