Special Advance Screening: THE TWO POPES with Director & Producer in Person
About this Event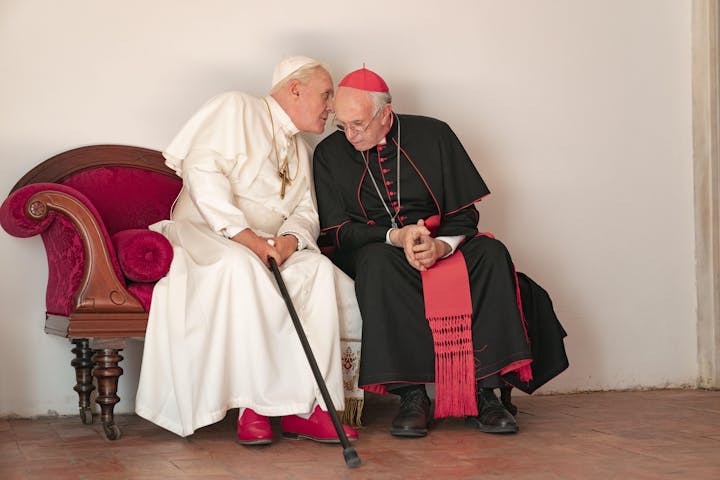 Movie Mondays at the Mayer and Netflix invite you to attend a special advance screening of THE TWO POPES, followed by a discussion with Director Fernando Meirelles and Producer Tracey Seaward.
THE TWO POPES has been gathering critical acclaim on the international film festival circuit since its premiere at Telluride this August. Fueled by masterful performances from Anthony Hopkins and Jonathan Pryce, this intimate look at an historic turning point in the Catholic Church has surprised audiences and critics alike with its humor, insight, and visual splendor. Don't miss this exciting opportunity to see the film before its theatrical release and get the inside scoop from Director Fernando Meirelles and Producer Tracey Seaward.
THE TWO POPES
Directed by Fernando Meirelles // Written by Anthony McCarten // Produced by Jonathan Eirich, Dan Lin, and Tracey Seaward // Starring Jonathan Pryce and Anthony Hopkins
Frustrated with the direction of the church, Cardinal Bergoglio (Jonathan Pryce) requests permission to retire in 2012 from Pope Benedict (Anthony Hopkins). Instead, facing scandal and self-doubt, the introspective Pope Benedict summons his harshest critic and future successor to Rome to reveal a secret that would shake the foundations of the Catholic Church. Behind Vatican walls, a struggle commences between both tradition and progress, guilt and forgiveness, as these two very different men confront their pasts in order to find common ground and forge a future for a billion followers around the world.
ABOUT THE TEAM:
Fernando Meirelles (Director) is a director, producer, and screenwriter. In 2000, with Nando Oliva, Meirelles co-directed the film MAIDS in preparation for a more ambitious project, CITY OF GOD (2002),which went on to receive more than 50 international awards, and was nominated for four Academy Awards, including Best Director. For the last 20 years, Meirelles has split his time between directing international features and TV series in Brazil. His 2005 film, THE CONSTANT GARDENER, received four Academy Award nominations and three Golden Globe nominations. In 2008, his film BLINDNESS opened the Cannes Film Festival. And, in 2011, his film 360 opened the London Film Festival. In the same period, he directed several series for TV Globo and HBO.
In 2019, Meirelles will release THE TWO POPES for Netflix, and is currently filming a scientific documentary on soil. He's also one of the partners of O2 Filmes, a group of production companies that oversees all facets of production from development to distribution, including international co-production and post-production facilities.
Tracey Seaward (Producer) has been instrumental in many interesting projects to hit audiences around the world, from producing the Oscar-winning film THE QUEEN, to bringing the Queen and James Bond together for the Opening Ceremony of the 2012 Olympic Games. Her credits include Neil Jordan's THE GOOD THIEF (2000), Danny Boyle's Millions (2003); Fernando Meirelles' Academy Award-winning THE CONSTANT GARDENER (2004); David Cronenberg's EASTERN PROMISES (2006), and Michael Grandage's GENIUS (2016).
Tracey has a long standing relationship working with director Stephen Frears, starting with the celebrated BAFTA and Academy Award-nominated DIRTY PRETTY THINGS (2001); and also including THE QUEEN (2005), for which she won a BAFTA for Best British Film and received a Golden Globe and Academy Award nomination; the acclaimed PHILOMENA (2013), for which she received a further Golden Globe, BAFTA, and Academy Award nomination for Best Film; and Golden Globe-nominated FLORENCE FOSTER JENKINS starring Meryl Streep and Hugh Grant.
Free admission. RSVP required.
Please note: No photography or any use of personal devices will be allowed during the screening. Thank You!
All SFTV screenings are OVERBOOKED to ensure seating capacity in the theater, therefore seating is not guaranteed based on RSVPs. Guests on the RSVP list will be checked in on a first-come, first-served basis until the theater is full. Once the theater has reached capacity, we will no longer be able to admit guests, regardless of RSVP status.