Description
Speaking With Spirits: a writing workshop series
with Jeff Tanaka
Saturday, January 27, 1-5pm

We all have infinite stories lying within us. However, our journeys through time and space often create blockages that prevent us from sharing what is most important to us.
For this workshop series, we will come together to nurture our stories with a particular focus on giving voice to that which as been silenced by colonization here on Turtle Island, commonly known as North America. This silencing may include stories about places we come from, our personal and family experiences, or our relationships between one another.
In Speaking with Spirits, we will look to ancestors, plants and the land for guidance and inspiration. Workshop participants will be offered collaborative and multidisciplinary writing exercises to reflect upon the stories we carry with us every day, ones that have come before us, and those still to come.
No previous writing experience is necessary, just come with an open mind and any ideas and inspiration that have been floating in your mind.
Limited space available. Workshop is by donation (pay what you can) and free for youth, elders, and low income folks. E-mail jcnm@nikkeiplace with any questions or concerns.
Please bring your own paper, pens, and water bottle.
We thank the NAJC Young Leaders committee for funding support towards this event.
---
About the facilitator
In the words of facilitator, Jeff Tanaka:
"for me, words serve as one of the most reliable pathways to my ancestors. i am grateful for the continued guidance of those who came before in illuminating a path forward."
---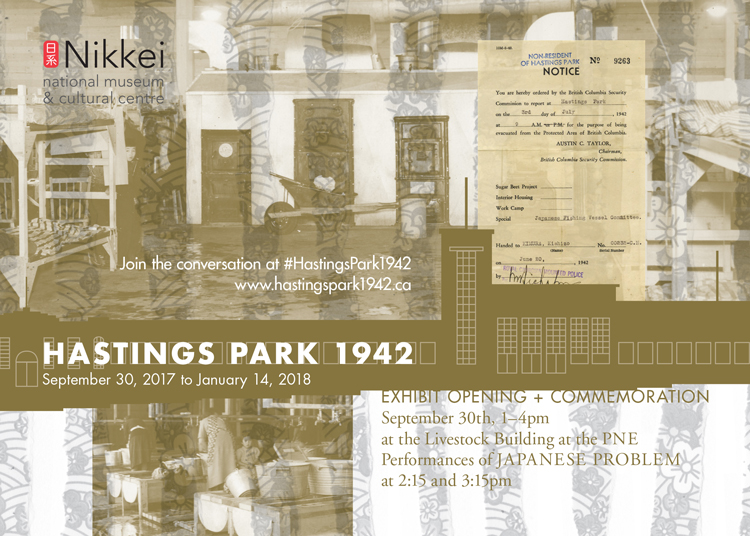 This workshop is part of the Nikkei National Museum's Hastings Park 1942 exhibit programming.
In early 1942, over 8,000 Japanese Canadians were incarcerated at Hastings Park in East Vancouver before being sent to internment sites in the BC interior or to work camps across the country. The Hastings Park 1942 exhibit (September 30, 2017 - January 13, 2018) is a collaboration with performance artist Yoshié Bancroft, to produce an experiential, dramatic glimpse into that tragic episode of Canada's history.
To find out more about the Hastings Park 1942 exhibit or other upcoming exhibit events, please visit nikkeiplace.org
For questions & inquiries, please email jcnm@nikkeiplace.org or call 604.777.7000 ext 109.