Description
Speaking Science:
Communicating with Media, Funders,
Policymakers, and the Public
Thursday, January 17
8AM-7PM
Coffman Memorial Union
300 Washington Ave. SE, Minneapolis
Land-grant research universities like ours were created to share knowledge with the broader community. It is part of our mission and something we all care deeply about. For scientists and researchers, that call to communicate has taken on special resonance in recent years as debates about vaccines, evolution and climate change point to a divergence between scientific consensus and public opinion.
Speaking Science is a science communication conference designed to help scientists, engineers, and other researchers develop stronger storytelling skills that will make their work understandable and compelling to the media, thought leaders, potential funders and general audiences. The conference is specifically designed to provide faculty, post-docs and graduate students across the University of Minnesota with a unique opportunity to learn how to better communicate their science to audiences beyond the academic community.
The one-day conference will feature special guests including President Eric Kaler, an all-star media panel, a keynote speech by science communications expert Emily Graslie. The afternoon is focused on in-depth interactive trainings, and break-out sessions that include mock interviews with local journalists that will provide participants with invaluable feedback about how to frame their research in the most compelling way possible.


What You Will Learn
In interactive and small-group sessions, you will explore and understand the techniques of effectively telling the story about the impact of your research.
Build your storytelling toolkit

Identify your "big idea."

Transform technical language into accessible information.

Talk about your research by telling stories that everyone will understand.
Focus your message

Determine the purpose in telling your story.

Clarify the action you would like people to take after hearing your story.

Discover new ways to craft your message to engage your audience.

Develop a short, understandable summary of your research.
Define your audience

Find and define your audience.

Determine where to tell your story.

Discover what stories resonate with various audiences.

Build a plan for promoting your research.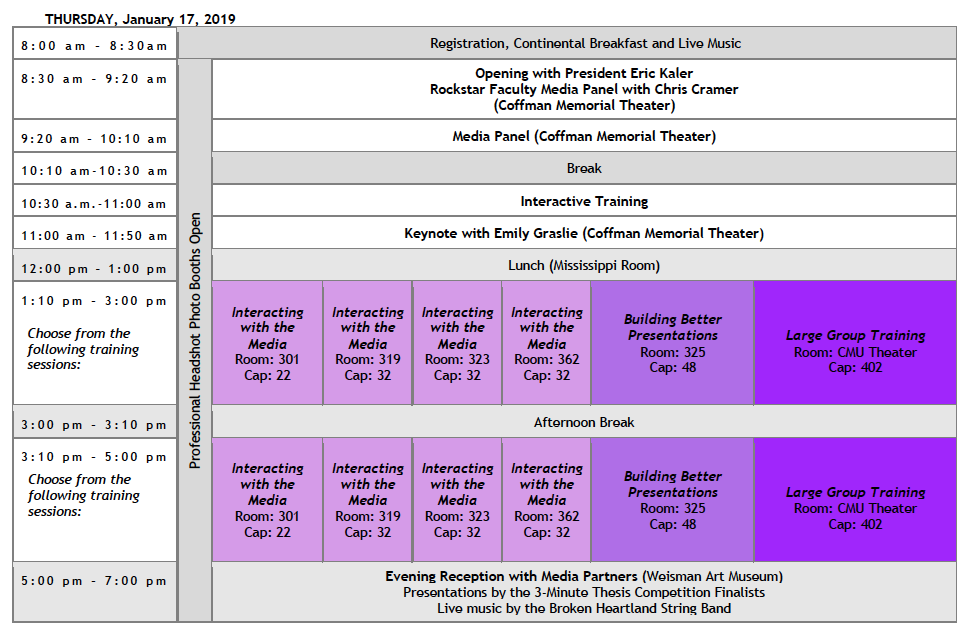 Keynote Speaker: Emily Graslie
Emily Graslie has received numerous awards and recognitions for her work, including the American Alliance of Museum's Nancy Hanks Award for Professional Excellence. She's a six-time Webby Award honoree and nominee in the 'Online Science/Education Channel' and 'Web Personality/Host' categories; a member of the 2018 Forbes 30 under 30 list in Education; and was named as a 'Person of the Year' in 2017 by the Chicago Tribune.
She currently stars in her own educational YouTube channel called The Brain Scoop which has over 470,000 subscribers. Graslie is also employed by the Field Museum as their first-ever Chief Curiosity Correspondent.

Break-Out Sessions
More sessions will be added.
Building Better Presentations
IonE communications director Todd Reubold has been helping raise the quality of presentations at the University for years. Now you, too, can benefit from his insights and coaching. Learn presentation design and delivery best practices. Explore presenting to scientific and general audiences. Improve one of your own presentations.

Interacting with Funders
The landscape of funding research and programming has shifted dramatically in the last decade. Learn strategies and best-practices to better engage with funders, cultivate relationships and identify new ways of generating revenue for the kinds of impact you are driven to create. Our panel includes experts representing a range of funding specialties.
Speaking to the Public with Mary Milla
You're good at what you do, but are you good at talking about what you do? Communications coach Mary Milla will show you a fast, easy and practical method for simplifying your science so it connects with audiences at public lectures, donor meetings, alumni events and any occasion you have to shine a spotlight on your work. She'll take you through the process in real time, so if you have a meeting or talk to prepare for, you'll have a good start on it by the end of this workshop! Mary will also share tips for making sure your voice and body language exude the confidence and passion you have for your work.


Interacting with the Media
You have interesting stories to share — stories that can help make the world a better place. And journalists can help you share your story, especially if you help them do their jobs. In this popular Boreas workshop, you'll get to meet, conduct mock interviews with and learn from local reporters. Learn how to pitch stories and give a great interview.
Sharing Your Best Science Story
This hands-on workshop introduces effective tools, techniques, and resources that will help practitioners better communicate their research. The session will be divided into two sections with an overview of best practices for storytelling followed by exercises that allow professionals at all stages in their careers to sharpen their existing communication skills. Stephanie Long from the Science Museum of Minnesota will be delivering this session.
Communicating 'Controversial' Science with 'Skeptical' Audiences: Some Tools for Scientists
Explore strategies for interacting with a variety of audiences who might be skeptical of—or just resistant to—scientific findings that challenge an audience's group affiliations (e.g. political or religious identities) or longstanding policy positions (e.g. their stance on the government's role in addressing environmental degradation).
The Speaking Science reception will be held from 5-7 p.m. at the Weisman Art Museum (WAM). Reception guests will have private access to the Museum's collections. Live music by the Broken Heartland String Band will have you dancing, or at the very least, tapping your feet. We'll also feature presentations from the finalists of the Graduate School's 3-Minute Thesis Competition.
Sponsors
Institute on the Environment
Office of the Vice President for Research
College of Science & Engineering
College of Food, Agricultural, and Natural Resource Sciences
College of Design
College of Liberal Arts
Carlson School of Management
The Graduate School
School of Dentistry
College of Veterinary Medicine
Hubbard School of Journalism & Mass Communication