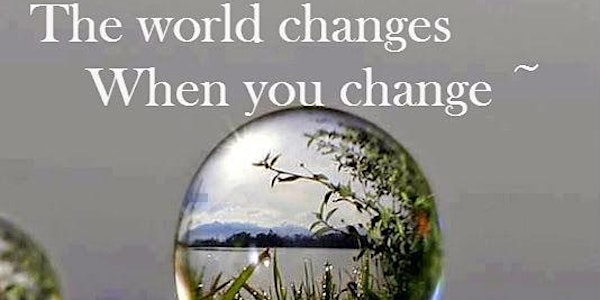 SpeakerTalks™ Success Training June
When and where
Location
Marriott 4200 George J Bean Pkwy Tampa, Florida 33607
Refund Policy
Refunds up to 30 days before event
Eventbrite's fee is nonrefundable.
Description

What do you want to be when you grow up?
A speaker? An author? A more successful business person? Better at leading meetings at work?
PRICE REDUCTION!!!!!! Every ticket is now marked approx half off! Coaching not included!
It's up to you. Start now. Start here. Or keep waiting? How long will you dream before you take action?
Even if you're a newer speaker...or you're semi-professional...or an author who needs to grow their book sales...or anyone with a message wanting to become a better presenter.
You have a powerful story that can impact lives around the globe. And also dream of being a successful six-figure speaker. Someone who's effective and engaging to your audience.
You want to be seen as an expert in your field. You want more than what you've been getting. You're sick and tired of wanting the success you have watched others have.
So, you've been from one speaker training to another, hoping to make a career-changing decision by what you learn. By some gurus who are going to teach you how to be a million-dollar speaker. Yet fell short in helping you reach your life goals of being a great presenter.
In turn, you just sit on the sideline hoping for your life to change.
What if none of it's your fault? What if this time, you can take control and change your future. What if there's the best platform that can help you get visible and your message heard?
Hey, I'm Steve Sapato. Helping others to change their lives has been personal to me.
I'm a speaker and trainer for over 40 years, sharing business acumen and real-life motivational stories across America.
I presented over 1,000 times to audiences as large as 10,000 in North America and abroad. I trained businesses on how to be more successful, stronger, and better companies.
My audiences are consistently engaged, participative, and transformed.
This year, I can help you be heard and start getting paid with what you're worth to speak.
But now you're thinking "Okay, but how exactly can you do that?"
Introducing...
SpeakerTalks Success Academy & Training
The Speakers & Authors' Event of 2020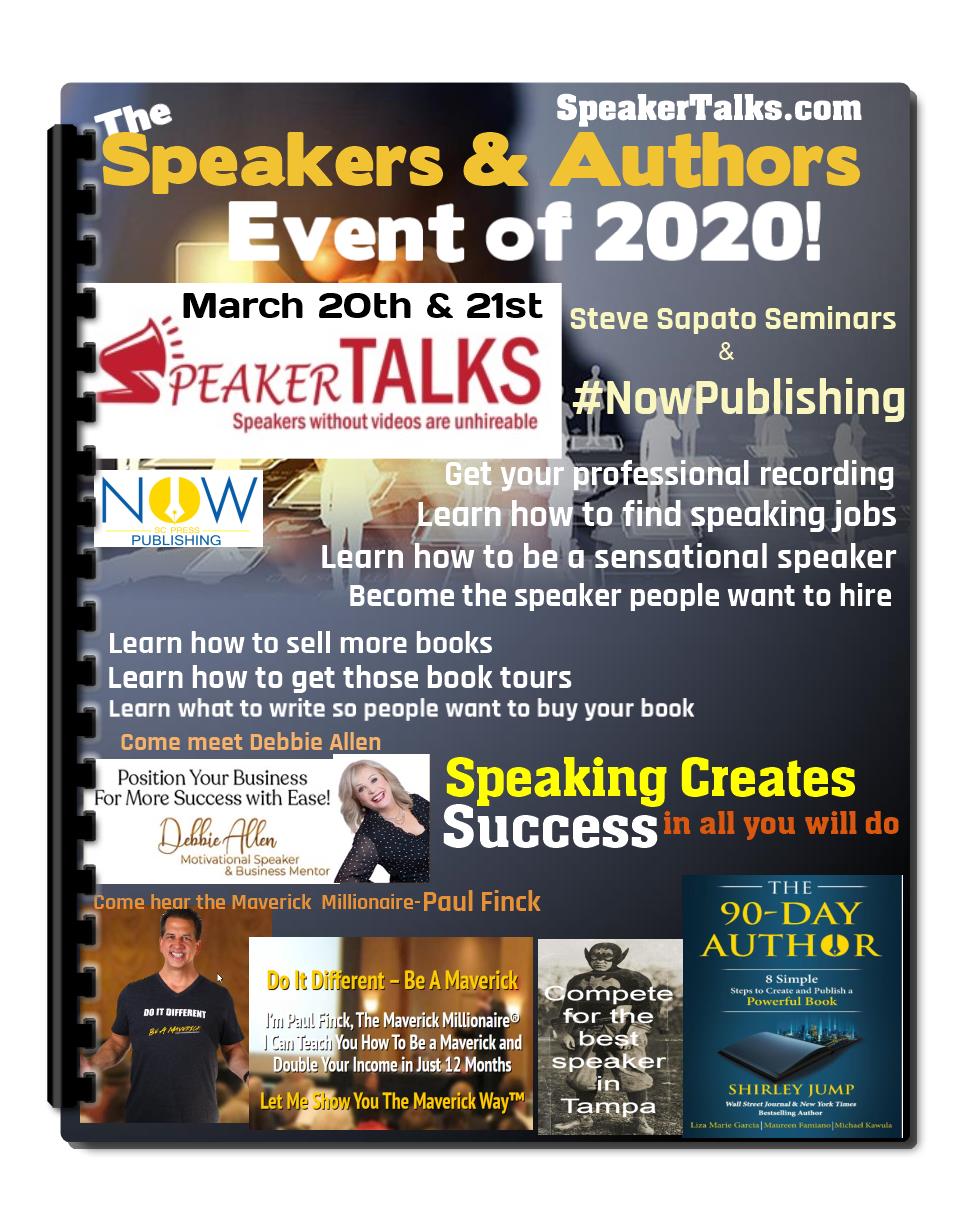 What is it?
In-your-face professional speaking and author training value at $2,000

Unlike any other speaker training event, you'll get personal coaching with your workshop leaders and speaking experts

Plus, you'll leave with a professional speaker's reel, giving you the best chance at getting booked as a paid speaker
You will get two days of speaking training that I promise you will open up opportunities and give you knowledge that you just can't get anywhere else.
This is possible with these unique and interesting speakers who are both innovative and influential, who are passionate about their ideas and are able to inform, inspire, surprise, and delight audiences.
Debbie Allen CSP (Certified Speaking Professional), is an internationally recognized business growth and market positioning expert. She'll talk about a proven step-by-step action plan and no-nonsense marketing strategies to build a highly profitable speaking business.

UNFORTUNATELY - Paul will not be joining us. Please keep Paul and his family in your prayers. His wife has been diagnosed with cancer and he will remain home to love and take care of her while she recovers.

Paul Finck, The Maverick Millionaire, has more than 30 years of being an entrepreneur, he knows what it takes to build a business with sustainable success. He has also worked with individuals and companies all over the world on finding unconventional answers to everyday challenges.

Elena Rahrig, The Empire Creator, whose primary goal for you in this event is to help you discover how to plan and develop passive income.
Learn the tips, the tricks, the ideas that will change your life.
Here's what's in store for you:
Showcase what you learn by speaking on our stage

Get connected with NOW Publishing to offer you even more help in creating and selling your books

3 months of speaker opportunities to emailed to you with our Gold and VIP Package

Learn how to grow your speaker business

Stay at the Airport Marriott with wonderful food & rooms

Breakfast & lunch during the event

Walk away with energy, excitement, and the know-how to launch your speaking career, as a paid speaker
You'll also get the following
bonuses
…
2 short online courses: StoryTelling & Signature Talks valued at $87 each

We offer you LEADS! Not just leads but leads to paying speaking opportunities. No one else does this. Why? Because it takes additional work and money to give you leads.
You want more success or you wouldn't have checked out this site. You should just buy your ticket now for this 2-day event from June 12 to June 13.
What happens if you don't buy a ticket? Nothing.
NOTHING. It won't hurt you, your life won't explode, your money won't change. Nothing will happen and you can stay right where you are. Right, where you have always been. Are you happy there?
Other people will take advantage of this offer. Other people will change their lives, find more success, and create a life of their dreams. Will you? Or will you stay right where you are?
Stop waiting for others to determine your future. We want to share the world with you. We want you to succeed beyond your wildest dreams. We want you to talk to your friends and people you will meet when you speak who say, how did you get started, and the one thing you will say is, my real success started at SpeakerTalks.
What are you waiting for? Start living the life your dream of. Get your ticket now!
How can I contact the organizer with any questions?
steve@stevespato.com