Speaking and Presentation Practice Session for New and Emerging Professional Speakers
About this event
Do You Know the REAL Secret to Making Money Speaking and Building Your Business?
After all the coaching, emails, and phone calls... the contracts, cameras, and lighting... there's just YOU and the AUDIENCE.
For more than a year, people have suffered from "Zoom fatigue." This fact has caused in-person and virtual live audiences alike to expect more from speakers.
Many of the institutionalized methods of presentation simply do not work anymore! You need to watch, learn and experiment new techniques from other professional speakers who are doing what you do, or want to be doing.
To make money in speaking and build your business through speaking in a post-pandemic world (or even possibly returning) environment, you need to invest the time in yourself NOW by practicing your presentation skills in a supportive environment... with other professional speakers.
Speakers Speak LIVE is Your Private Rehearsal Stage within an Exclusive Audience!
For one hour every Wednesday, you can join other emerging and established professional speakers to practice speaking and get immediate feedback for improvement.
Our sessions are less about getting over basic nervousness in speaking, and more about practicing and sharing delivery, engagement, and content development techniques needed to move your audiences to action!
BONUS COMMUNITY BUILDER: The first "20" to register will have an opportunity to practice introducing their businesses to the group.
Who is Speakers Speak Live for?
Business owners wanting to use speaking to attract new clients and customers through speaking.
Professionals seeking a career change by sharing their knowledge through speaking.
Business Coaches wanting to expand their client base by showcasing their expertise through speaking.
Professional Speaking Coaches looking for a place to send their speaking clients to deliver their new presentations as a dress rehearsal before the main gig.
Authors wanting to sell more books by getting on more stages and podcasts.
New professional speakers needing to speak more frequently between their occasional speaking gigs and gain confidence in their message.
Emerging professional speakers wanting to challenge themselves to gain praise from seasoned presenters in the audience.
Established professional speakers wanting to mentor others and test their own material and receive feedback (There's always room for improvement!).
Speaker Hiring Agents (People who hire speakers including meeting and event planners, s sales directors, human resources managers, and others who are responsible for hiring speakers).
Speakers Speak LIVE is NOT:
Toastmasters.
National Speakers Association.
A Master Class.
A Seminar.
Another Storytelling Workshop.
TedEX.
A Competition or Speech Contest.
A Coaching Program (In fact, we welcome and encourage speaking coaches to send their clients here to practice their coached material).
The Organizer Speaking While Everyone Else Watches.
A Fake Promise that You'll Make Millions as a Speaker without Working for it.
Speakers Speak LIVE IS Your:
Opportunity to Practice Showcasing Your Business and Expertise in a Safe and Private Virtual Setting.
Testing Ground for New Material.
Challenge to Improve Using Best Practices.
Feedback Source for Your Appearance, Sound and Background.
Professional Event Model that is Planned for, Organized and Implemented...Like any Top Reputable Professional Event.
Embarrassment-Free Zone to Try New Approaches and Presentation Techniques.
If you are ready to go the next step in speaking on live virtual, in-person, or hybrid, to build your traditional, web-based, or speaking business, join us once, occasionally...or every week! Your frequency of attendance is up to you!
Your Host and Facilitator, Marty Dickinson: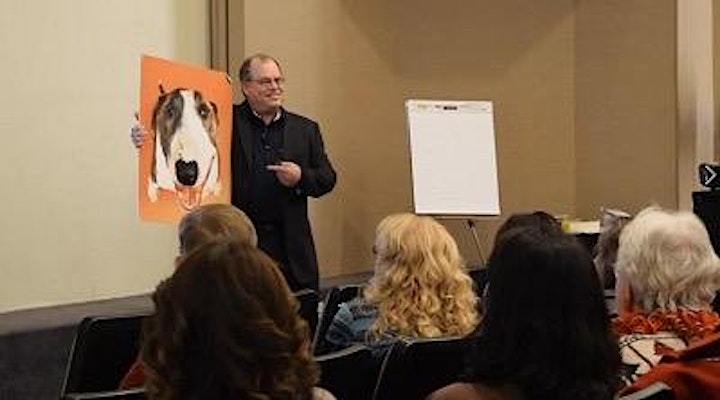 Marty Dickinson has built three businesses almost entirely through speaking. He is the president of a 25-year marketing agency called Here Next Year where he works with individuals who want to scale their businesses faster by discovering their true expert method and sharing it with the world so that red hot opportunities call them!
Marty has been involved with Toastmasters and National Speakers Association for more than 15 years. He is a two-time co-author of Web Marketing All-in-One for Dummies, and, most recently, Lions Always Win: How to Spot What You Want in Business and Life...and Get it Too (Available on Amazon).
Marty has been involved with National Speakers Association (Colorado chapter) since 2004, and has presented at NSA National Convention.
Speakers Speak LIVE is the Next Evolution of Speaking Skills Development!
Come be a part of speaking skills development history and leapfrog beyond your competition! Those using old speaking tactics in a post-Covid environment, will simply fall behind speakers who invest their time and focus toward meeting the higher expectations of audiences in a new world.
How to Attend the Next Speakers Speak LIVE
Click the green "Register" button.
Leave the quantity at "1" unless you've received permission from others to enter their email address as part of a small group.
Our admin will personally (and manually) send an email to welcome you and vet that you are a real person. So, be sure to look for that email and reply to it. This verification helps us to vet every participant for your security and is the only way you will receive the virtual live login details.
We will reply to your confirmation with the virtual live login details.
We use Zoom and other platforms so that you get used to presenting on all popular systems. So, be sure to provide your main email address so you are sure to receive the login details of the week you signed up for.
Join Our Facebook Group!
After you register for the next Speakers Speak LIVE Event, why not join our Speakers Speak Group on Facebook too? There you will have immediate access to expert interviews, industry alerts and support for all levels of public and professional speakers (https://SpeakersSpeakGroup.com).
Help Us Grow!
Who's that one person you know who has been thinking of getting into (or returning to) speaking? Tell that person about this group. We already have plans of expanding Speakers Speak LIVE to a national level where in-person events can take place. Let us know if you'd like to help. But first, attend a session or two and help us build.
Organizer of Speakers Speak LIVE!