Speaker Series: Protecting our National Parks in their Second Century
Description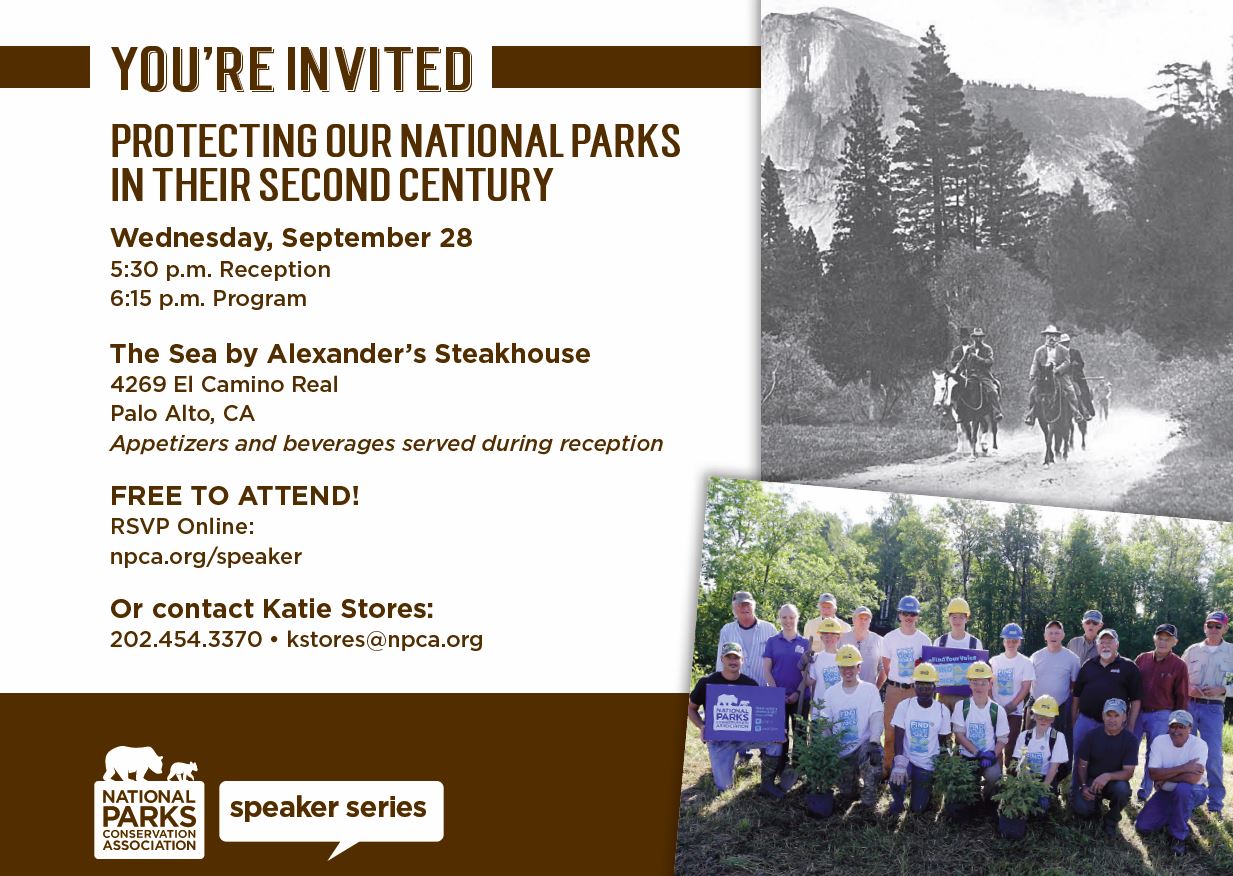 Join National Parks Conservation Association for this free event: Protecting our National Parks in the Second Century.
Wednesday, September 28
5:30 p.m. Reception
6:15 p.m. Program
One hundred years ago the National Park System was established to protect some of America's most iconic landscapes and important historic and cultural sites. This year we came together as a nation to celebrate the centennial anniversary of our national parks, and to honor the land and stories that have been woven into the fabric of American life. But one hundred years from now, what will these places look like? And will future generations have cause to celebrate the legacy we leave behind?
Join Alan Spears for a discussion with Theresa Pierno about how NPCA is helping to define the next century for our national parks, with a focus on California sites. Together they will share with you the opportunities and challenges that lie ahead for the National Park System, and the efforts that are already underway to protect and preserve these places for generations to come.
Theresa Pierno, President and Chief Executive Officer
Theresa Pierno is the first female President and CEO of the National Parks Conservation Association. She joined the organization in 2004 after a distinguished career in public service and natural resource protection, and has helped to solidify NPCA's role as the voice of America's national parks. In her most recent role as Chief Operating Officer, Pierno played a critical role in the recruitment of talented, diverse and experienced staff, led the development of strategic priorities with a focus on water and land use policy and helped to ensure the financial health of NPCA through revised management practices and successful fundraising efforts.
Alan Spears, Cultural Resources Director
Alan Spears uses real-life stories and a conversational style to connect with his audiences. A longtime NPCA legislative representative and resident historian, he has helped ensure that some of America's most important stories are preserved for posterity. Recent victories include the addition of five national monuments to the park system: Fort Monroe, Harriet Tubman Underground Railroad, Colonel Charles Young Buffalo Soldiers, Delaware First State and Pullman National Monument. His favorite national park is Gettysburg National Military Park.
Hosted By:
Ray Bingham
Burton Goldfield
Vince Hoenigman
Roberta Katz
David Scott
For questions or to RSVP, contact Katie Stores:
202.454.3370
kstores@npca.org