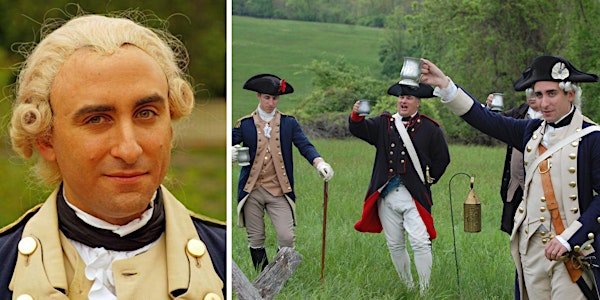 Speaker Series: Lafayette's Abolitionism, Black Servants, and Spies
Come join us for an exciting Speaker Series event (in-person or virtually). Join us at 6 pm for refreshments, and stay for the 7-8 pm talk!
By Valley Forge Park Alliance
Date and time
Wednesday, June 7 · 6 - 8pm EDT
Location
Meeting Room at Visitor Center of Valley Forge National Historical Park (park in Upper Parking Lot) 1400 North Outer Line Drive King of Prussia, PA 19406
Refund Policy
Contact the organizer to request a refund.
About this event
"Lafayette's Abolitionism, and His Black Servants and Spies"
A conversation between: Benjamin Goldman (portraying Lafayette) and historian Justin B. Clement
Marie Joseph Paul Yves Roch Gilbert du Motier, Marquis de Lafayette, was born on September 6th 1757 in Chavaniac, Auvergne, France. After his father's death at the Battle of Minden and his mother's death from disease, the 12 year-old orphaned millionaire was raised by his aunts and educated at Paris' prestigious Collège du Plessis and the Académie Militaire at Versailles. His marriage to Adrienne de Noailles in 1773 allowed him a position in his new father-in-law's cavalry regiment, as well as increased visibility at the court of King Louis XVI, who was now a distant relation by marriage. Against the wishes of his family and the King, Lafayette set sail for America in 1777 in a boat he had chartered at personal expense, along with several others hoping to join George Washington's army. The party landed near Charleston, South Carolina, and traveled overland to Philadelphia, where Congress—prompted no doubt by Lafayette's insistence on serving without pay—granted the nineteen-year-old Lafayette the commission of Major General in the Continental Army of the United States. He struck up a strong personal connection with his new commander-in-chief, George Washington, and set about building the most meaningful and influential friendship in perhaps the life of either man.
About The Speakers:
Benjamin Goldman has portrayed Le Marquis de Lafayette since 2007. He has performed at Valley Forge and Independence National Historical Parks in Pennsylvania, for Mount Vernon, George Washington's home in Virginia, and for presidents George W. Bush and Nicolas Sarkozy at the White House, among many other venues and audiences. He also worked for several years as a storyteller with Historic Philadelphia, Inc, where he wrote and sometimes translated interpretive stories into French. A graduate of Lower Merion High School, he received a B.A. in French and Dramatic Literature from New York University in 2008, and in 2011 received a Master of City Planning degree from the University of Pennsylvania. He lives in Washington, D.C. with his wife Liz and their two children.
Justin B. Clement: After earning a degree in Physics, Clement went on to the College of William and Mary, completing a graduate degree in Early American History. His Master's Thesis explored a postwar Loyalist "trade diaspora," following the American War for Independence. Mr. Clement's graduate work at the University of California is on hiatus while pursuing other projects, with his forthcoming dissertation entitled: "'On both sides by turns': Violence, Protectionists, and the American Revolution." This Speaker Series talk stems from a Historic Resource Study funded by the National Park Service and facilitated through a cooperative agreement with the Association for the Study of African American Life and History (ASALH). Mr. Clement is in the final stages of completing this study, centered on African American participation during the Valley Forge encampment of 1777 to 1778. He is currently the Historic Site Supervisor at Pottsgrove Manor.