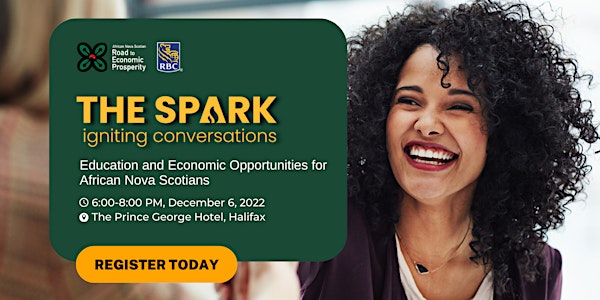 Speaker Series: African Nova Scotian Education & Economic Opportunities
Join us for the third installment of The Spark: Igniting Conversations on African Nova Scotian Education & Economic Opportunities.
When and where
Location
Prince George Hotel 1725 Market Street Halifax, NS B3J 3N9 Canada
About this event
This Spark Speaker Series event will focus on the critical links between education and economic opportunities in the African Nova Scotian community. It will bring together educators from high school through to post-secondary with employment specialists to share how an Africentric approach to education and career development leads to long-term success.
Registration & Networking from 5:30 - 6 p.m.
Remarks from 6 - 6:15 p.m.
Panel Discussion and Q&A from 6:15 - 7:30 p.m.
Meet the Speakers:
Kjeld Mizpah - Moderator and Principal Consultant at Catalyst Conversation Strategies
Kjeld Mizpah is originally from Smith's, Bermuda, but has called Atlantic Canada home since 2014. Since arriving in Atlantic Canada, Kjeld Mizpah has centred his professional career around community-centric development, entrepreneurship, and policy development. He gathered this passion from attending the University of New Brunswick (UNB). At UNB, he was heavily involved within the community and economic development ecosystem of Saint John and advocated strongly for a human-centred policy development process. He graduated in 2018 with a Bachelor of Politics with a minor in Business. Since graduating, his career has allowed him to take private-sector teachings and apply them to public-sector agendas. Kjeld Mizpah has led or worked with community projects that build quality public policy programming and lobbying initiatives that address complex issues that impact Atlantic Canada.
Currently, Kjeld Mizpah is the Director of Change Management for Hockey Nova Scotia and Principal Consultant for Catalyst Conversation Strategies. His consultant firm looks at placing human-centred design within the economic and community-development process. Kjeld Mizpah lives in Windsor, Nova Scotia and loves the ability to embrace community-centric policy development.
Karen Hudson - Principal at Auburn Drive High School
Karen is the Principal of Auburn Drive High School and the creator of the first Africentric Cohort within the Province of Nova Scotia. She is heavily involved within her community and interested in issues of social justice, youth leadership, and international development. She is presently the Interim President of the Black Educator's Association of Nova Scotia. Recognized nationally as one of Canada's Outstanding Principals in 2019 for her work in embedding Africentric concepts within the public-school curriculum, Karen is also a recipient of Nova Scotia Teacher's Award, Provincial Family Award, and recipient of the Queen Elizabeth II Diamond Jubilee medal.
Augy Jones - Principal, Campus Operations at NSCC Akerley Campus
Augy is currently the Principal at NSCC's Akerley campus in Dartmouth. Prior to that, he was the Executive Lead Inclusive Education within the Nova Scotia Department of Education and the Director of the African Canadian Services Branch at the same Department of Education. Augy has conducted numerous professional development sessions that facilitate conversations around the intersectionality of race, class, ability, and gender in society. This with a particular focus on historical marginalization, power and privilege, and the need to empathize with others as a positive way forward for our modern-day social interactions.
Donny Fairfax - Employer Engagement Specialist / Manager for YMCA / Nova Scotia Works
Donny is employed with the YMCA-Nova Scotia Works Employment Services Centre as an Employer Engagement Specialist. He is also the Manager of his NS Works centre which is located off Main Street, Dartmouth near Cherry Brook.
Donny has worked in employment services for more than 20 years. And as a seasoned professional, it is very important to him to not only do good work, but work that matters. The work that is most important to him is being an advocate for persons from underrepresented groups looking to access sustainable employment, particularly African Nova Scotians who often have to endure an undercurrent of racism as they try to navigate the world of work.
Donny enjoys working with employers to support them in adopting Diversity Equity and Inclusion practices to develop dynamic work places and healthy communities.
Ashley Hill - Founder and Executive Director of Prep Academy
Ashley is passionate about student advancement, education, and the development of African Nova Scotian communities. Her goal is to create programs and services that help students access and navigate resources and experiential learning opportunities.
Ashley was the first in her family to receive a university degree. As an African Nova Scotian, she has faced challenges and experienced systemic barriers in her pursuit of obtaining a higher education. It was through her lived experiences that shaped her dedication to student access and success.
She currently serves on the Advisory Council at the MacPhee Centre for Creative Learning and on the board for The Futures Program. She dedicates her time to helping students discover their full potential and gain opportunities to explore their leadership abilities.
About the Spark - Igniting Conversations Speaker Series
Created in partnership with RBC, The Spark - Igniting Conversations speakers series was created by the African Nova Scotian community to bring private, public, and post-secondary leaders together to discuss innovative ideas that will advance the third priority of the Road to Economic Prosperity Action Plan which is focused on increasing African Nova Scotian participation in education, employment, and entrepreneurship.