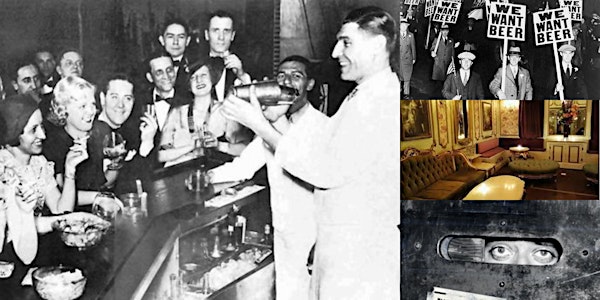 'Speakeasies of NYC: A Tale of Crime, Creativity, and Celebration' Webinar
Can't make it live? Register and get access to the full replay for one week! New York Adventure Club | www.AdventureClub.com
About this event
Exactly 100 years ago, the unimaginable happened: alcohol of every kind was effectively banned in America. But for cities like New York City, a little ol' constitutional ban wasn't going to stop people from continuing to have fun — rather than shut down, the city's nightlife simply moved underground (literally and figuratively). This is the story of how illicit drinking spots known as speakeasies were born, and how they not only defined the "Roaring 20s" in New York, but ushered in social changes that are still felt a century later.
Join New York Adventure Club as we explore the history of speakeasies in New York City, and how the strict men's only drinking clubs of pre-1920s America were replaced with cosmopolitan watering holes where the only rule was to have fun.
Led by Sylvia Laudien-Meo — art historian, museum educator, and NYC tour guide — this virtual journey around NYC's speakeasies will include:
An overview of the Temperance Movement, from the series of events that led to the 18th Amendment in 1920, to the complex effects it had on NYC's social life, to creative ways people worked around it
Stories of how people and businesses learned to work around the law to survive, or even thrive
A discussion around the rise and proliferation of the Speakeasy — while it created new trouble in American society like bootlegging and organized crime, it also paved the way for a burgeoning of gifted entertainers and the women's social liberation movement
A closer look at some of the most infamous NYC speakeasies, including Lansky's Lounge and Chumley's, as well as the city's most notable dance halls like the Savoy Ballroom and Cotton Club
How speakeasies kept their operations hush-hush, from quietly transporting booze to their bars, to escape routes and tunnels, to tricks they used to hide their illicit operations in case they were raided
Suggestions on today's best speakeasies in NYC, both original and revival
Afterward, we'll have a Q&A with Sylvia — any and all questions about New York's speakeasies are welcomed and encouraged!
Can't make it live? Don't worry, you'll have access to the full replay for one week!
See you there, virtually!
*Immediately upon registering, you will receive a separate, automated email containing the link to join this webinar
**For the best possible viewing experience, please ensure you're using the latest version of your internet browser — Google Chrome is the most compatible. Exact technical requirements and a webinar user guide will be shared in the automated confirmation email upon registration.
***A full replay of the experience will be available to all registered guests for up to a week
About Sylvia
Sylvia Laudien-Meo is a freelance Art Historian who works in and around the city in various capacities, specializing on Modern and Contemporary art, with a strong focus on Public Art. She teaches art history at Fairleigh Dickinson University and has been working as a museum educator at MoMA, the Guggenheim and the Jewish Museum for over many years, engaging visitors in conversation based, interactive art experiences of permanent collections and changing exhibitions.
For the Municipal Art Society, UFT, Brandeis Univ., and private clients, she has been touring the city for over 20 years, exploring art and architecture, parks, neighborhoods and history. Working in various different capacities gives her a unique opportunity to make intriguing connections and weave together the complex perspectives that make out the tapestry of our fascinating city.
SLM holds a Masters Degree in Art History (with minors in History and American Studies) from the Joh. Gutenberg University in Mainz, Germany, as well as a Tourism degree from the EST in Paris France.
Testimonials
"Sylvia was a wealth of information on the subject! I loved the photos and vintage posters she had in her presentation" -Leslie
"There were many interesting historical facts about Prohibition and speakeasies. Some of the pictures were also interesting." -Alexandra
"Great info, sharing history up to the present complete with what may or may not be open, and presented at a good pace. Very interesting topic, and a good presenter, too!" -Denise
"Loved the multiple themes of social history (Temperance, Prohibition, club ownership, mafia, music) and the architecture of historic and extant speakeasies, along with the anecdotes about the origins of expressions like "86'd" and "bootlegging."" -Kristan
"I liked all the great history, stories, pics and addresses to go visit the next time I'm in NYC" -Deborah
"Very informative, great historical perspective, fun to learn about places we visited when we lived in the city" -John
"Photos, history, presentation -- all clear and fascinating." -Vicki
"A lot of history on the subject that was well researched" -Shirley
"I definitely learned some new facts about prohibition, temperance movement that I hadn't known before." -Stephanie
"I really enjoyed all the pictures and the list of Speakeasies which are still open today & new ones!" -Tilde
"I learned a lot about the prohibition period that I didn't know before." -Linda
"I learned a lot that I didn't expect, e.g., the relationship between women's suffrage and prohibition, NASCAR and moonshining, etc. The lecturer was very knowledgable and prepared with so many interesting slides." -Helaine
"I liked all the curiosities related to the ways around Prohibition; the old pictures and the stories about speakeasies." -Erica
"Fascinating - and knowing which places were still functioning was an added benefit. Knowledgeable presenter." -Virginia
"Loved the pics and history behind what used to be and what still exists." -Jodi
"Presentation was well articulated, very interesting!" -Kathryn
"I liked the list and pictures of former and brand new speakeasies in New York City." -Sarah
"Sylvia was so incredibly knowledgeable about New York and although it's hard with webinars, with pictures only, she wove us through exactly what life was like back then." -Laurie
"Excellent examples of historical Speakeasy and current photos. I watch webinars on a laptop so I always make a note of how large photos look displayed on my screen. Visuals are everything! Enjoyed the historical content of the narration, very interesting facts details." -Victoria
"Great, informative, engaging lecturer." -Natalie
"Speaker was so knowledgeable and had great photos and stories to share. Very entertaining!!" -Amanda
"I never knew about the speakeasies; I knew they existed, but that was it. The subject was well presented and very detailed. I enjoyed it very much." -Pam
"I liked the fun history of prohibition and speakeasies." -Beth
"Interesting, off-beat topic. Great visuals to enhance the information." -Cindy
"Full of detailed info with photos to back it up." -Jessica
"Very enjoyable. The tour guide was knowledgeable and well prepared. I was happy to see she included the 21 Club. My husband's family opened and owned it." -Arlene
"Very knowledgeable speaker, talk illustrated with lots of interesting slides. A fun way to learn." -Rachel
"I love nostalgia and seeing all the old pictures. Learning something new." -Laura
"Very informative. Presenter was well prepared and knowledgeable. Great photos that kept it interesting." -Frances
"I saw some photos that I had never seen before that were so much fun to see!" -Stephanie
"Very interesting! I knew a lot about the Prohibition and organized crime but this brought up so many other interesting facts! Thanks for all the addresses - post COVID trips already being planned." -Kathie
"The depth of knowledge of the presenter and terrific illustrations and slides. Her humor and scholarship made the topic even mroe fascinating. Best talk I've attended in ages! Kudos." -Patti
"Speaker was very knowledgeable. Interesting visuals." -Marjorie
"The slides were amazing, the pace was great and it was jam-packed with unusual information." -Heidi
Disclaimer
By attending a New York Adventure Club experience, you accept our terms of service.
Categories: Virtual, Moments in History