Description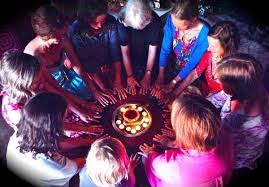 WHY IS SPEAK WITH CONFIDENCE FOR YOU?
HAVE YOU EVER ASKED YOURSELF:
"Where would my career or life be if I had a confident voice and I wasn't afraid to speak out?"
For many people, success comes from their confidence and their ability to communicate succinctly, powerfully and authentically.
DO YOU OCCASIONALLY OR CONSTANTLY:
Feel too nervous to speak up in group situations

Lack the ability to be heard amongst strong personalities

Have difficulties finding the right words to say

Suffer from anxiety or fears that hold you back

Feel your energy drop when you are asked to present to a group

Lack the confidence in your voice

Wish that you had an even more confident and engaging presence
If you experience any of the above and you are a career driven woman seeking to improve your presentation and communication skills in a safe and creative environment then the Speak With Confidence Workshop is for you. This is your opportunity to develop the energy, esteem and self-expression that you need to grow your physical presence and to advance your professional career with confidence. An interactive workshop with Mandy Siegel will help you get your voice heard and your presence known.
YOU WILL LEARN TO:
Explore your voice through fun and interactive activities

Gain tips on how to manage nerves and remember content

Grow your physical presence

Speak and present with confidence and authority

Control your voice using specialized vocal and breathing techniques

Confidently engage and entertain your audience

Fully express your authentic self

Fulfill career aspirations with another level of inner confidence

Ignite your passion to propel you into your future

Love your professional voice and even love public speaking
MEET YOUR VOICE AND CONFIDENCE COACH:
Mandy Siegel is a performer and presenter with extensive experience in Human Resources, Life Coaching and NLP. Mandy is fully equipped to give you the tools to take your communication and presentations to the level of confidence you desire. "I inspire professional women to master their voice on stage and in their lives. I believe everyone has the power to speak authentically and be heard!"
Even if you never speak in public these tools will help you build your inner confidence for life!
WHAT OTHERS ARE SAYING ABOUT Mandy Siegel:
"Mandy has truly helped me to break through my stress and has provided me with the tools to be calm in moments that would have caused me anxiety in the past." Nada Wentzel - Managing Partner, The Jonah Group.
"Mandy encourages you to experiment, to be fully self expressed, to have fun, to make discoveries about how your body and your voice work and to have tools not just for the stage and not just for singing and performances but in terms of enriching your life." Toni Houston - Creative Director, TellTale Media
"Mandy has helped me to express myself clearly, succinctly and powerfully. The processes are amazingly simple and a lot of fun. Anyone can benefit from the sessions." Dianne Marshall - Year Level Coordinator, Pascoe Vale Girls College.
"This workshop was perfectly designed and delivered.Mandy was extremely authentic, loving and professional using so many different practicals tools including meditation techniques to learn about strengthening my communication and confidence.Thank you Mandy." Kristi Sproates - Owner and Trainer at Appy Connections
"Dear Mandy, Thank you from my heart! This workshop was super incredible. I can't believe the amount of stuff I have learnt! This is the best life investment I have ever made. Please everybody spread the word this course is a MUST DO!" Shereen Green - Owner and Practitioner at The Bohdi Tree Retreat Centre

READY FOR A TRANSFORMATION?

When: Friday 4th -6th November, 2016
Venue: Merimbula Pambula Golf Club, 173 Arthur Kaine Drive, Merimbula, NSW 2548
Investment: Early bird special $450 if you book by Friday 21st October. Full price workshop $495
Wear comfortable clothes as there will be some movement-based activities.
Light snacks and water will be provided. Please bring lunch.
Book NOW as numbers are limited to create an intimate environment where you will receive individualised support. It took me 30 years to learn everything I know and I am honoured to be here to hold your hand and learn these proven tools to help you communicate authentically, powerfully and from the heart to grow your business and life. xxx
WANT TO KNOW MORE?
Please feel free to contact Mandy Siegel now.
Mandy Siegel: mandy.siegel@gmail.com ph: 0400 425 636
http://mandysiegel.com/
FAQs
What are my transport/parking options getting to the event?
Free parking is available on sight at the venue.
Do I have to bring my printed ticket to the event?
Please bring your printed ticket to the event.Thank you warmly.
Date and Time
Location
Pambula Merimbula Golf Club - The Garden Room
173 Arthur Kaine Drive
Merimbula, NSW 2548
Australia